First Local Lockdown in U.K. after Rise in COVID-19 Cases
Leicester has become the first U.K. city to be placed under a local lockdown following a sharp rise in the number of COVID-19 cases in the area.
Health Secretary Matt Hancock said that due to the rise in the number of cases he could not recommend "that the easing of the national lockdown set to take place on July 4, happens in Leicester".
Prime Minister Boris Johnson had announced an easing of lockdown measures on July 4 that would allow pubs, restaurants and hairdressers to reopen, as well as a relaxing of the 2-meter social distancing rules.
However, Leicester, a city in the midlands of England, has accounted for "10 percent of all positive cases in the country over the past week."
Hancock told members of Parliament in the House of Commons on Monday: "From tomorrow, non-essential retail will have to close and as children have been particularly impacted by this outbreak, schools will also need to close from Thursday, staying open for vulnerable children and children of critical workers as they did throughout.
"Unfortunately, the clinical advice is that the relaxation of shielding measures due on July 6 cannot now take place in Leicester.
"We recommend to people in Leicester, stay at home as much as you can, and we recommend against all but essential travel to, from and within Leicester.
"We'll monitor closely adhering to social distancing rules and we'll take further steps if that is what's necessary."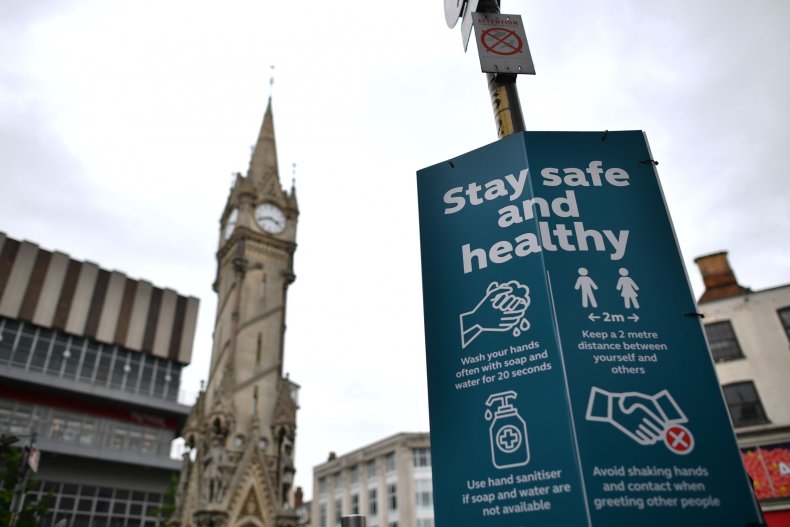 The health secretary said the measures will be kept under review and will not be kept in place "any longer than is necessary" in the city.
He said: "We'll review if we can release any of the measures in two weeks."
Hancock said that the cases in Leicester were "three times higher than the next highest city" and that the lockdown would also affect the suburbs of Leicester, such as Oadby, Birstall and Glenfield.
Sir Peter Soulsby, the mayor of Leicester, said the measures announced were stricter than anticipated.
He said: "These measures are stricter than we anticipated but we understand the need for firm action. I am determined that we will make this work and to minimize the time these additional measures need to be in place in the city.
"We will of course continue to play our part in keeping people in the city safe and healthy."
The city council is also now reviewing its plans to extend the opening of its own buildings such as libraries, museums and children's centers.