Leicester vs. Man City: Five Conclusions From the Premier League Game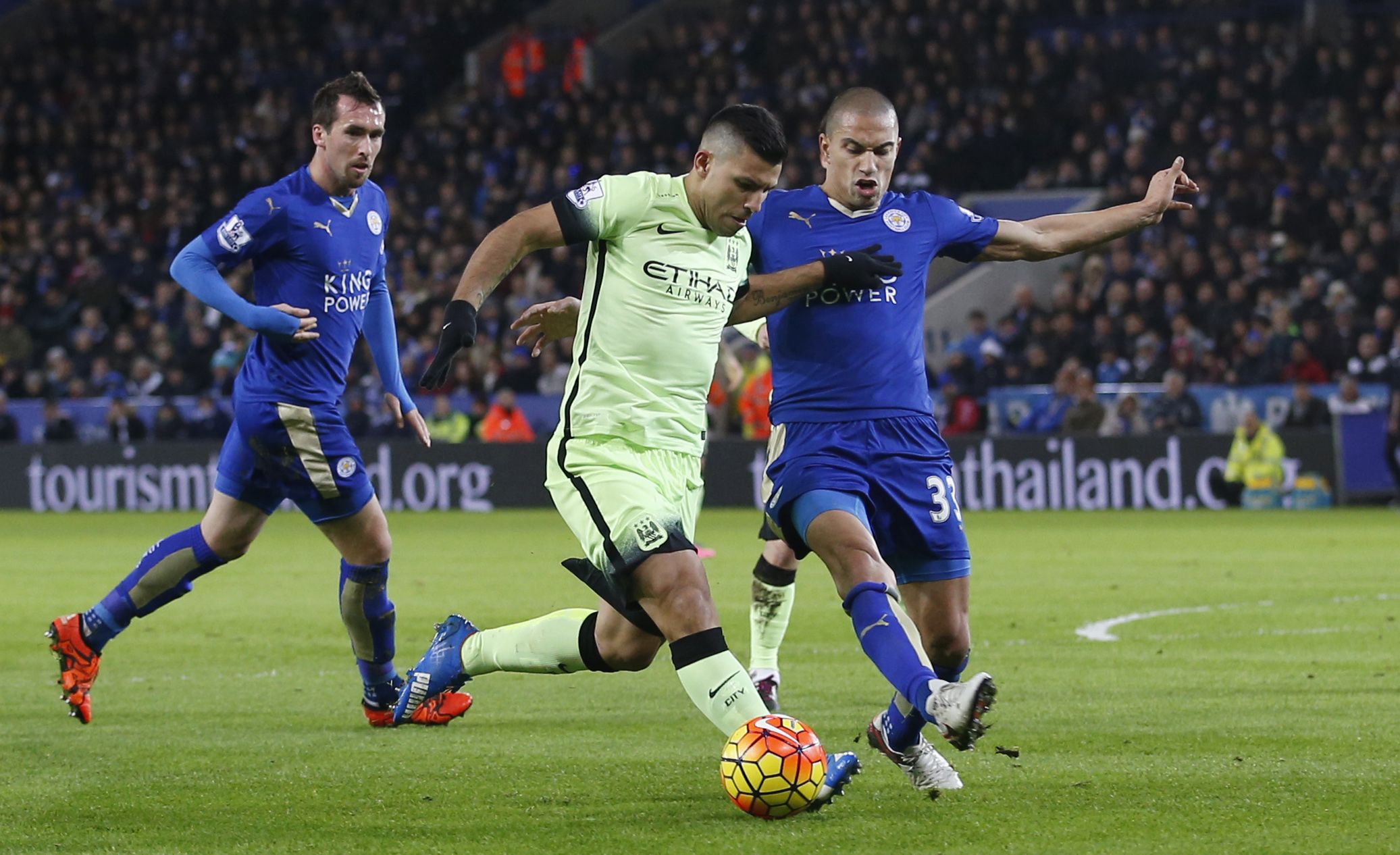 Updated | Leicester City withstood all Manchester City could throw at it in holding on for a goalless draw at the KC Stadium in Kingston upon Hull, Leicester's home ground, on Tuesday. In doing so it proved, once again, that it belongs with the English Premier League heavyweights.
Manchester was left to rue missing its chances to score at the start of a first half, which it dominated. But what else did we learn about both teams? Newsweek draws the conclusions from the big game.
Leicester's Ferocity Remains Undimmed
In the first half-hour of the match, Manchester City's fast attackers Sergio Aguero and Raheem Sterling created chances when and where and how they wanted. Leicester looked tired, perhaps paying for its ferocious efforts in leading the League before its loss to Liverpool at Anfield, Liverpool's ground, on December 26. And yet, improbably, Leicester found its spark as the game wore on. By the second half it looked the fitter, more athletic team. If the team does fall down the league in the second half of this season, a lack of fitness will not be the reason why.
In Kevin De Bruyne, Manchester City Has the Ultimate Attacker
De Bruyne is not fast, but he doesn't need to be—he drifts through games, but he does so with purpose, gliding across the ground to deliver his invariably accurate crosses and through-balls. De Bruyne, the Belgian midfielder, was in almost perpetual motion against Leicester, which struggled to strip the ball from his feet. He is a player seemingly built for football in 2015—he does not have a fixed position, instead filling two or three different ones within the space of a 90-minute game.
Manchester City's Weakness Remains Its Central Defenders
It took Leicester a while—a good 40 minutes, in fact—to realize that the best way to worry Manchester City was to run straight at Eliaquim Mangala and Nicolas Otamendi, the Manchester City defenders, both of whom struggle for pace. Once the team came to that conclusion, chances flowed—two excellent opportunities in 2 minutes, one for Marc Albrighton, the winger, and the other for Jamie Vardy, the English Premier League's leading scorer. Mangala and Otamendi cost around 70 million pounds combined. But without Vincent Kompany—the Manchester City captain and the club's best defender who is out injured—alongside them, they look fallible.
Leicester Is Too Reliant on Riyad Mahrez
The Algerian midfielder, rather than Vardy, is the player who should interest the Premier League's biggest teams as an asset to buy. A hush fell over the stadium when he limped off briefly just before halftime. A beautiful pass to Albrighton, who should have scored, at the 60-minute mark showed Mahrez's quality and his enduring importance to Leicester. Lose him, either to injury or by selling him, and Leicester's fairy-tale run to the top of the Premiere League may hit a stumbling block.
A Half-Fit Sergio Aguero May Cost Manchester City Points
The Manchester City striker could only last 65 minutes, though he should have earned a penalty kick with his last touch when Gokhan Inler, the Leicester midfielder, appeared to trip him in the Leicester penalty area. A succession of injuries means Aguero, Manchester City's best player and its talisman, cannot yet play a full 90-minute game. Wilfried Bony came on for Aguero, and though Bony is good, he is not as good. His first act was to miss a chance at scoring from a cross by Aleksandar Kolarov, the Manchester City defender. It is hardly Bony's fault that he is not Aguero, but the dropoff in quality is noticeable when he has to play instead of the Argentine.
Correction: This article mistakenly named Leicester City's ground as KC Stadium in Kingston upon Hull. It has been corrected to say the club's ground is the King Power Stadium in Leicester.