How to Survive Trump: Daniel Handler Gives Lemony Snicket-style Advice for Dealing With Unfortunate Events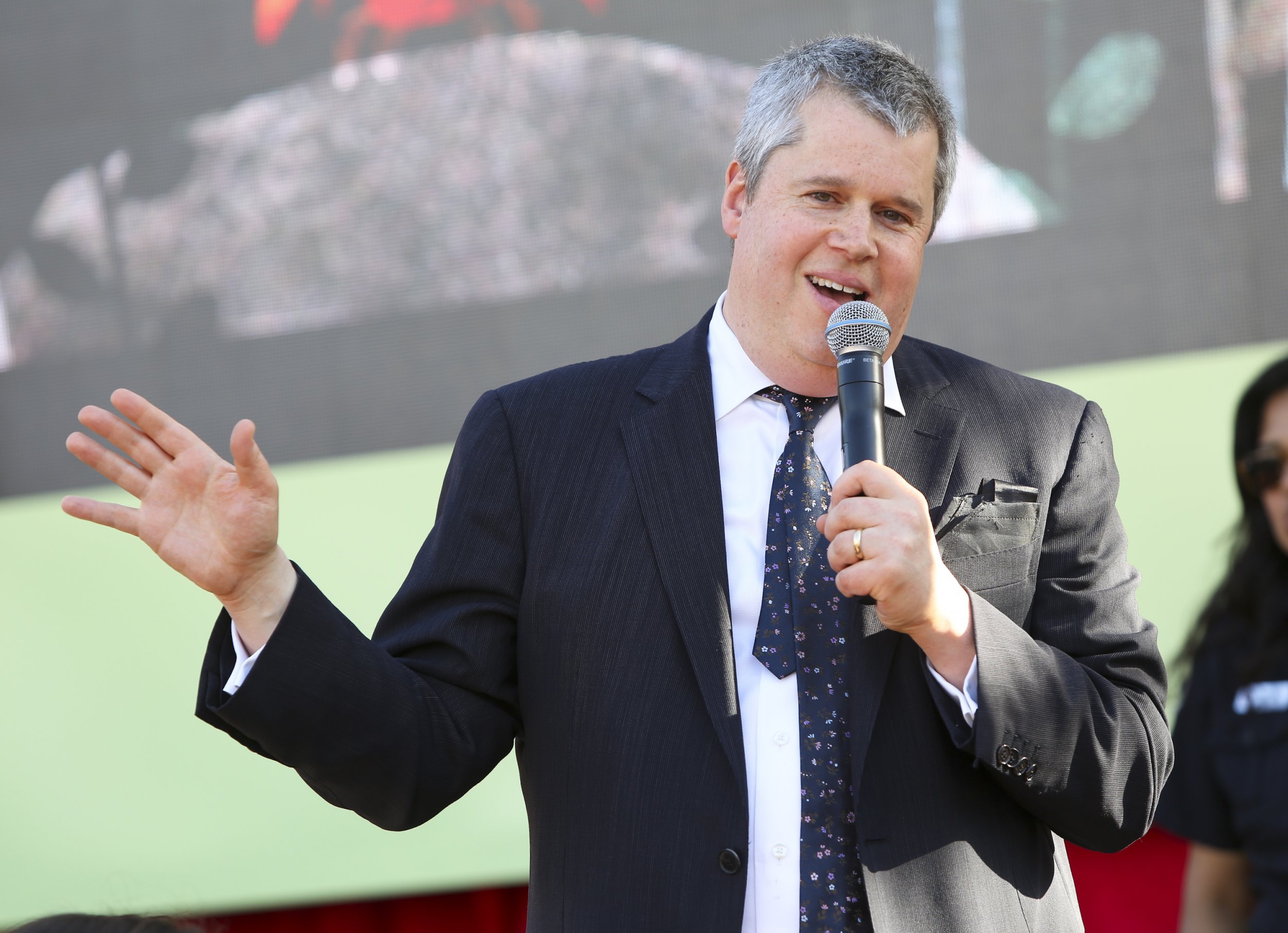 Drastic times call for drastic measures, and these sure seem like drastic times. With avocado prices rising, Game of Thrones ending and the U.S. president's associates under investigation for having ties to Russia, we're frequently encountering dark days—or, at the very least, experiencing what could be termed a series of unfortunate events.
There's only one person to consult in a situation like this, and that's Daniel Handler, associate of author Lemony Snicket, who wrote A Series of Unfortunate Events. The children's-book-series-turned-Jim-Carrey-movie-turned-Netflix-hit follows the three Baudelaire orphans as they battle unlucky circumstances, incompetent adults and the arrogant villain Count Olaf.
Sound familiar?
In any case, Handler knows dark. His first book, The Basic Eight, includes a murder by croquet mallet, and his recent release Goldfish Ghost, which he wrote with his wife, Lisa Brown, tells the story of a dead fish searching for a home for the afterlife.
When Newsweek asked Handler for some sage advice on how to survive the news cycle, he responded in true eloquent-but-obscure Snicket fashion. Handler, who last year joined an open letter alongside more than 400 authors and artists condemning Donald Trump's candidacy, says that the president has been acting "monstrously" and that kids should not follow Trump's lead.
"Please do not emulate him," he adds.
To help you cope, he suggests picking up a book. "Life is almost always troublesome, which is why it is important to look at literature more often and one's phone less often," Handler says in an email interview. "One handles trouble but suffering through it as elegantly as one can. The Baudelaires have been very good at this."
Make of that what you will. Then read the rest of Newsweek's interview with Handler, who is appearing this weekend at ReedPOP's BookCon in New York City, below.
Comparisons between Trump and Count Olaf abound on the internet. I saw you even retweeted one from the Los Angeles Review of Books (which noted Olaf and Trump both have "weird hair") the other day. What do you think of these comparisons?
One should not mock others for their physical appearance, although it is often very difficult to remember this.
Moving on, you've been in the book business for a while now, starting with The Basic Eight, which contains possibly my all-time favorite plot twist, and recently rounding out with Goldfish Ghost. How has the industry changed over the past 20 years? How have you changed?
When I published my first book, I was told that there was no worse time in publishing, and I have heard that continuously since. Obviously, publishing cultivates an aura of doom with which I am entirely comfortable, although I do hope I have improved in other ways.
You wrote Goldfish Ghost with your wife, with whom you told Publishers Weekly you're constantly brainstorming "truly terrible" ideas. That makes me curious: What was your last terrible idea for a book? Also, what was your last terrible idea just in general life?
Our last terrible idea for a book was a retelling of Cinderella in which the heroine is a large brick. The title is Cinderblock. The last terrible in life was a cocktail experiment involving both chartreuse and Campari.
I know you have a son, Otto, who in part inspired Goldfish Ghost. What sorts of books and authors does he like to read? What do you recommend to him? Have his reading habits at all influenced your work?
My son is currently making his way through Watership Down. Our house is stuffed with books, and he is welcome to try any of them, so most of my recommendations to my son involve recommending that he remove his shoes from the middle of the living room floor before his father has a nervous breakdown from asking so many times previous.
The Netflix adaptation of A Series of Unfortunate Events just got picked up for two more seasons. What was your reaction to this? And more to the point: How's the writing going? What can we expect?
I have had the pleasure of working with Aziza Aba Butain, Joshua Conkel, Sigrid Gilmer and Joe Tracz, drafting Seasons 2 and 3 in my dining room. They are wonderful people with whom to work and have made the often arduous task of adapting the Snicket books much lighter.
When the first season dropped, my friends (all in their mid-20s and who had read the books as kids) were extremely excited. What's it like making the show for that audience, as well as for the younger generation who might be experiencing the series for the first time? Is it difficult to bridge that gap?
I keep explaining to Netflix that a show laden with unreliable narration, unrelenting despair and clever literary references will be equally repellent to all ages. For some reason, they are not comforted.
The Bad Beginning was released just about 18 years ago. How does that make you feel? How do you think the story holds up? More generally, what do you hope readers in 2017 take away from the series?
I was bewildered that anyone agreed to publish such a thing, and since then my professional life has been an unvarying state of disbelief. If readers can be of service to me in any way, I'd be most grateful.