Let's Revisit the Highly Publicized Vegan Dinner Party Lena Dunham Held in 11th Grade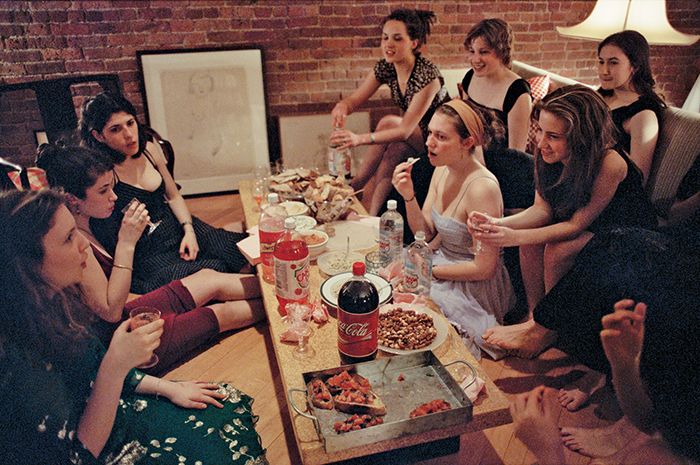 On the occasion of Lena Dunham's $3.7 million memoir—and just weeks after the Gray Lady published its 4,000-word Dunham profile—let's revisit the Girls creator's very first New York Times profile.
It ran, of course, shortly after the premiere of Girls in—no, no, that's not right. It was published back when Tiny Furniture received—no? Not then. College years? Oberlin?
No, no. Back further. Here is the true account of the New York Times's true accounts of soon-to-be New York Times best-selling author Lena Dunham. The Times has published more than 400 articles mentioning Dunham, and the first arrived in late 2001, when the then-15-year-old student was quoted describing her favorite New York spot ("Under the Bridge") in a special post-9/11 issue of the magazine. She was also photographed clutching her pet bunny rabbit. It's pretty adorable.
But Dunham's first Times profile, wherein she is the primary subject of a reported piece in its entirety, came later. Only about 18 months later, actually, during the future celebrity's junior year at Saint Ann's School in Brooklyn Heights. That was the year the Times Styles section dispatched a reporter to cover a vegan dinner party Dunham hosted for 12 classmates. Maybe you've stumbled upon it in the distant archives—BuzzFeed and The American Prospect and The Washington Post each have. It starts like this: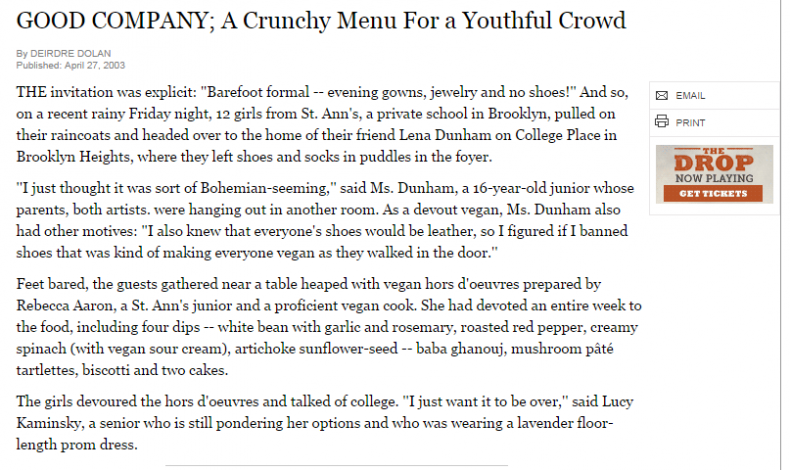 This piece poses a number of journalistic and philosophical questions, like, for instance, how the hell did the nation's most prestigious newspaper send a reporter back in time to profile Lena Dunham nine years before she was famous? And why is former NYT Executive Editor Howell Raines not remembered more fondly for presiding over a paper that brought into this world sentences like "While Ms. Dunham and Hallie Cooper-Novack danced to the Justin Timberlake CD 'Justified'..." and "One year into a totally vegan diet, [Lena Dunham] has become a soy connoisseur"?
For insight, we reached out to original author Deirdre Dolan, the only journalist who can take credit for The World's First New York Times Profile of Lena Dunham. (Dunham, through a representative, declined to be interviewed for this flashback.) Thus, here is an explainer (an expLena, if you will) on The Great Saint Ann's Vegan Dinner Party of 2003 (TGSAVDP03).
Q: How did The New York Times wind up covering future famous person Lena Dunham's dinner party in 2003?
A: Freelance writer Deirdre Dolan had previously written features on teenagers for the Times, The New York Observer and a long-defunct site called Open Letters. "I always knew about interesting teenagers because it was kind of a side beat," Dolan says, and so current New York Times culture editor Danielle Mattoon, who then oversaw the Styles section, including a weekly column on entertaining, reached out with an idea.
"I think Danielle called me and said, 'Do you know any cool teenagers? I'd like to do a teenage Dining Out [column],'" Dolan recalls. "And I said, 'Yes!' And then I set it up and she [Dunham] was as usual enthusiastic about most things, and she gathered her friends and she did this super-extravagant, all the way, as deeply as you could go." Mattoon only hazily remembers the specific assignment and didn't realize until last week that the hostess in question was Lena Dunham.
Q: Wait, you're saying Lena Dunham only threw this extravagant vegan dinner party so The New York Times could write an article about it?
A: Yes.
Q: So Lena Dunham's fabulous vegan dinner party was an inside job?
A: Um, yes.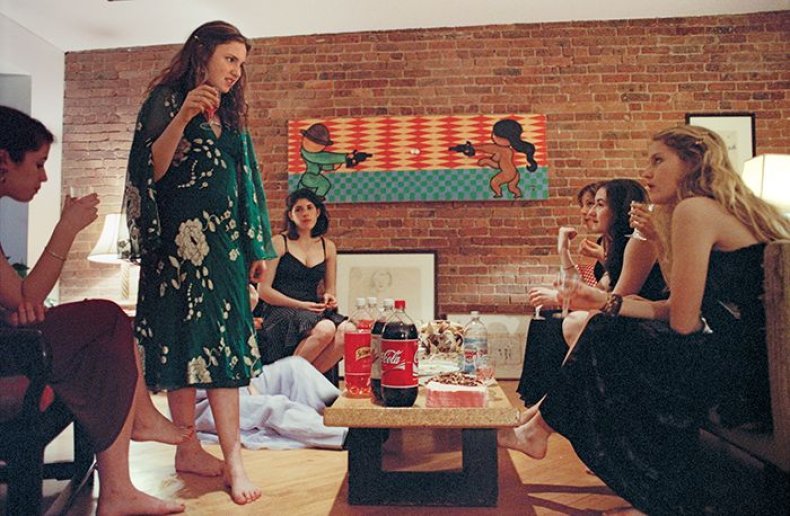 Q: But how did the author first meet Lena Dunham?
A: Dolan doesn't remember too clearly, but says she was probably introduced by way of other teenagers she had interviewed or considered interviewing for stories on the teen beat. Dolan suspects a fellow Saint Ann's student who wanted to be a stand-up comic made the initial introduction.
"I think if you just hang around the environs of St. Ann's and ask around, like, 'Who's interesting in the school?,' people point fingers," Dolan says. "I met her earlier on in her junior year for a potential story, I would most likely guess for The New York Observer. I wrote one about plastic surgeries that teenagers were having that were a little bit beyond your classic teenage nose job things. I was on the hunt, and I was always thinking about interesting candidates for [other teen stories]."
Q: So what was Lena Dunham really like as a teen? Besides, like, being a "soy connoisseur."
A: "I think she had a reputation for being very individual and cool," Dolan remembers. "She didn't care about parties." She also had a sixth sense about pop culture: "She knew the Justin Timberlake album [2002's Justified, which is mentioned in the article] was cool because it had come full circle. I'll never forget her putting that on and me being like [gasps] and her being like, 'It's cool to like Justin Timberlake, and that's how uncool I am.'" Dunham's parents, artists Carroll Dunham and Laurie Simmons, were present as well, though they remained in a different room in the home and didn't crash the occasion.
At the time, of course, Dunham was vegan. (She no longer is.) "This was her cause," Dolan says, recalling how the future filmmaker made her friends remove their leather shoes. "She was—and remains, I imagine—a very cool person. And extremely open and smart in a really authentic and original way. You meet so many smart NYC precocious kids who can speak their way into anything. She's just kind of Lena."
Q: How about her home?
A: It was great! And full of furry friends. "I don't know if the rabbit was still around back then, but there were always animals around in the basement where she lived," Dolan recalls. "I remember looking around her room and being impressed that it was almost a stereotypically Midwestern girl's room. But in the middle of this really beautiful, very aesthetically curated Brooklyn artists' loft space."
Q: Did Lena Dunham have an AOL screen name in 2003?
A: Of course. It was "LAFEMMELENA."
Q: Did Lena Dunham and her New York Times profiler stay in touch?
A: For a while, at least. Some time later, Dolan helped Dunham land an internship at Teen Vogue. Then Dunham went off to college. Dolan says she later caught Dunham performing at a nightclub downtown, but hasn't been in touch in years.
Q: What about the other guests at the party?
A: They are pretty much definitely not in high school anymore. Instead, they are carrying out careers as actresses and reporters and educators and actresses and directors and such things. That's no surprise to Dolan, who says the party was full of "beautifully dressed, charming young women who were as opinionated as you could get. No snottiness and no attitude. They were just really fun to talk to."
Q: But what about the photos from the party?
A: They're gone! No longer archived on the Times site. Only a terse photo credit remains, spotted by IBT social media director Anthony Smith:

So we contacted freelance photographer Barbara Alper, who had no idea she'd photographed the Lena Dunham a decade prior but nonetheless found a set of negatives in her personal archives. They were labeled with the Times's logo and had been taken on a spring night in 2003. Most of them—aside from the two or three that appeared in the Times piece—have literally never seen the light of day.
So here are some photos from Lena Dunham's fabulous vegan dinner party. The one she held in 2003. Maybe she's held other ones since then. We wouldn't know. The New York Times hasn't been on it.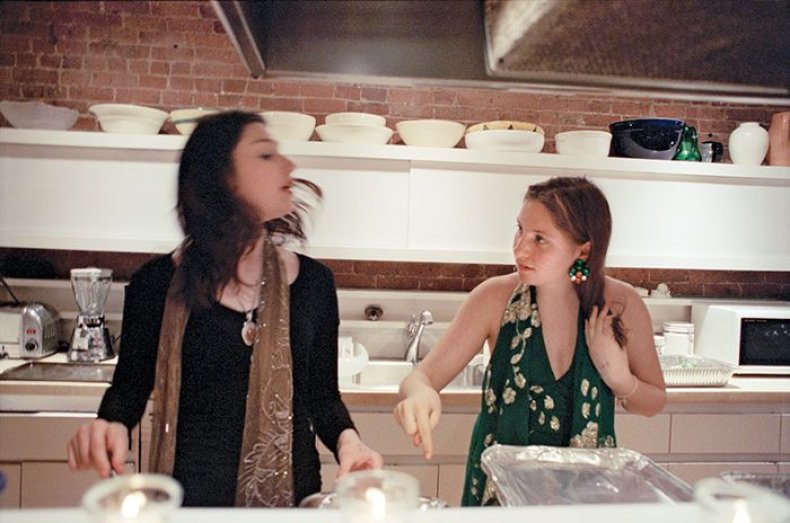 Correction Appended: An earlier version of this story misspelled the name of Lena Dunham's father, Carroll Dunham.