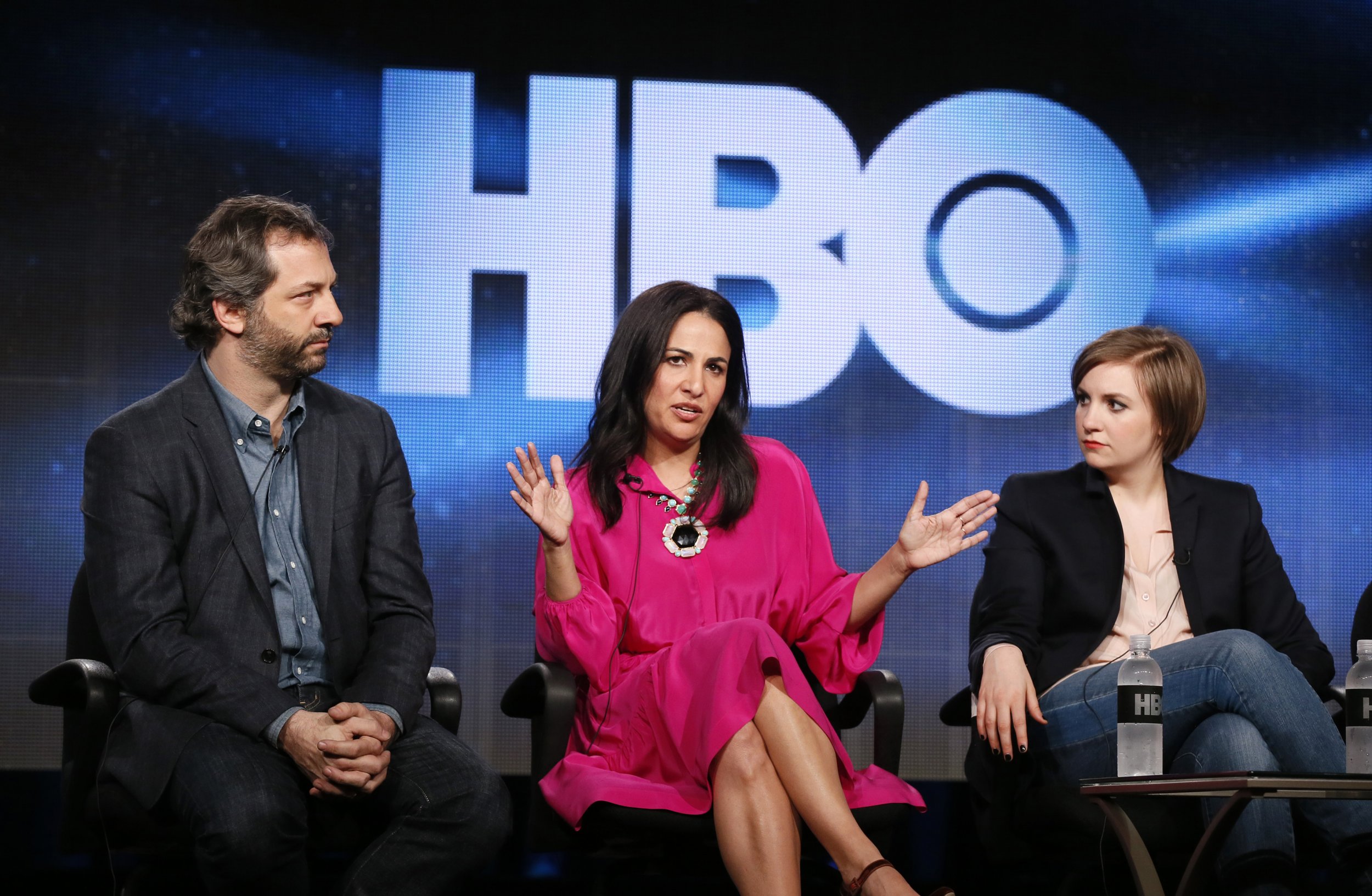 Lena Dunham and Jenni Konner have been busy making their mark on television and online. The duo has worked together on the series Girls, the email newsletter and website Lenny Letter and now a new book imprint by the same name, Random House announced earlier this month. The Lenny imprint has already acquired its first book, the short story collection Sour Heart by Jenny Zhang.
"While we love our home on the internet, Jenni and I are both voracious readers (of books and book reviews) who are constantly trading titles and allowing them to stir us creatively. Our friendship often doubles as a book club," Dunham told BuzzFeed earlier this month with the announcement of the new imprint at Random House. "Lenny books will aspire to push the ball forward on the issues that matter to our audience, with wit and style. We hope to see them sticking out of purses and riding public transportation everywhere."
One of the first such titles readers might tuck in their bags for subway reading, Sour Heart, is the work of a Rookie magazine contributor, National Magazine Award nominee and graduate of Stanford University and the Iowa Writers' Workshop. Zhang's book is "an exhilarating collection of short stories that explores issues of adolescence, immigration, and family through the voices of several Chinese American girls growing up in New York City," the publisher said in a statement.
"The Lenny imprint is a natural extension of Random House's relationship with Lena Dunham," Random House Vice President and Editor-in-Chief Andy Ward, who will oversee the imprint, said in a press release earlier this month. Random House published Dunham's Not That Kind of Girl in 2014.
"Working with Lena, Jenni and the editors of Lenny, we plan to publish a select number of titles each year to build a varied, compelling, and voice-driven list," Ward added. "Drawing on their eye for talent and love of books, we see this as a perfect opportunity to broaden what we do at Random House, while staying true to our mission: to work with writers we love and to publish them well."
The book imprint is not the first time Dunham and Konner have teamed up with an established and more traditional publishing partner. After launching Lenny Letter as an email newsletter last September, the duo joined forces with Hearst Magazines to monetize the new venture.