Lenny Dykstra's Creepy Sexual Tweets to Lena Dunham Were Not Out of Character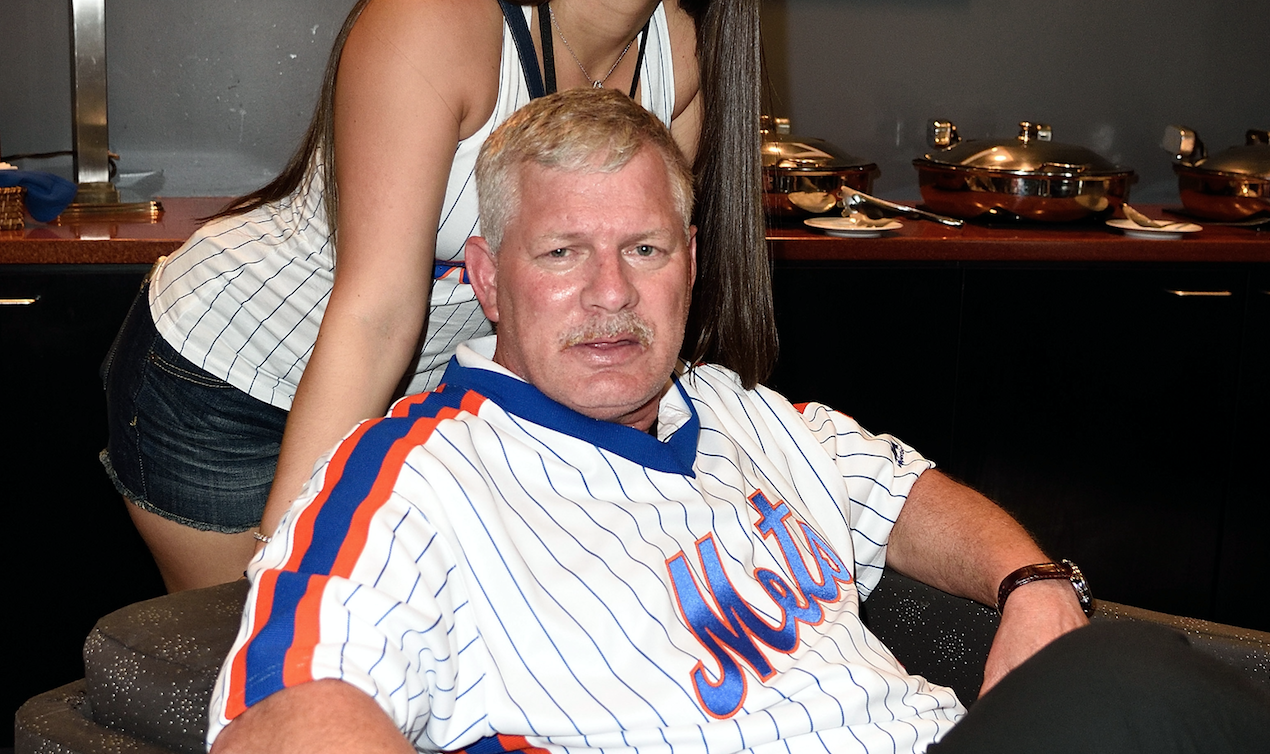 Lena Dunham went to her first "sports event" on Thursday night, taking in a Mets game at New York's Citi Field. She posted a few pictures on Instagram from the game, and tweeted that she was "horny for baseball players." The tweet lured scumbag ex–major leaguer Lenny Dykstra into Dunham's mentions. "DM me," he replied, before sending her the music video for 1989 Garth Brooks ballad "If Tomorrow Never Comes."
So romantic.
Dunham seemed amused, until her followers pointed out that Dykstra was a "contemptible human" who has spent time in jail for bankruptcy fraud and been arrested on sexual harassment charges. Dunham then called his Wikipedia page a "landmine of repugnance," to which Dykstra suggested Dunham should "take a ride on the space shuttle." Dunham then shut down "grandpa" Dykstra for good.
Dykstra has a long history of sexual creepiness. In his 2016 book House of Nails, he admitted that he regularly cheated on his ex-wife of 24 years, and that he'd even tell her he was entering rehab so he could cavort without getting hassled.
Then there are the sex-related legal issues. In 1999, when Dykstra was 36, he was arrested on a charge of harassing a 17-year-old girl who worked at a car wash he owned (the case was later dismissed). In 2011, he was accused of forcing his housekeeper to give him oral sex (no charges were filed). Later that same year, he was charged with indecent exposure after placing an ad for a housekeeper on Craigslist, and when respondents arrived, reputedly telling them the job required providing massages before disrobing. He also has been accused of writing a bad check to a female escort he hired for $1,000. Quite the rap sheet.
If you want to experience his creepiness first hand, you need not look further than his appearances on the Howard Stern Show. While promoting his book in 2016, he described himself as a "connoisseur" of pleasing women before detailing his oral sex technique. "It's very gentle," he explains. "It's rhythm. The paint gets a little wet, then we let it dry a little. Then we blotch a little. Eventually, we're building this beautiful painting. I'll put a fucking frame around it, too."
To get the full effect, complete with Dykstra's drugged-out monotone, play the video, if you dare.
In another clip, Dykstra goes into more detail. "You have a tremendous advantage when you have no teeth," he says. "You can go to the left, to the right, you can go deeper. Sometimes they want you to go all the way in with your tongue. With no teeth you can go to the base, almost. If she wants me to go side to side, if she wants me to go deeper, I can do all that without worrying about teeth getting in the way. That's a true professional. That's someone who cares about his partner."
After describing his "painting" technique in 2016, Dykstra said he'll tell a woman to "get the fuck out of here" if she needs to go to the bathroom. What a ladies' man.
During the same appearance, he talks about how he would have sex with a woman his own age "if they paid me," and that he has "clients" that pay him for "companionship." He has three such clients, he says, one of whom "always wants to stick her tongue down my throat." When Stern asks Dykstra if he would ever have sex with an 80-year-old woman, Dykstra replies that "it's my duty."
Thursday night's incident with Dunham wasn't even the only time in the past month Dykstra's sexual perversion has made news. In August, he was accused of sexually harassing Occidental College politics professor Caroline Heldman when they were both guests on Fox News. "On March 20, 2011, Lenny Dykstra persistently asked me to a party and told me that he gets 'sexually aroused when I talk politics,'" Heldman wrote in a Facebook post. "He also harassed the makeup artist who was curling my hair at the time."
Dykstra thinks its his "duty" to bestow himself upon women. It's time for America to make it its duty to stop treating Dykstra like a flawed but lovable former baseball player and treat him for what he is: a disgusting, misogynistic criminal.