Lena Dunham Says Trump Is Dylann Roof and Twitter Attacks Her Back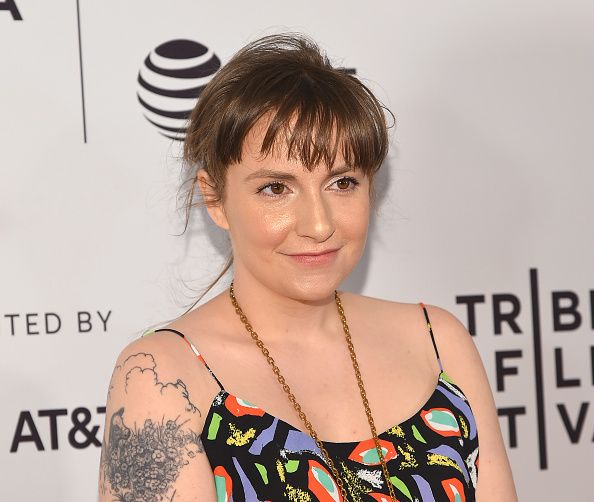 Lena Dunham incurred the wrath of the internet with a comment she made about President Donald Trump on Twitter Monday night. In response to a thread by Travon Free, a writer for the late-night show Full Frontal With Samantha Bee, Dunham compared Trump to Dylann Roof.
"Not only is he a racist but he's a racist with untreated mental illness," she tweeted. "So under diff circumstances he's Dylann Roof."
Roof, a white supremacist, was convicted of 33 charges, including federal hate crimes, for opening fire at a Bible study at the Emanuel African Methodist Episcopal Church in Charleston, South Carolina, on June 17, 2015. He murdered nine black worshippers. Afterward, he showed no remorse even as he faced the possibility of the death penalty. "In my confession to the FBI, I told them that I had to do it," Roof said in his closing argument (he represented himself) before being sentenced to death. "I felt like I had to do it when I said that, and I still feel that way."
Dunham's declaration that Trump is Roof under different circumstances comes in the midst of a national debate—among the president, athletes, sports fans and the general public—about what it means to take a knee during the national anthem. The heated argument is really about race and racism, oppression and inequality and, some argue, patriotism.
The Girls star posted her rather extreme comment on Free's thread about the media, CNN in particular, trying to explain away Trump's searing responses to athletes who have taken a knee while insisting he is not racist. "If @realDonaldTrump is not a racist who is? What do white people think a racist is?" Free wrote. "This is one of the overwhelming problems with American media today.
"Y'all are afraid to call a racist what he is. A racist," he added. "I'll end this by trying to help every journalist and analyst in America: @realDonaldTrump is a racist. Feel free to take it from there."
Dunham immediately followed up her comparison of Trump to Roof with her own thoughts about the feud between the president and the NFL and NBA.
"Do people get how much bravery it takes to stand up to the pres, whether you're rich or not? These players are black Americans," she wrote. "Along with the president's ire they get every violent racist who supports him. They are deluged with threats.
"Have to shield their families," she added. "I'm not an NBA player, I'm just some random white girl on cable reruns, and since the election the violence in my feed has been terrifying. Imagine their national stage, the abuse they know they'll get for doing the right thing and the fact that they do it anyway? True applause."
And she was right. While some in the Twitterverse applauded her for making a bold comment—one said, "Bingo. He's even scarier than Roof: he holds a nuclear arsenal at his vulgarian fingertips and is afraid of 'the other'"—other reactions in her feed were vicious.
"If you would use your platform to reasonably talk to people, especially ones that disagree with you, things would be much better," one wrote. "Wow possibly the most ignorant thing ever tweeted," another said. A third tweeted a photo of Trump picking up a black girl, as though that was proof he couldn't be racist. Yet another pursued the same line of argument, tweeting, "Yeah those racists love dating biracial women like Trump did for 2 years! You're an elitist b*tch. Just go away!!"
And it got more personal. "Examples? Proof? How, in the teeny tiny place you call a mind do you justify your slurs? Middle America LOATHES you because you LIE," one said. She was also called a "complete moron," accused of "anti-American liberal lunacy" and labeled Casey Anthony and Jerry Sandusky under different circumstances.
Several chose to turn things around and allude to the controversy around Dunham's 2014 memoir, Not That Kind of Girl. When the book was released, certain passages spurred accusations that she sexually abused or molested her sister. At the time, Dunham called the reaction to her book "upsetting and disgusting" and tweeted what she called a "rage spiral."
Her most recent attack on the president—she has been quite vocal about her loathing for a man she said "wants to paint himself as a white (orange) savior"—turned into an attack on Dunham. The examples are too numerous to include—many appear only after clicking on the "Show additional replies, including those that may contain offensive content" button—but here's just one instance: "Mental illness, like you molesting your sister then making $$ off the story. You are mental and a piece of garbage."