The Better Life: Lenovo's Yoga Tablet 10 HD+ Tries to Relax Your Tablet Stress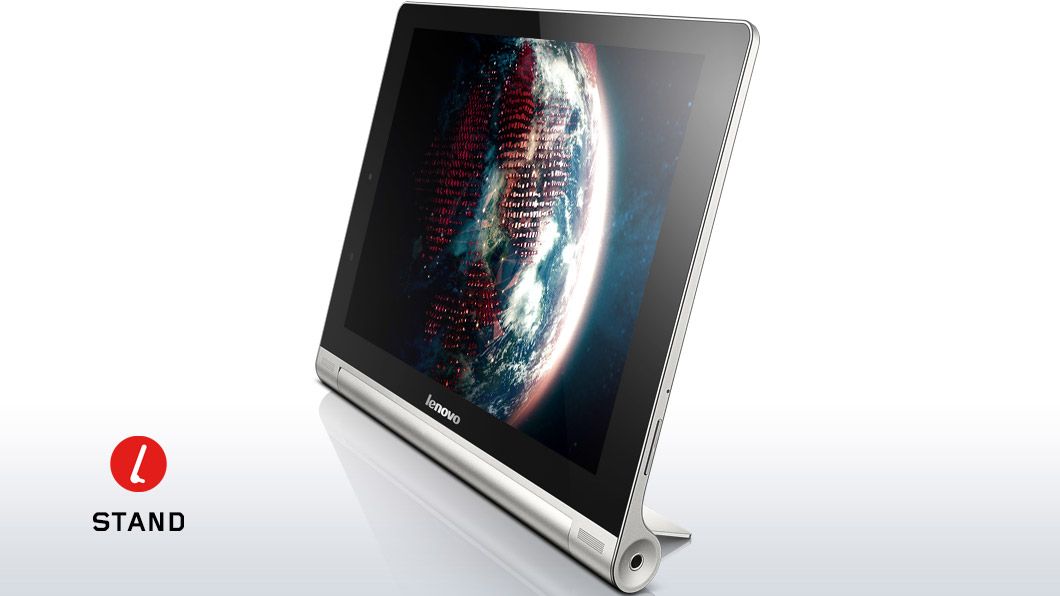 'Tis veritable heresy to take on the hegemonic iPad, the reigning Tablet of Tablets, but that hasn't prevented the likes of Lenovo from giving it the old college try. The Yoga Tablet 10 HD+ is its latest challenge to Apple's dominance in a crowded field—some 300 million of us have quickly gone from mainframe to laptop to "Take one tablet and text me in the morning.…"
Take a stroll down the aisle of your next longish flight and see for yourself how many fellow passengers have taken the plunge. Laptops are heavy and bulky and don't stay awake very long. Lenovo's Yoga not only boasts an 18-hour battery life but stands up proudly on a sleekly concealed kickstand, an ergonomic leg up on the vertically challenged competition. I have an iPad, but I am often frustrated by having to pick it up and tilt it eyeward to see what wonders it beholds. That's a double drag when using it as a digital cookbook and your hands are coated in panko crumbs.
Even when you do hold the Yoga in your hand, its considerable weight (1.3 pounds) is distributed nicely, and when it's in "Tilt" mode, lying flat, on-screen typing is fairly easy. And the same base that allows you to stand the unit up for binge watching also encloses a decent pair of front-facing speakers that may elicit grouses from bass-hungry gamers but are plenty loud and clear enough for Skyping and YouTubing.
This newly retooled version of the Yoga is an answer to critics who thought its predecessor had a murky screen and a pokey processor. The new display kicks out a 1920-x-1200-pixel picture, and the Qualcomm 1.6 GHz Snapdragon 400 chipset ensures snappy performance. RAM has been doubled from 1 GB to 2 GB, and the operating system is Android's 4.3 Jelly Bean, with an upgrade to 4.4 (KitKat) in the offing.
Frankly, the front-facing 1.6-MP camera is not going to land your selfies in the Tate Gallery, but the rear-facing 8-MP rig is fine for capturing Grandma while she knits a stove out of steel wool. Storage-wise, the Yoga is as flexible as a gymnast on muscle relaxants—it comes in 16 GB and 32 GB versions, and there's a microSD card slot if more headroom is needed.
At $350, it's not the cheapest tablet in cyberspace, but another 42 clams (at Walmart.com) buys you Lenovo's Bluetooth Keyboard Cover, which turns your tablet into a laplet.
P.S.: I thought I had just conjured up that cool neologism, but Google tells me Gadget Lab has already been there, done that. Damn—day late and a megabyte short again.