'Hallelujah' Meaning: Leonard Cohen's Bitter Break-Up Song Played Twice at RNC
Leonard Cohen fans are outraged that the late singer's seminal hit "Hallelujah" was played at the final night of the Republic National Convention Thursday night.
Many Cohen fans were disgusted to hear Tori Kelly's version of the song playing during the fireworks that ended Donald Trump's address as pyrotechnics spelled out "TRUMP" and "2020" over the Washington Mall.
However, while some are upset to see the idol's signature song used by a politician they disagree with, many are confused as to why the Trump campaign chose what is often interpreted as a dark and sorrowful break-up song for the event. Perhaps it was a misguided attempt to convey religious sentiment with the use of the phrase 'Hallelujah.'
"Hallelujah" was sandwiched between two other songs—"She's a Grand Old Flag" and Lee Greenwood's "God Bless the USA." An operatic rendition of "Hallelujah" sung by Christopher Macchio was then played off-screen at the end.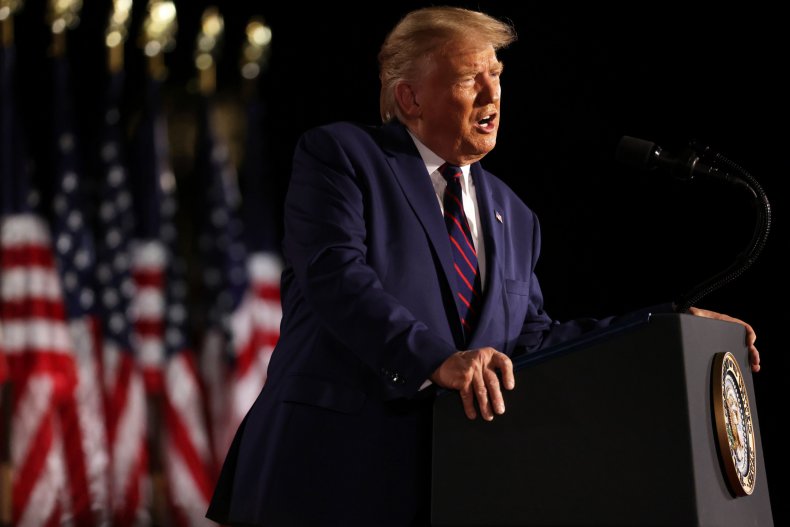 Newsweek has reached out to Cohen's estate to find out if permission was given for the song to be used. Tori Kelly said on Twitter, per Variety, that her team did not permit her version to be played, but Trump has a long history of using songs without getting permission from the artist.
Cohen died in 2016, one day before Trump was elected president. And though his political views were not something he much spoke about, he once told Paul Zollo that he felt "a sense of titillation with extremist positions."
His protest anthem 1992 "Democracy" may have been a more fitting choice with its deeply sardonic lyrics: "Or it's real, but it ain't exactly there/From the wars against disorder/From the sirens night and day/From the fires of the homeless/From the ashes of the gay/Democracy is coming to the USA."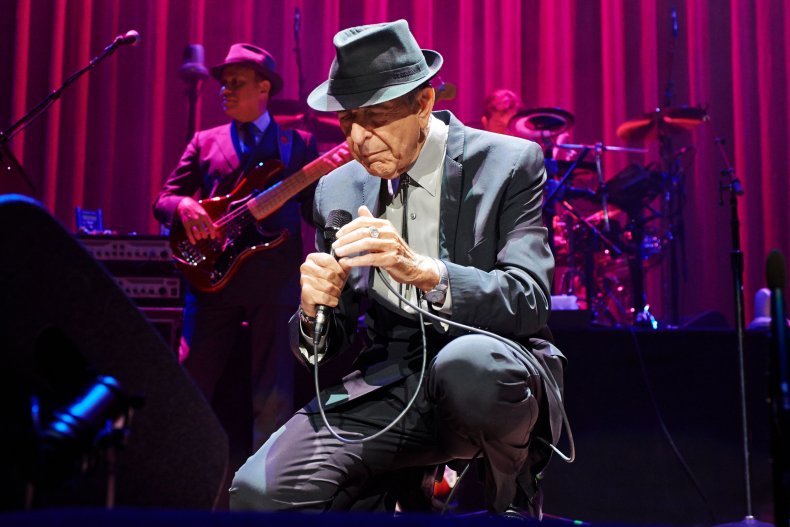 People hurt by Cohen's legacy being used by Trump have been taking to Twitter to share their outrage.
"Ending this s***show with Leonard Cohen really does rub salt in the wounds of anyone who knows anything about Cohen," one tweet reads.
Another tweeted: "The bump you hear is Leonard Cohen making a "what can I do" shrug in his grave."
"An opera singer belting out Leonard Cohen's "Hallelujah" at the RNC is one of the most grotesquely dystopian things I've seen emerge from this administration to date."
While others are just confused about why the campaign chose to play a break-up song twice.
"Not that I'm an expert but I'm still baffled by people who think Leonard Cohen's Hallelujah is a sad song and not, like, an extremely horny song about a man who likes a little sacred in his profane," another tweet read.
While another tweet reads: "Leonard Cohen wrote 80 verses in the original composition of 'Hallelujah'. He couldn't stop writing. The song grew into a reflection about love and loss and spirituality and empathy. Above all, it has space for countless views on what it means to be human. The opposite of Trump."
"I am now reminding myself that Leonard Cohen's Hallelujah is about a failed relationship that's almost certainly ending. May this be an omen."