Leonard Cohen Smiles Down on Us From the 'Tower of Song'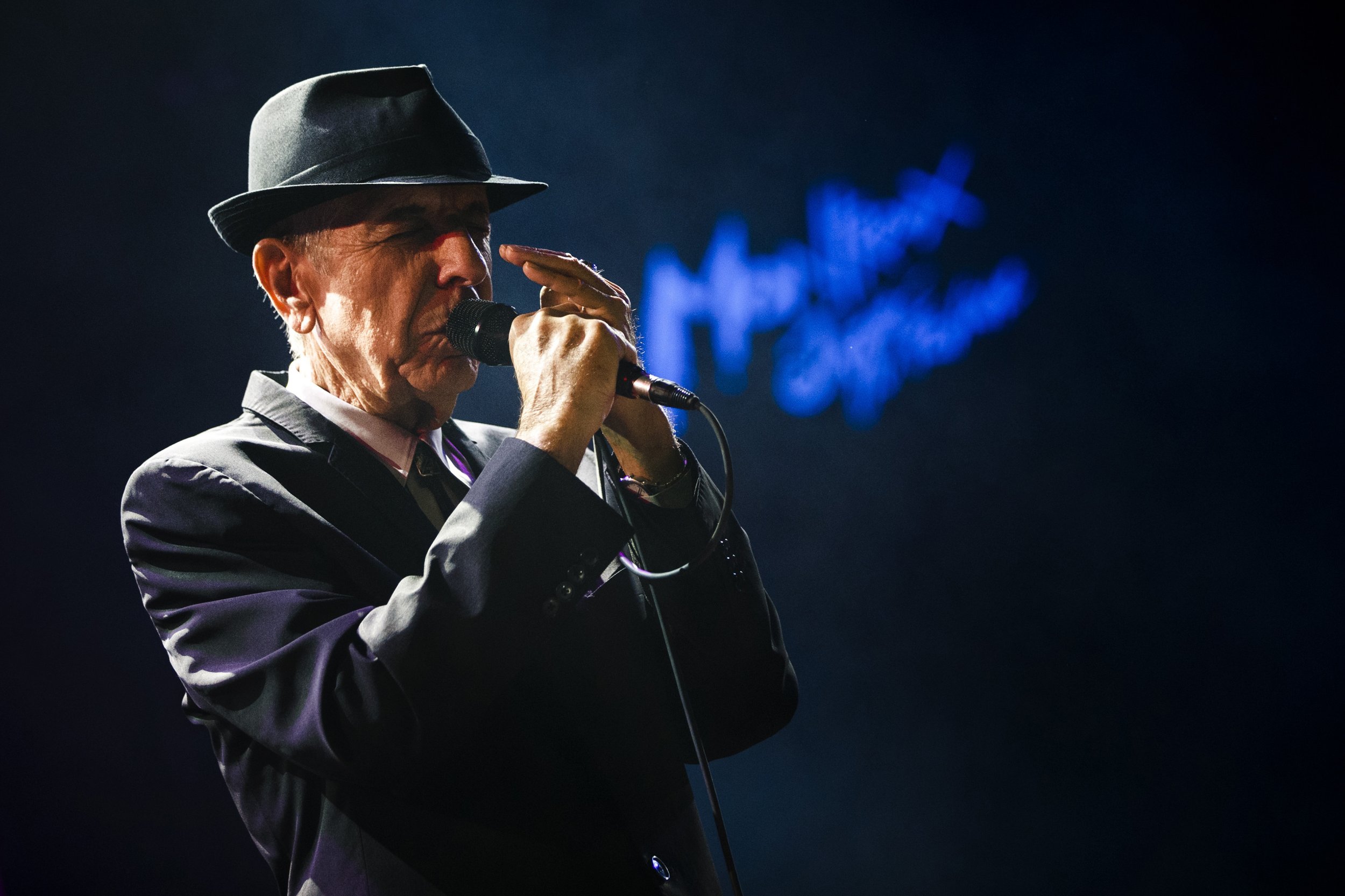 Six weeks ago, it occurred to me that I hadn't seen Leonard Cohen for far too long, so I wrote a note to his manager offering my best wishes and inviting him to lunch if and when his schedule permitted. I knew he'd just made a new album ( You Want it Darker), and was anxious to discuss it with him as we'd done in the past, one of the great joys of my life over the last 20 years.
Alas, my timing could not have been worse. I just learned the news of his passing last night, and immediately regretted not reaching out earlier. At 82 years old, Leonard was certainly at least terribly road-weary. He was recovering from a five-year stretch of the nearly 400 live performances he gave since 2008, in an effort to earn back nearly $5 million that his former manager had embezzled from him.
I had met Leonard in happier times, when my band—Was (Not Was)—performed on David Sanborn's and Jools Holland's Night Music, a wildly eclectic live music show that ran for two years on NBC late Sunday night. The other guests that evening were Leonard Cohen and saxophone master Sonny Rollins, as well as George Duke and "word-jazz" pioneer, Ken Nordine.
We each did a few songs, joining musical forces on his incomparable Tower of Song, a lyric I later pored over for inspiration, admiring Leonard's ability to shift tone from darkly portentous to lightly comic in the space of a single stanza. To wit:
I said to Hank Williams: how lonely does it get?
Hank Williams hasn't answered yet
But I hear him coughing all night long
A hundred floors above me
In the Tower of Song
A few years before meeting Leonard in New York City, I'd been in London for a stretch, playing some live shows and hanging around at my label, Phonogram Records, on New Bond Street, just down the road from Sotheby's auction house. I noticed a commotion there one afternoon, and soon discovered that one of Elvis Presley's Rolls Royces was going up for sale, and that they'd parked it on the street to promote the event.
I hung about for the better part of an hour, taking notes and snapshots and wondering if I might sell a wee story to Rolling Stone, but instead wound up turning my observations into a song entitled, yes, Elvis's Rolls Royce. I'd always been a big fan of country singer Red Sovine's gothic trucker anthem, Phantom 309, wherein "Big Joe"—the ghost of a dead long-haul wheel-man—picked up stray hitchhikers in the middle of the night and delivered them safely to their destinations. Corny and spooky—that's a neat trick to pull off in a song.
I tried to do the same, but with an elegant Rolls Royce standing in for a lumbering 18-wheeler. In the course of four verses, I set the scene, imagined myself hijacking The King's chariot, and then speeding away with great bravado (I made a left at Parliament and hit the pedal hard/ Tipped my hat and smiled as I passed by Scotland Yard ), not stopping until I'd crossed the Atlantic and delivered the sacred vehicle back to Graceland, where it rightly belonged.
I finished the lyric later that night, then gave it to my partner, Don Was, to set to music, and was a little shocked when he delivered a sexy, Barry White-style R&B groove instead of a pedal-steel guitar-driven, rockabilly ballad in the style of Mr. Sovine. When it came time to cut a vocal, Barry White was unavailable so we called our dark-throated friend Leonard Cohen to see if he'd take a crack at it. A day later we booked a studio in the heart of Hollywood and waited for the great man to appear.
As soon as Leonard arrived, donned as usual in a black suit, white shirt and tie (in the middle of a summer day, no less), he took me aside and asked how long it had taken for me to write the song in question. I estimated that I'd spent the better part of an hour or two on the lyric, at which point he flattered me by saying that "not a word nor syllable" was out of place, and that it took him around "six years, on average" to complete a song.
Leonard coasted through a couple of takes that day, lending the lyric a palpable gravitas it perhaps didn't quite deserve, but which transformed the song from a wry fantasy into a dirge-like paean to rock-stars past, and the fate of their worldly belongings. The music was better suited to a lyric like Mr. White's It's Ecstasy When You Lay Down Next to Me, but beggars can't be choosers—the great Leonard Cohen had sat in with us in the name of friendship and generosity, and we were well-pleased at the unusual result.
Over the next several years, Leonard and I would meet for lunch at a downscale diner, where he could go unnoticed in his wrinkled suit and tilted fedora. We would gossip for half the meal, talk a little shop, then return to his duplex on a shady Los Angeles street, where he'd pour me several stiff drinks of his own devising ("Red Needles" he called them—tequila and cranberry juice) and then play me his latest songs.
To do so, Mr. Cohen did not grab a guitar and start strumming as he once was wont to do, but instead powered up a consumer-model Casio electronic keyboard, the kind that plays cheesy-sounding rhythms, and that provides rich, chordal accompaniment with the press of a single finger or two. I later learned that he would take said keyboard into a proper studio, lay it down as "track one," and then have proper musicians replace the parts one by one. Add vocals and call it a day—pretty ergonomic stratagem for an older, formerly acoustic folk singer!
My most lasting memory of Leonard Cohen is of a night we spent together at a Tom Waits concert at the Wiltern Theater in Los Angeles. The headliner was in fine form that evening, croaking out his psychedelic sea shanties and forging ironies by the half-ton. But I must confess that my greatest joy was sitting next to the rumpled genius as he warmly greeted a steady parade of fans and admirers before and after the show. His humility was unforced—he'd learned to reduce his ego to a mere shadow after many years at the Mount Baldy Zen Center.
In discussing that period of his life, Leonard confessed to using his Zen practice to alleviate a "sense of despair" that he'd always had, but also to find his voice again, to fuel another bout with the muse. When I was going through a serious episode of writer's block, I asked him if Buddhism or amphetamines would be more efficacious when it came time to squeeze out a new album's worth of songs.
"Speed," Leonard said with a knowing half-grin, "is incredibly useful when you are at a loss for lyrical inspiration. But I warn you: you will have to be prepared to have a nervous breakdown in your fifties, as happened to me." I polished off my tequila and cranberry and thanked him for his sage advice.
Leonard Cohen was the hippest Jewish uncle I never had growing up, a capacious and compassionate spirit, and rock and roll's most literate and sensitive bard of the last half-century. The world has rarely seen a sweeter, humbler tenant in the glorious Tower of Song. Hallelujah, indeed.