Up on Montréal's Mount Royal, the wind blew swiftly through Leonard Cohen's grave on November 7th, the first anniversary of his death. The Cohen family plot at the Congregation Shaar Hashomayim Cemetery is hard to miss—near the front gate, its seven graves trace the Cohen's deep roots in Montréal, going back to Leonard's great-grandfather, Lazarus Cohen, buried there almost a century ago, in 1917.
Leonard's headstone is immediately distinguishable, and not just for the makeshift shrine of flowers, fan art and yahrzeit candles. A symbol of Cohen's own design, commonly referred to as The Unified Heart (two hearts, one upside down and superimposed over the other in resemblance to the Star of David) adorns the marker. The symbol was created for the cover The Book of Mercy, his 1984 poetry collection, and explained, in Cohen's mysterious way, in a 2007 interview with Sarah Hampson.
The Unified Heart was all over Montréal last week, as the 375-year-old city fêted Cohen in grand fashion. On November 6, Adam Cohen, with Hal Willner, produced a celebrity-stuffed, three-hour musical celebration of his father's life and work at The Bell Centre arena. And last Thursday, the Musée d'Art Contemporain de Montréal, or MAC, opened "Leonard Cohen: "Une breche en toute chose/A Crack In Everything."
Back in the city of Cohen's birth, to prepare for the massive tribute show, "Tower of Song," Adam spoke to Newsweek. "Now that I'm in this family home that I've come to my whole life," located in Montréal's Mile End arrondissement, "there's this familiarity, romance and bittersweetness of all the heirlooms and family objects. I'm looking at my father's guitar on a green velvet chair that belonged to his father. I'm literally sleeping in my father's room, on his mother's carpet."
It's a testament to the power of Leonard's work that a similar air of intimacy came through at the tribute concert, despite the massive scale of the the Bell Centre arena; the emotions cut far deeper than any simple greatest hits set. Among others, Montréaler Patrick Watson channeled Cohen's distinctly spectral sense of Old Testament reckoning with his rendition of "Who By Fire"; k.d. lang delivered a searing "Hallelujah"; Damien Rice offered an unordained "Famous Blue Raincoat" to staid silence; and Adam Cohen and The Webb Sisters, who backed up Leonard on his final tours, delivered a heartfelt "So Long, Marianne," punctuated by Adam reciting the letter his father wrote to his muse, Marianne Ihlen, soon after she passed.
Prime Minister Justin Trudeau—with Leonard's Unified Heart on his tie—stood onstage with his wife, Sophie Grégoire-Trudeau. "In 1988, my father attended one of Leonard's shows," said the Prime Minister. "When he went backstage afterward, [Leonard] said, 'What does one have to do to get a good review in this town?'"
As the evening's bilingual remembrances kept coming, it became clear how much Cohen was beloved on both sides of Boulevard St. Laurent. "Although there's perennial shenanigans going on between Francophone and Anglophone, Leonard Cohen has always transcended that boundary," Adam Cohen said.
The celebrations will continue with the November 11 opening of "Une breche en toute chose," which runs through April 9th of next year. The MAC dedicated six of its galleries to the exhibition, a massive undertaking incorporating music, video, writings, virtual reality and performance to channel Cohen's essence through 40 artists from 10 countries in 20 deeply immersive works. Planning began three years ago, well before his death.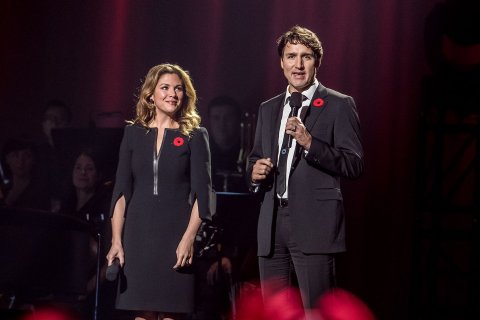 "We asked a wide variety of artists to think about Leonard's cultural output," said John Zeppetelli, Director and Chief Curator at the MAC. "This was never a sycophantic exercise. We were never interested in presenting Leonard's beautifully cut suits or his fedoras."
Among the highlights: Candice Breitz's "I'm Your Man," featuring several Cohen fans over 65 singing that Cohen album You Want It Darker straight through. "I think that the nature of creativity is citational," says Breitz. "We as artists and musicians, consciously or otherwise, are constantly draw on our relationship to other people's creativity in order to shape our own."
Other works include "I Heard There Was a Secret Chord," a chamber emitting wordless hums of the melody to "Hallelujah." In another room, 18 musicians' Cohen covers play on loop by the likes of The National, Moby and Feist, whose cover of "Hey, That's No Way To Say Goodbye" was a memorable moment of the tribute concert.
Performance artist Clara Furey, daughter of the celebrated Montreal composer and filmmaker Lewis Furey (who collaborated with Cohen on the '84 screenplay to Night Magic), gives the exhibition a grounded, human presence with "When Even The," inspired by Cohen's poem of the same name. Wearing only a pair of jeans, she performs a slow-moving, intimate meditation on sensuality and death, two themes that informed much of Cohen's work.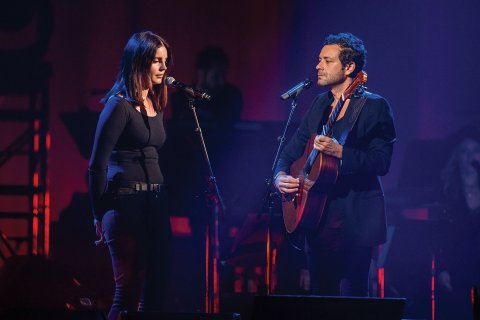 Through such varied mediums, "Une breche en toute chose" effectively captures the vast thematic resonance of Cohen's work without coming off as regurgitation or tired tribute. Considering that Cohen's work transcended simple definition, the unorthodox, interdisciplinary presentation feels appropriate.
"This is a position my father always had, which was, indeed, very unique," says Adam Cohen. "He was trying to avoid the categorization of either his writing or his music. He was never interested in genres, neither political nor ethereal nor astral—nothing."
Montréalers similarly resist categorization, too, reminding visitors to their innumerous celebrations of Cohen that the distinct grasp of duality he captured with words could have only come from a city that runs on a similarly dualistic sense of multicultural inspiration.
"For them to literally be putting up 300-foot murals of him downtown, broadcasting lyrics onto mountainsides, having the ballet of Montréal dance to his work, having the museum do this retrospective and having this many wonderful artists come together in selling out an arena in ten minutes," says Adam Cohen, "these are all beautiful testimonies of what I consider to be real love and fidelity for my father. I see it all as great taste."