'Male "Mona Lisa"' Painting by Leonardo Da Vinci Expected to Auction for $100 Million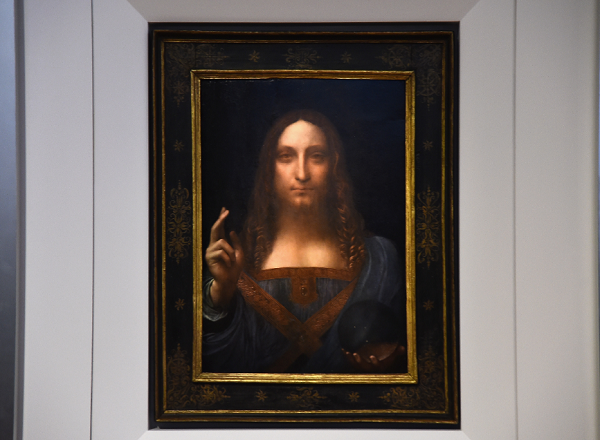 If you've ever wanted to get your hands on a Leonardo da Vinci painting, open up your checkbook (and take out a loan). The legendary painter's rediscovered "Salvator Mundi" is set for auction in New York City on November 15, Christie's New York announced Tuesday. The catch: The painting won't go for any less than $100 million, which is a far cry from the $60 it sold for at a Christie's auction in 1958.
Considered to be the "greatest artistic rediscovery of the 21st century," the renowned painting depicts da Vinci's version of Jesus Christ.
Art experts told CNN that the "Salvator Mundi" ("Savior of the World") was most likely painted around the same time as da Vinci's iconic "Mona Lisa" portrait in 1500. However, after spending years in the possession of England's King Charles I, the "Salvator Mundi" seemingly disappeared at the end of the 18th century.
The painting resurfaced in the 1900s, but art curators were unable to determine its creator, hence "Salvator Mundi's" initial sale of just $60 to Sotheby's auction house. Some art scholars thought the piece had been painted over, causing many to speculate it was the work of da Vinci follower Bernardino Luni.
It wasn't until 2011 that the painting was finally determined to be a da Vinci original. "Salvator Mundi" has since been held at the National Gallery in London.
"The 'Salvator Mundi' is the holy grail of old master paintings," Alan Wintermute, Christie's senior specialist of old master paintings, said in a statement. "Long known to have existed, and long sought after, it seemed just a tantalizingly, unobtainable dream until now."
Christie's Francois de Poortere said, "Salvator Mundi" is often considered the "male 'Mona Lisa'" due to similarities in techniques in the paintings' faces, as well as the time period in which they were created.
Before it's auctioned off, the painting will be temporarily exhibited at galleries in Hong Kong, San Francisco and London.
'Male "Mona Lisa"' Painting by Leonardo Da Vinci Expected to Auction for $100 Million | Culture