Leonardo DiCaprio Criticized for Private Jet Use After Calling Out Climate Change Deniers at Global Citizen Festival
Leonardo DiCaprio, one of Hollywood's most prolific environmentalists, has received criticism after calling out climate change deniers at the Global Citizen festival in New York on Saturday.
Social media users accused DiCaprio of hypocrisy, pointing out his use of private jets and yachts—similar to the recent criticism lobbied at Prince Harry and his wife Meghan Markle.
DiCaprio, 44, took the stage at Global Citizen in New York's Central Park on Saturday to praise the efforts of 16-year-old climate change activist Greta Thunberg and the millions of young protesters who took part in climate strikes around the world earlier in September.
"Last Friday, young people led the world in strike. Millions of individuals did more than simply walk out of their schools and places of employment. They took a stand. They set an example of true leadership that our planet so desperately needs. These young people have said clearly, definitively and without fear, that the time for inaction is over," said DiCaprio, according to The Hollywood Reporter.
The Once Upon a Time in Hollywood actor continued: "Yet surprisingly some have reacted to this movement with insulting tweets and negative talking points—individuals that seem to care more about profit and their own self-interests than about your own future. But we know that the climate youth movement is more important and crucial than at any time in human history."
DiCaprio added that "unless you live in alternate reality, there is no more time for denial."
However, on Twitter, some users responded to The Hollywood Reporter's article about DiCaprio with comments about his use of private jets and yachts. Some even shared pictures of DiCaprio appearing to embark and disembark private planes and lounging on the deck of a yacht.
Many of the comments questioned whether DiCaprio arrived at the event by private plane. One person said: "I would love to hear what he is saying but his enormous carbon footpint is blocking the speakers."
DiCaprio has long used his fame to raise awareness for environmental issues, including supporting renewable energy sources and speaking out about climate change.
In 2016, DiCaprio co-produced and starred in the climate change documentary Before the Flood in which he explored the effects of global warming and tackled climate change denial.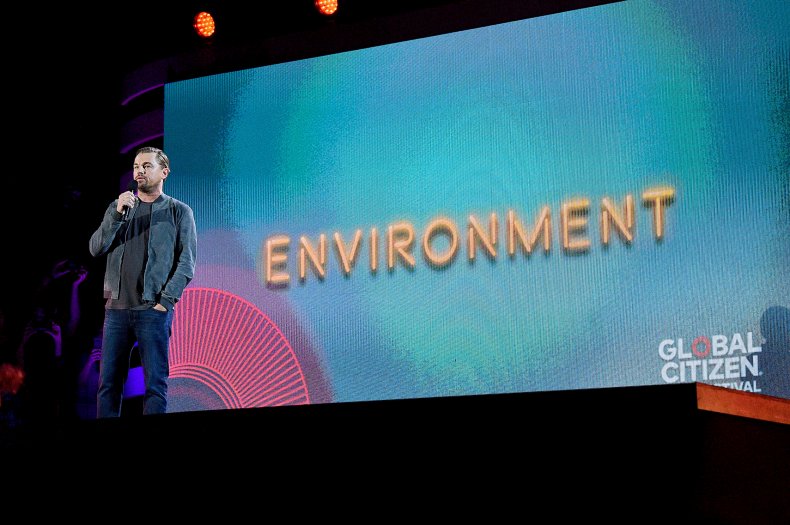 Upon winning best actor at the 2016 Academy Awards, for his role in The Revenant, DiCaprio used his speech to raise the issue of climate change, too.
"Climate change is real, it is happening right now. It is the most urgent threat facing our entire species, and we need to work collectively together and stop procrastinating," said the actor.
"We need to support leaders around the world who do not speak for the big polluters, but who speak for all of humanity, for the indigenous people of the world, for the billions and billions of underprivileged people out there who would be most affected by this. For our children's children, and for those people out there whose voices have been drowned out by the politics of greed."