Leonardo DiCaprio Co-Star Labels Him 'Smelly': 'I Don't Think He Washed'
Leonardo DiCaprio has been labeled "smelly" by a former co-star who did not mince words about the actor's alleged poor hygiene.
The claim came from 81-year-old British-Australian actress Miriam Margolyes who worked with DiCaprio on the 1996 blockbuster Romeo + Juliet.
The beloved Baz Luhrmann movie is one of DiCaprio's early projects and is responsible for propelling him to worldwide fame and 90s heartthrob status.
International audiences will know Margolyes as Professor Sprout in the Harry Potter movies.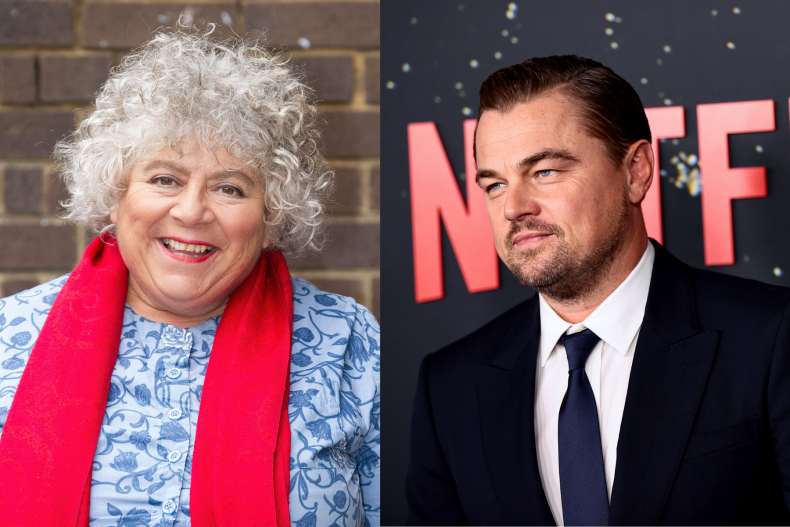 Margolyes, who played The Nurse in Romeo + Juliet, was not impressed by the young star's hygiene during filming of the movie.
"He was a bit smelly because it was very hot in Mexico and young boys don't make themselves fragrant, they don't wash all the bits," Margolyes revealed of an 18-year-old DiCaprio during an appearance on U.K. breakfast show, This Morning.
The revelation prompted hosts Holly Willoughby and Philip Schofield to burst out laughing.
"I don't think he'd be delighted you said that on the telly," Willoughby noted.
The subject of Romeo + Juliet came up when Willoughby said: "In one of my favorite films, Romeo and Juliet, you worked with Leonardo DiCaprio, who you had a great relationship with."
"Oh yes," the Harry Potter star replied.
"You thought he was wonderful, you went shopping together," Willoughby said before Margolyes added: "I mean he looked gorgeous back then, but he didn't necessarily smell so great."
Fans of Margolyes love the star for such off-the-cuff comments, and she went viral earlier this year when she went seriously off-script while recording a birthday message on Cameo.
"I think Germany is a fabulous country. I wish it hadn't had Hitler. I'm sure you do, too," Margolyes said while recording a birthday message for a German fan.
This riff led Margolyes down another path.
"I'm very political. I'm very much on the left. So if you're on the right, f*** off, c*** face," she said. "You're only 32 and of course, you know nothing. That's the truth, darling. And you know what? I know nothing as well."
Margolyes concluded the message: "I'm very happy to be able to wish you a glorious sex-obsessed birthday. Peace and Love."
As a former Harry Potter star, Margolyes has defended J.K. Rowling amid the ongoing debate about the author's views on the transgender community and said that anger directed towards the author is "misplaced."
She also described Rowling as a "generous woman."
"We all know people who are slightly pansy or a bit butch or whatever you call it," she told Radio Times. "But I think the vituperation that J.K. Rowling has received is misplaced."