Leonardo DiCaprio proved he was a good sport at the 2022 Academy Awards by giving Amy Schumer his blessing to make fun of him and his young girlfriends.
Schumer hosted the Oscars for the first time this year, along with Wanda Sykes and Regina Hall, in a ceremony that was largely overshadowed by Will Smith slapping Chris Rock.
As any Oscars host usually does, Schumer, Sykes and Hall all told jokes about the celebrities in the room, but Schumer took the extra step of checking with the gags' butts first.
She explained on The Howard Stern Show on Wednesday why she pre-warned the people in the room.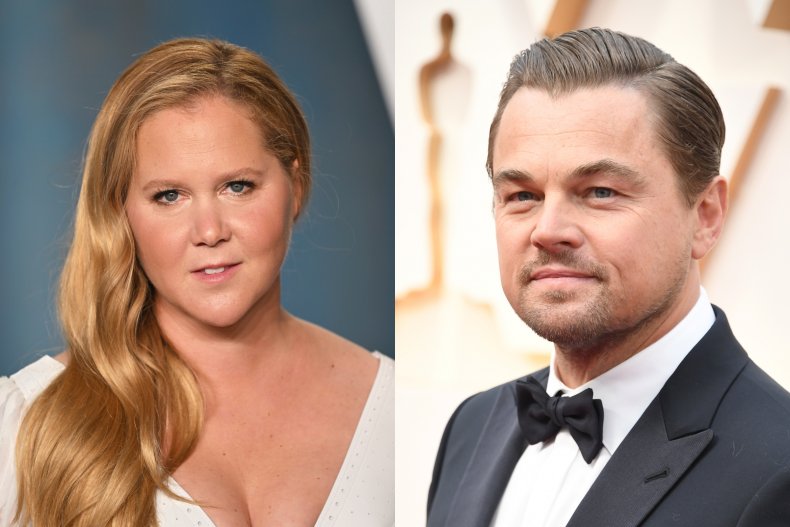 "To be honest, I did reach out to people that I was going to joke about before and make sure it was ok with them," Schumer told Stern. "I've been burned too many times. I didn't want the camera to cut to somebody looking sad."
Of the people she checked in with, DiCaprio seemed fine with the joke about him. Schumer says when she asked him, he simply said, "Go ahead, I don't care."
The joke Schumer told on the night was, "He has done so much to fight climate change and leave behind a cleaner, greener planet for his girlfriends."
During her recap with Stern, Schumer also sang the praises of DiCaprio's current girlfriend, Camila Morrone. "You know, Cami, his girlfriend is the s***. Like she's actually the coolest b**** you'll meet. Yeah, they don't care."
DiCaprio has been in a relationship with Morrone since 2017, but he rarely discusses his private life in public. It's widely spoken about that he often has girlfriends younger than him.
Schumer also went on to explain that she had pre-warned Venus and Serena Williams, and Will Smith for another joke she told about their movie, before the slap happened. Schumer also worked out a bit with Kirsten Dunst and Jesse Plemons ahead of time, but Schumer received death threats after the show.
Going on to discuss the now-infamous slap moment, Schumer expressed her shock at the situation because Chris Rock and Questlove are dear friends of hers, and she's always loved Smith.
"I think it was traumatizing for all of us," she said. "It was upsetting for so many reasons. I had no thoughts of like how it affected me or my performance, it was just upsetting as a person."
Amy Schumer has a new show out called Life & Beth. All ten episodes of the first season are available to watch on Hulu now.