Leopard Tanks Arrive in Poland as Ukraine Prepares to Fight Back
The first of Canada's donated Leopard 2 main battle tanks has arrived in Poland before the shipment travels on to Ukraine.
Canadian defense minister, Anita Anand, published an image of a Leopard 2 tank arriving in eastern Europe. "Alongside our allies, we'll soon be training the Armed Forces of Ukraine in the use of this equipment," she wrote on Twitter.
Shortly after the U.S. and Germany confirmed deliveries of M1 Abrams and Leopard 2 tanks to Ukraine, Ottawa announced they would send four Leopard 2 tanks to Kyiv.
The tanks would be from the Canadian Armed Forces' inventory, Anand said on January 26, and would be accompanied by ammunition, spare parts, and military personnel to train Ukrainian operators in a third country.
The pledge was "proof of our enduring commitment" to Ukraine, Anand added.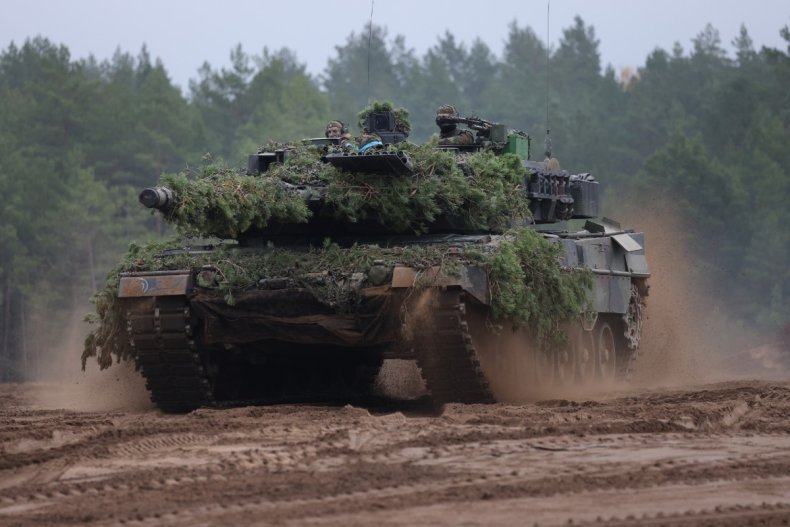 On January 25, German Chancellor Olaf Scholz said Berlin was "acting in close international coordination" to provide Kyiv with a company of Leopard 2A6 tanks.
"This decision follows on from our official line to support Ukraine to the best of our ability," he added.
Berlin sending 14 Leopard 2s—and allowing other countries to export the German-made main battle tank—came after increasing pressure from NATO allies to comply with Kyiv's request for Leopards.
Leopard 2 main battle tanks were widely considered by experts to be the most appropriate choice of Western main battle tanks for Ukraine.
Ahead of the decision, Mariusz Blaszczak, Poland's defense minister, called on Germany to "join the coalition of countries supporting Ukraine with Leopard 2 tanks."
Writing on Twitter, Blaszczak said on January 24 that Germany had received Warsaw's request to transfer Leopard tanks to Ukraine.
A fortnight before Berlin confirmed they would send Leopard 2 tanks, and allow other countries to do so, Polish president Andrzej Duda said during a visit to Ukraine that "a company of Leopard tanks will be handed over as part of coalition-building."
Portugal's prime minister, Antonio Costa, said on Saturday that an unspecified number of Leopard 2 tanks would be sent to Ukraine, along with the 14 promised by Poland.
"I know how many tanks will be [sent to Ukraine] but that will be announced at the appropriate time," Costa said during a visit to the Central African Republic.
Spain is expected to send between four and six Leopard 2A4 tanks, according to daily paper El País, citing government sources. Norway is expected to send Leopard 2A4 tanks, confirming on January 26 it would send tanks, but not specifying which or how many would be received by Ukraine.
The Leopard 2A6M can travel up to 43mph, and has a range of around 280 miles, according to manufacturer Krauss-Maffei Wegmann. The main battle tank can be fitted with a 120mm smoothbore gun and a 7.62mm machine gun.