Why Leopard 2 Tanks Would Make 'Crucial' Difference: Retired Lt. General
Leopard 2 tanks could play a "crucial" role in Ukraine's war effort, but only as part of a combined arms operation rather than as an isolated tool in its arsenal, a retired lieutenant general has said.
When asked on NewsNation on Sunday about how critical the Leopard 2 tanks would be for Kyiv's war effort, former Lt. Gen. Richard Newton called the German-made tanks "much needed," but specifically as part of broader combined operations.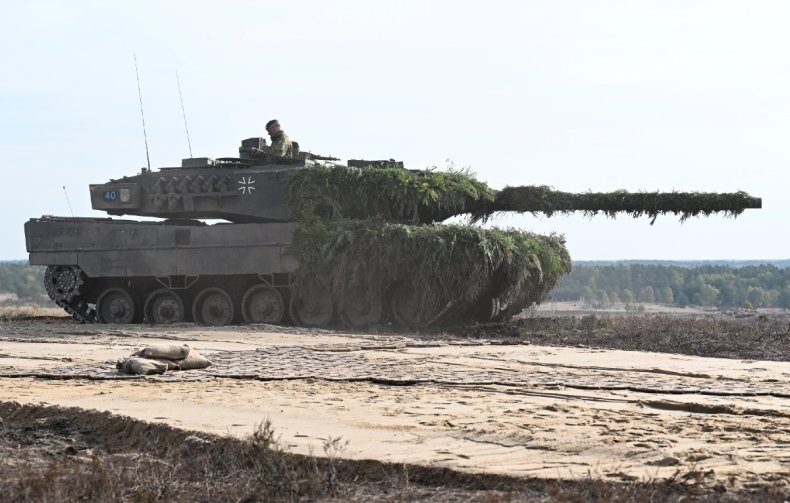 Stressing he believed "strongly" that tanks would help with the "integrated capabilities" of trained soldiers, the retired Lt. Gen. said the functioning of individual weapons systems alongside one another could "turn the tide."
"The tanks themselves won't make a crucial difference," Newton added. "What's crucial here is really creating a more effective, what we call, 'combined operations,' combined operations being more artillery, and infantry, and air defense. Combined operations also would include the Bradley vehicles and the Stryker vehicles that are very significant, and we are actually going to provide those."
Germany has faced increasing pressure from NATO countries and allies to send the main battle tanks that Kyiv has long petitioned for.
Poland had promised to supply a small number of Leopard 2 tanks to Ukraine as part of an "international coalition," but Germany holds the export license for the tanks. This prevents other countries sending the main battle tanks, which are held by more than a dozen armed forces in Europe, elsewhere without permission from Berlin.
On Sunday, German Foreign Minister Annalena Baerbock said that, although for "the moment the question has not been asked," Berlin "would not stand in the way" of Leopard 2 tanks rolling into Ukraine.
Following a meeting of Western defense ministers, led by Defense Secretary Lloyd Austin at the U.S. Army's Ramstein air base in Germany, conditions for Leopard 2 tanks to arrive in Ukraine had still not been agreed.
Ukraine's deputy foreign minister, Andriy Melnyk, told CNN on Saturday that Germany's reluctance to furnish Kyiv with Leopard 2 tanks was a "huge disappointment for all Ukrainians."
After the summit, Estonia's foreign minister, Urmas Reinsalu, posted a joint call from Tallinn, Riga and Vilnius for Germany to bend to international pressure over the Leopard 2 tanks.
"We, Estonia, Latvia and Lithuania Foreign Ministers, call on Germany to provide Leopard tanks to Ukraine now," Reinsalu posted on Twitter on Saturday.
"This is needed to stop Russian aggression, help Ukraine and restore peace in Europe quickly. Germany as the leading European power has special responsibility in this regard," he added.
The Leopard 2 main battle tanks would be the most appropriate choice for Kyiv over the likes of the UK's Challenger 2 and the U.S.'s Abrams tanks, defense and security analyst Professor Michael Clarke previously told Newsweek.
Produced by Krauss-Maffei Wegmann, the military manufacturer described Leopard 2 tanks as "the ideal combination of protection, mobility, maneuverability and fire power." They have a range of just under 280 miles, and a maximum speed of around 43.5mph.
Scattered around 13 European countries, the Leopard 2 tanks that first entered service in 1979 "all take the same ammunition, they all require the same sort of maintenance, [and] there's plenty of them," according to Clarke.
"There are so many Leopard 2 [tanks] around in Europe, that if everybody gave 20, [then] five or six nations could give the Ukrainians what they need," he added.