Leopard Mauls Toddler to Death in South Africa's Kruger National Park
The two-year-old son of a staff member at South Africa's Kruger National Park has been mauled to death by a leopard.
The animal had stalked and attacked the toddler at the staff headquarters just inside the park and bit him on the neck and body, The Sun reported.
A source at the two-million hectare park said that the boy lived with his parents inside a fenced off area and his father was a technician who repaired tourist facilities at the site.
After the attack on Wednesday night, the parents of the boy rushed him to hospital where he was pronounced dead on arrival. Park spokesman Ike Phaahla said that two park rangers searched for the female leopard and shot it dead to prevent any further attacks.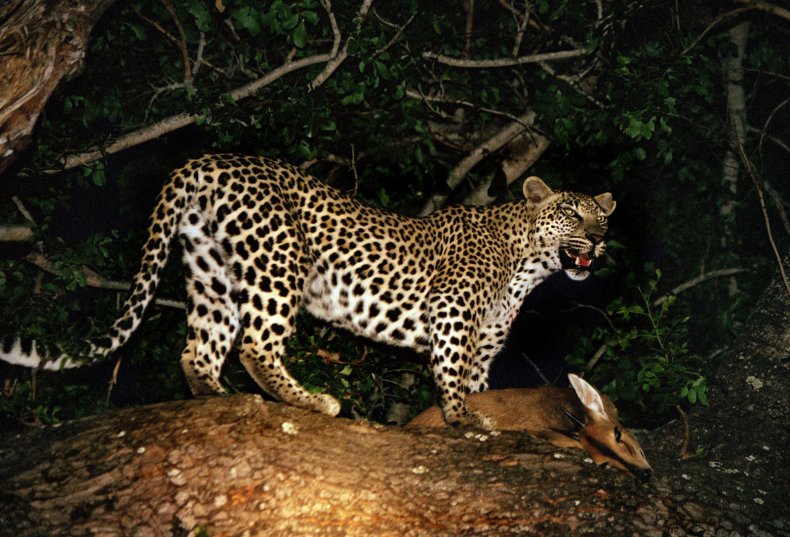 He said that the level of interaction between the animals and visitors meant that the leopard may have got used to people and was no longer afraid of them.
"There is interaction between animals and visitors to the KNP and this may result in species like a leopard getting habituated to people and losing their fear of them.
"The change in natural behavior can then lead to unfortunate incidents such as this."
A source at the national park told The Sun: "The leopard came in after dark and got to the boy and to be honest what happened was over very quickly as the leopard was chased off but the boy suffered terrible injuries.
"He was barely alive when he was put in the truck but by the time he reached the hospital it was too late."
Fundisile Mketeni, CEO of South African National Parks, said: "It is an unfortunate risk that our staff experience when they live and work in environments like the KNP with animals but these events are very rare but always tragic when they occur.
"This is the risk that we live with on a daily basis as we help to conserve our many animal species for the benefit of all. May the young toddler's soul rest in eternal peace," IOL reported.
KNP Management has sent a delegation to help the family and provide counselling. The boy's name has been withheld until family members have been told.
Around 10,000 leopards roam wild in the Kruger National Park, and each can weigh up to 220 pounds and run at nearly 40mph.
Their jaws and claws can take down and kill an animal up to three times its own size.
Earlier this week a nine-month-old baby boy was killed by a leopard in western India.
The infant, Swaraj Gurnule, from Gadbori Village in Maharashtra state, was sleeping next to his parents in bed when the animal entered their home and dragged him away, the Mail Online reported.