Leopard Saved After Getting Head Stuck in Plastic Bottle for Two Days
A leopard in India was found severely dehydrated and famished after getting its head stuck inside a plastic jar for two days.
The leopard, who is thought to be around two years old, was discovered wandering around a village near the Sanjay Gandhi National Park, in the Thane district of Maharashtra state, according to a report inthe Times of India.
A video posted to Twitter by wildlife journalist Ranjeet Jadhav showed the animal crouched alone on a roadside, with its head enclosed inside the plastic jar.
As well as being unable to access food or water, the leopard would also have unable to breathe properly.
Plastic can pose a serious health hazard to wild animals. If they become trapped or tangled in plastic, it can prevent them from hunting and eating. It can also cause serious health problems if ingested.
The Times of India reported the jar had been discarded with water in it, and the leopard likely became stuck while trying to take a sip. It said that after a 48-hour search, forest officials found the leopard and managed to remove the jar.
The leopard was then given food and water, and a medical evaluation. It was moved to the Sanjay Gandhi National Park rescue center for further treatment. Eventually it will be released back into the wild.
The incident has sparked concerns over waste being dumped in the Sanjay Gandhi National Park. Local animal rescue team Wild Animal and Reptile Rescue (WARR), said the rise of farmhouses built in forest areas has led to an increase in waste dumping.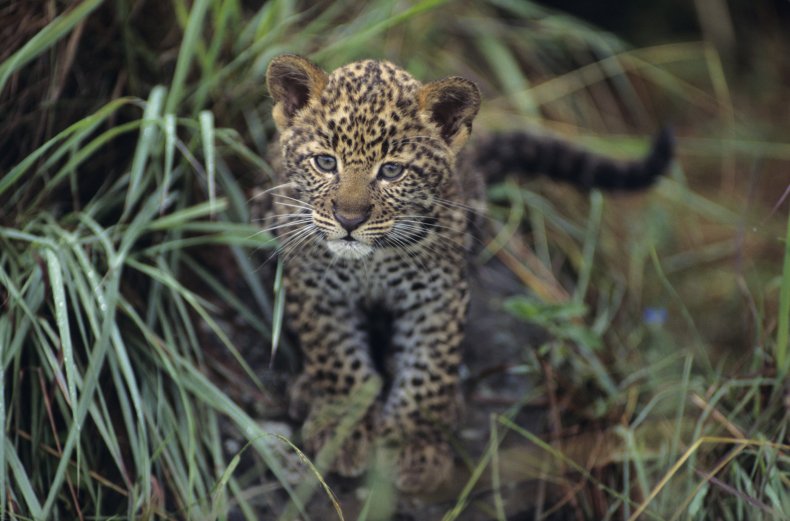 Suhas Pawar, secretary at WARR, told The Hindustan Times: "There is no watch on the waste management in these areas. The bottle in which the leopard cub's head was stuck also was used by people and dumped on the road with little water in it. Such behavior by humans should stop to protect the animals. For these, the authorities will also have to come up with a plan for managing waste."
Milind Pariwakam, who works with Roadkills—a local initiative to collect data on wild animals killed on roads or rail tracks in India—told the Indian Express that plastic garbage discarded by roadsides and railways can often be blown into forests by heavy winds. She said it has become a big problem in both rural and forest areas.
Maharashtra State has the third-highest leopard population in India. There are estimated to be over 1,600 in the state. Leopards in search of food will often wander into villages, increasing human and leopard conflict. This has increased in recent years due to deforestation.