Release of Venezuelan Opposition Leader Leopoldo Lopez Could Backfire for President Nicolas Maduro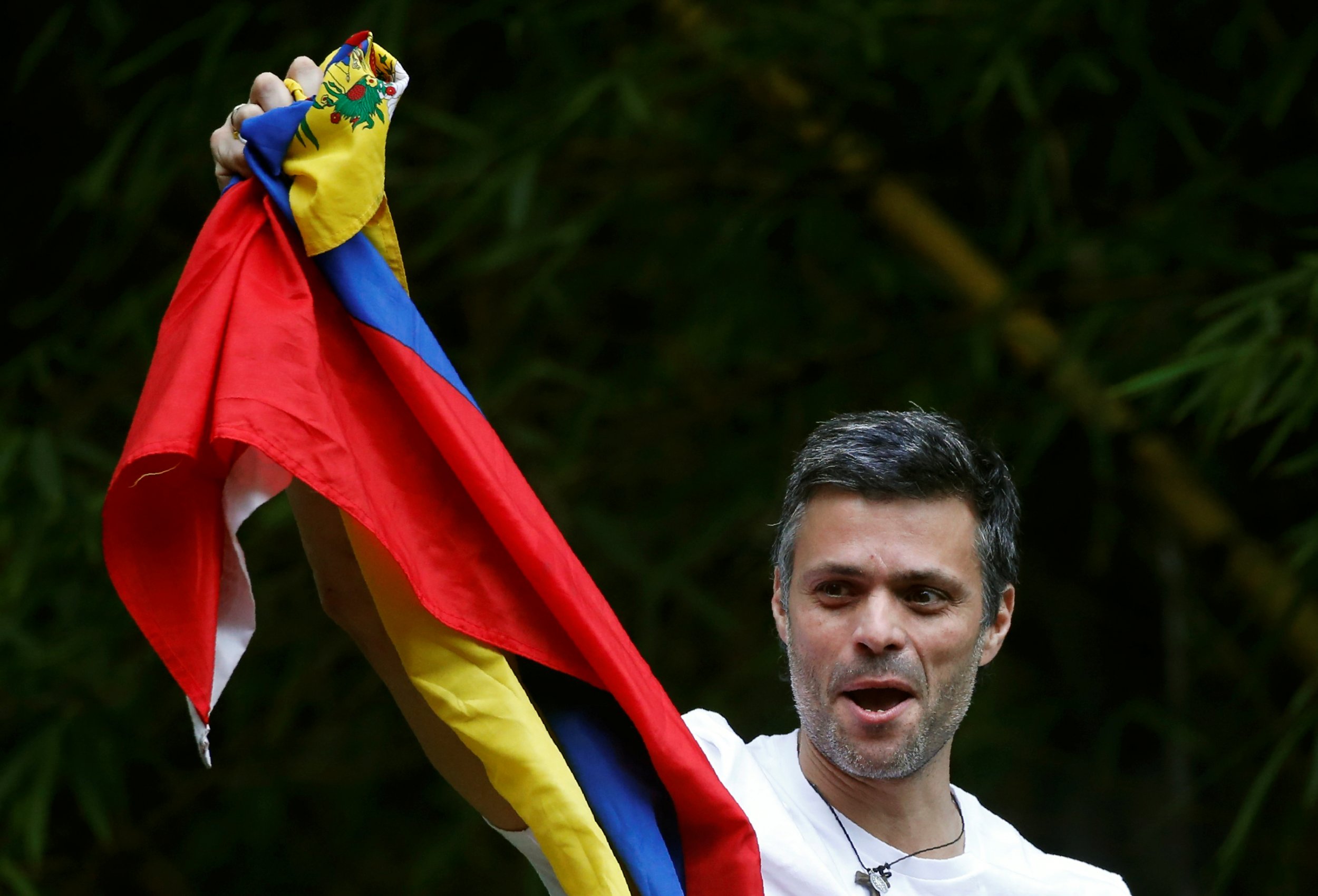 Venezuela's President Nicolas Maduro has sought to ease protests and global censure by granting house arrest to opposition leader Leopoldo Lopez but he risks both energizing the opposition and alienating part of his socialist base.
After three months of often violent street demonstrations demanding early elections and freedom for activists, the pro-government Supreme Court let Venezuela's most famous jailed politician return to his Caracas home after three years.
Lopez, 46, a U.S.-educated economist and leader of the Popular Will party, is beloved by some in the opposition who admire his hardline stance and see him as a future president.
But he is loathed by many in the ruling Socialist Party who deem him an elitist coup-monger intent on overthrowing them.
The government has framed the release, partly brokered by former Spanish Prime Minister Jose Luis Rodriguez Zapatero, as evidence that dialogue, not conflict, is the way forward.
Maduro quickly urged Lopez to rein in protests he says are seeking a coup amid a blistering economic crisis.
But the decision could be an unhappy middle ground that further isolates Maduro, a former bus driver and union leader narrowly elected to replace late leader Hugo Chavez in 2013, without bringing him tangible benefits.
Greeting the decision with fireworks and tears of joy at Lopez's home, opposition supporters vowed to stick to the streets until all their demands are met.
"This is like a burst of oxygen after so many years of fighting," said student Angel Ybirma, 28, who called his mother when he heard the news before draping himself in a Venezuelan flag and hopping on a motorbike to celebrate at the Lopez home.
"This shows the government is scared, that it's under a lot of international pressure, and that we're going to emerge from this soon. We have to keep going with more passion," he said, adding that Lopez deserves full freedom.
Lopez, jailed on charges of inciting violence during similar protests in 2014, himself urged Venezuelans to keep up the grueling and often violent street action that has led to nearly 100 deaths, hundreds of arrests, and thousands of injuries.
The opposition is also holding an unofficial plebiscite next Sunday to ask Venezuelans what they think of Maduro's controversial plan to rewrite the constitution and whether they instead want an early vote to remove him.
Also cheered by some signs of dissent within government and the armed forces, Maduro's foes are unlikely to soon sit down for public talks with the government.
A dialogue mediated by Zapatero last year collapsed with little to show for it, and many in the opposition see him as a sellout who bought Maduro more time.
Still, the Lopez decision and the revived role of international mediators could carve out a potential roadmap for future negotiations.
Some 'Chavistas' Unhappy
The concession to Lopez, the scion of a wealthy family, could also deepen some fissures within "Chavismo", previously united under the charismatic and domineering Chavez.
For years, officials have derided Lopez as a murderer and instigator of violence responsible for dozens of deaths during the 2014 protests, so his sudden release for alleged health reasons is sitting badly with some "Chavistas."
"Today we awoke to a decision that fills us with indignation," said former Prisons Minister and prominent Socialist Party official Iris Varela, clad in a T-shirt emblazoned with a stylized image of Chavez's eyes.
She added that the decision highlights separation of powers in Venezuela and that she would accept it, but there were further rumblings on social media from other Chavez supporters who think Maduro is betraying the late leader's legacy.
Some questioned the Supreme Court's stated reason for granting Lopez house arrest given he seemed healthy and fit when he saluted supporters, while others warned it would not halt protests and said it was an insult to the 2014 victims.
To be sure, there are still many unanswered questions surrounding Lopez's release from jail, including how the move was negotiated and whether other releases could follow.
But in any case, the decision to let him go home is not a game-changer for the opposition. Maduro retains a firm grip over institutions, including the crucial Supreme Court, and is pushing ahead with a new constitutional assembly with powers to rewrite the charter and supersede institutions.
The opposition warns the July 30 vote is a sham poll designed to consolidate his powers as a "dictator". They hope their own plebiscite next Sunday will further de-legitimize Maduro, although the process will be purely symbolic.
The historically fragmented coalition will also have to adjust to the return of Lopez, seen by some in the opposition as hot-headed and domineering.
He and fellow opposition leader Henrique Capriles, a sports-loving lawyer who advocates more moderate tactics, have clashed over strategy and leadership in the past and could jostle for a future presidential ticket.
The terms of Lopez's house arrest have not been made public, so it is unclear to what extent he will be able to participate in future strategizing within the opposition.
But the coalition is united in its street strategy and both men are banned from holding office, likely lessening tensions.
"This is not the moment for individual rivalries. The big responsibility right now is to find a path forward for the country, so I wouldn't worry about divisions," said political consultant Armando Briquet, a former campaign manager of two-time opposition presidential candidate Capriles.