If Maine Elected Paul LePage, Could Donald Trump Win?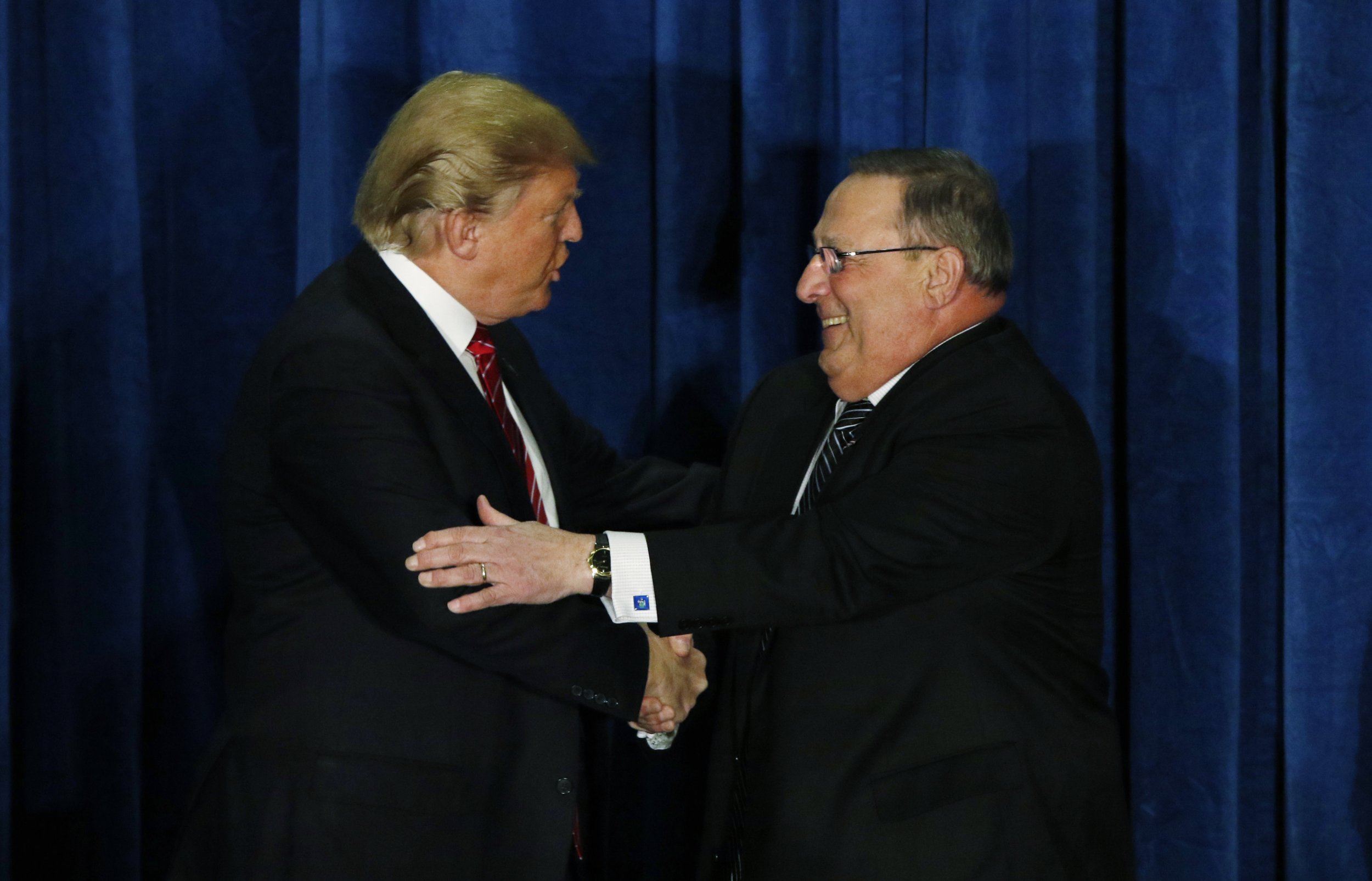 The good citizens of Maine may have been surprised last week when they learned their governor, Paul LePage, left a threatening message on a state senator's telephone answering machine—he called the legislator a "socialist" and a "cocksucker"—but they probably weren't shocked. After all, since he was elected in 2010, the 66-year-old Republican has been known for his incendiary, offensive behavior, from making a crack about anal rape to spewing racially charged statements about minorities pushing drugs and corrupting "white girls." No one is terribly surprised that demands for LePage's resignation have increased in recent days.
When considering LePage's actions, it is irresistible to compare him to Donald Trump. Each is controversial, irascible and able to send liberals—along with many, many Republicans—into fits of apoplexy. (That state senator was hearing from the governor because he'd decried LePage's rants about how persons of color are the "enemy" in the state's drug war.) And so the question arises as to whether LePage's gubernatorial victories in 2010 and 2014 and his tenure as governor of the 42nd most populous state offer any clues about Trump's chances in November. The answer is yes.
When LePage won the GOP primary in 2010, it was a bit of a shock. For the most part, Maine has sent only moderate Republicans to higher office. (One of them, Senator Susan Collins, says she can't vote for Trump.) LePage, though, is a different animal—a hard-core, Tea Party–infused right-winger who ran away from an abusive home at 11. Of French Canadian ancestry, he speaks English as a second language and was, in that small-town Maine way, helped out of a downward spiral by Peter Snowe, the first husband of another of the state's moderate Republicans, former Senator Olympia Snowe. After Snowe helped him get into college, LePage made a success of himself, marrying into a lumber family, earning an MBA and becoming a business consultant and the mayor of Waterville, Maine's 11th largest town. After he jumped into a crowded gubernatorial field in 2010 and won the primary with a 37 percent plurality, he won the governorship in a four-way general election, buoyed by the GOP tide that followed the passage of Obamacare and the lingering financial crisis.
In office, his combative style drew national attention to sleepy Augusta, the state capital. He declined to meet with the NAACP, and after the group encouraged him to meet with black prisoners, he said they could "kiss my butt." He had a mural covered up at the state's Department of Labor that included Rosie the Riveter and a scene from a Depression-era strike because it wasn't sufficiently pro-business. LePage referred to the Internal Revenue Service as the Gestapo, before backing off.
That was nothing compared with the time, in 2013, when LePage said state Senator Troy Dale Jackson "claims to be for the people, but he's the first one to give it to the people without providing Vaseline." He added that Jackson, a logger, "ought to go back into the woods and cut trees and let someone with a brain come down here and do some good work."
Despite all of this, LePage was re-elected in 2014 even after polls predicted he would lose. Granted, it was a three-way race, but he garnered more than 48 percent of the vote and might have won had he faced the Democrat alone. In many white, working-class parts of the state, LePage's numbers went up from 2010. Far from being repulsed by LePage's antics, some voters seemed to like them.
All of this suggests that just as there was a hidden LePage vote in 2014, there may be one for Trump this fall. Respondents may be afraid to tell pollsters that they're for Trump, especially if the questioner is younger or a minority. We can't be sure.
Of course, there are big differences between LePage and Trump. Voters might be more willing to cast an outrageous protest vote for the governor of Maine than they would for president of the United States. And voters may want more decorum from a president than they would from a state official. (That's one reason why so many of the Hillary Clinton ads play up Trump's more outlandish behavior.) Plus, LePage won in off-year elections, when fewer people vote. This is a presidential year, and turnout will thus be higher, meaning more minorities voting in most states. That bodes well for Clinton.
As for LePage, his remarks have taken a toll—especially this year, when he's homed in on drugs and race. In January, the governor said the state's drug dealers were "guys with the name D-Money, Smoothie, Shifty. These types of guys, they come from Connecticut and New York, they come up here, they sell their heroin, they go back home. Incidentally, half the time they impregnate a young white girl before they leave, which is a real sad thing because then we have another issue we have to deal with down the road." Earlier in August, he said he had binders containing all of the state's drug dealers' identities, and virtually all were minorities. So, he said, that made them "the enemy."
This kind of talk has driven down LePage's approval rating to 36 percent, but the important thing to remember is that he twice won elections in a blue state. Barack Obama also won there twice, of course—the second time over a former governor of a nearby state, Mitt Romney, by 16 percent and more than 100,000 votes. Trump probably can't beat Clinton in Maine—not even in the state's more conservative second congressional district, which has its own electoral vote. (Maine and Nebraska are the two states that conduct electoral voting by congressional district.) But the LePage experience shows that a provocateur can do better than expected, especially among white, working-class voters, and that is something to keep in mind in pivotal states such as Ohio, Wisconsin, Iowa and Pennsylvania. As for the two men, they've become close. LePage backed Chris Christie in the primaries but quickly turned to Trump after the New Jerseyan dropped out. A few weeks ago, LePage introduced Trump at a rally in Maine, joking: "He's a bit shy, but I'm working on him."