Queer Redditor Praises her Gay Grandmothers, Together 42 years: 'Their Relationship is so Sweet'
Does being gay run in the family? In one West Virginia clan it sure seems that way: On Reddit/r/LGBT, Ash Summers shared the heartwarming story of her maternal grandmother, Carol Baier, and Baier's wife, Priscilla "Aunt P" Gay. The two have been together more than 40 years and while Summers isn't genetically related to Gay, she considers both women her grandmothers.
"We joke 'the gay gene' skipped a generation," Summers, who is also a lesbian, wrote in her post. "I'm so much like [Aunt P] that people often think I'm her blood relation."
Once Baier asked Priscilla if she thought Summers and her cousin were gay because of of the two of them. "Aunt P told her no," wrote Summers, 29, "but she felt the two of them gave us good role models and showed that it was okay to love who you want to."
Summers added, "I told her that is 100 percent accurate."
Baier divorced Summers' biological grandfather in 1975, and moved back to her home state of West Virginia with her children. Gay had graduated from law school in New York some years prior and moved to the state to be with her family, as well. The two met in 1976, when they were both new board members of the local YWCA.
"They said they knew they were in love when my Aunt P was sitting at Mommom's feet while she was knitting at a board meeting," Summers told Newsweek. "But mostly it was love at first sight."
In one of their earliest meetings, Baier walked into the room before a meeting started and saw Gay talking to a man. "She says she can't remember exactly what he said, but it was some snide remark about women in government," recounts Summers. "And my Aunt P not so subtly pushed up her glasses with her middle finger. The man was deeply offended and Aunt P just laughed at him."
They moved in together six months later.
In 1978, they were unofficially married under a tree in Bluefield, West Virginia. A photo taken when Summers' mom was just 12 shows the two near the beginning of their relationship. An older cousin gave Priscilla the nickname "Aunt P" and it just stuck (and she loves it, says Summers).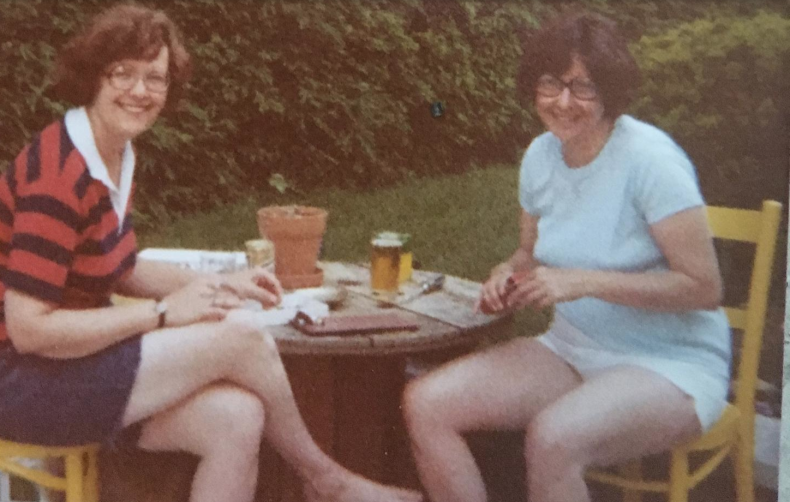 Though the couple never expected same-sex marriage to be legal in their lifetime, the Obergefell Supreme Court ruling on June 26, 2015 changed that. Gay proposed that very day.
"Their wedding day was wonderful," Summers recalls. "It was me, my wife, my mom and one of my best friends to witness. I honestly don't think I've ever seen them that happy."
It was a long time coming: Both Gay and Baier experienced prejudice in their professional and personal lives. They kept up the illusion of separate bedrooms well into Summers' teen years—it was only after Gay's mother died that they dropped the act.
"But they have remained strong and loyal to one another throughout all of that," says Summers. "They've said they wouldn't do anything differently and they're glad they fought so we could have the rights and freedoms we do now."
Gay even officiated Summers' wedding.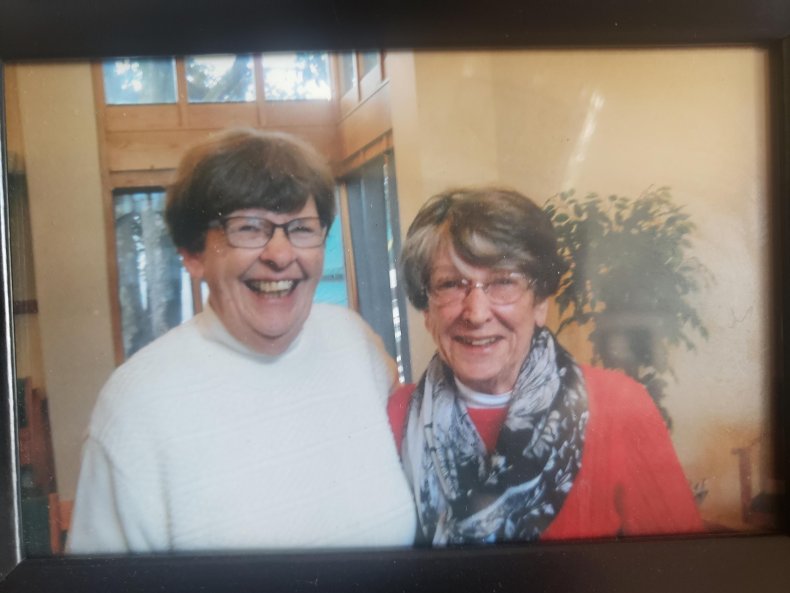 "Their relationship is so sweet," Summers wrote. "I remember spending the night when I was little and my grandmother would lay on the couch with her feet on my Aunt P's lap and Aunt P would rub her feet until she fell asleep... They were never much for PDA, but you could just feel the love radiating through those small gestures."
Baier was an avid gardener and, Summers says, if Aunt P mentioned a plant she liked, "even in passing," she would always make sure to incorporate it into the garden.
Until they retired a few years back, the couple owned a dry-cleaning business and a knick-knack shop together. "My grandma always did the front end while my Aunt P took care of the books," explains Summers. "I remember being little and going in the back of the dry cleaners and "helping" press suits and shirts with my grandmother. And then stopping for lunch with my Aunt P."
Asked for permission to share their story, Baier and Gay agreed—but only "if it helps further the cause." (They also insisted that line appear in this article.)
Unfortunately, the occasion for the post was a sad one: A few months ago Baier was diagnosed with terminal cancer. "With my grandmother being this sick, I don't know how I'm going to handle it," says Summers. "I don't know how Aunt P is going to handle it. I'm making a point to see both of them as much as I can. My grandmother is sleeping a lot because of the pain, but at least I can be there for my Aunt P."
The touching Reddit post struck a chord—it's been upvoted more than 4,200 times in the past 10 days. Summers says she was surprised it got as much attention as it did.
"I love my grandmothers dearly and I just wanted to share two of the most amazing people I know."