LeSean McCoy's Ex-Girlfriend's 911 Call Released: 'My Face is Demolished'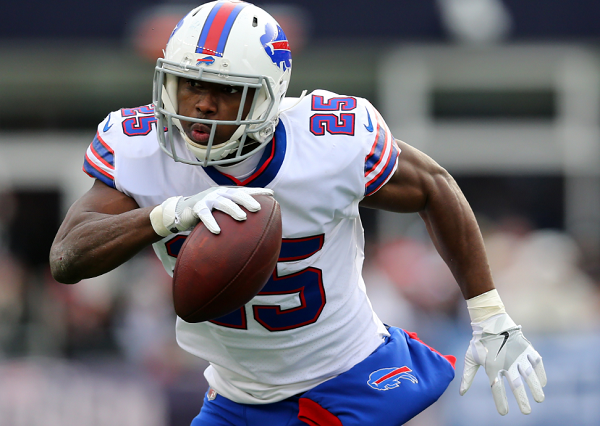 LeSean McCoy's ex-girlfriend suggested she was set up during a robbery that left her face "demolished," 911 audio released Thursday revealed. Delicia Cordon, who was attacked by a home intruder on Tuesday, detailed the break-in of her Georgia home to a dispatcher, saying the event had "something to do with" the Buffalo Bills running back.
Cordon said the single intruder left through the front of the house where there was no camera. She suggested the robber wouldn't have known to exit from that area of the house unless McCoy instructed him to.
"I'm telling you, I'm telling you, that guy is [redacted]," Cordon said in the audio, obtained by TMZ. "He must have known the camera system. LeSean must have told him. There's no camera in the front."
She added: "My boyfriend, who I feel like did this, who set me up, is going to see us on the camera outside. We're breaking up, and he wants all his jewelry back."
She said the assailant took a diamond bracelet from her wrist and asked for more jewelry after hitting her in the head with a firearm. A photo of Cordon's bloodied face appeared on Instagram on Thursday, but it has since been removed.
Authorities have not identified a suspect as of yet, but Cordon described the home invader as a black man wearing a mask and dressed in all black. Cordon's attorney said in a statement released to multiple news outlets on Thursday that the intruder demanded "specific items of jewelry" gifted to Cordon by McCoy.
"In fact, after Ms. Cordon refused to return her jewelry gifts to Mr. McCoy, he would often suggest to Ms. Cordon that she could be robbed because the jewelry was expensive," the statement said.
McCoy denied having any involvement in Cordon's abuse and the robbery. "For the record, the totally baseless and offensive claims made against me today on social media are completely false," he wrote in a statement posted to Instagram on Tuesday. "Furthermore, I have not had any direct contact with any of the people involved in months."