Less Than Half of Manhattan's Office Workers Expected to Return By September, Survey Shows
Less than half of Manhattan employers expect their office workers to return to in-person by September.
A new survey from the Partnership for New York City found that only 45 percent of employers expect the borough's roughly 1 million office workers to be back by the Fall and only 22 percent say all workers will need to return to in person.
A similar poll conducted by the non-profit organization last fall found that a slightly higher number of employers, 48 percent, anticipated a return to work by July.
Most, 66 percent, said they would implement a hybrid model combining days in the office and days working from home. Another 9 percent said they wouldn't require their employees to return at all, while 4 percent said the decision would be role-dependent.
So far, 1 in 10 office employees have returned to the workplace as of early March 2020, a year after the coronavirus pandemic first began. But that number has remained unchanged since late October, despite the approval of three vaccines by the Food and Drug Administration and the distribution of more than 100 million doses across the country.
When the pandemic first began, and hit New York City as the national epicenter, most of the city's workers were forced to begin working from home while others lost their jobs in the economic fallout of the virus. According to the city's Department of Labor, 626,400 New Yorkers lost their jobs in the last year.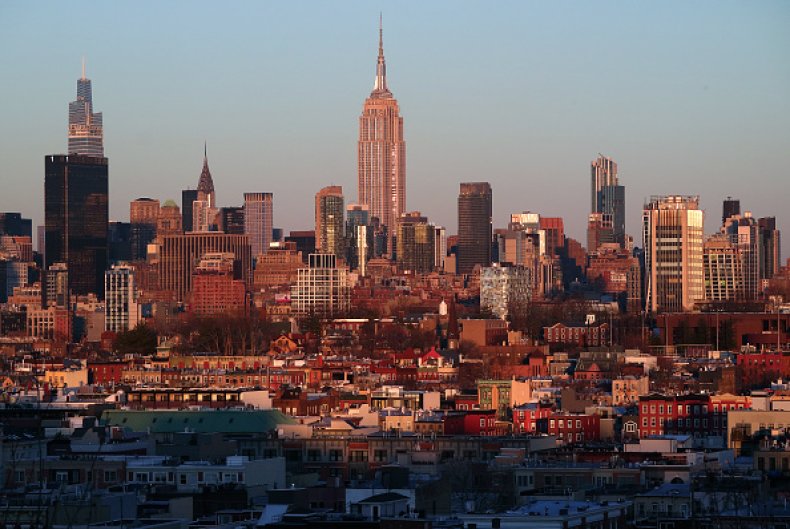 The real estate industry was found to be the most aggressive in bringing employees back to the office, with more than half of real estate employees saying they had already returned to in-person work.
Smaller employers are also moving quickly to reintroduce their workforce to the office. Those with fewer than 500 employees have seen 20 percent of their companies return, while employers with over 1,000 staff have only brought back 8 percent of their teams.
The majority of Manhattan employers say they will not require returning employees to get a COVID-19 vaccine, although 37 percent said they would actively encourage it. Only 8 percent said they would require employees to get vaccinated.
More than 2.8 million doses of the vaccine have been administered in New York City, according to its vaccine data tracker, and officials are rushing to get more doses into arms now that President Joe Biden has promised to make vaccines eligible to all adults by May.
Although few employers expect their companies to return to the office in the second half of 2021, nearly half say they expect business travel to return by then.
Most do not expect business travel to return to pre-COVID levels at all. More than half say travel will only come back at 25 to 50 percent, with only 30 percent of employers saying that only critical trips will return.