Less Than Half of the U.S. Got a Flu Shot in 2019, Prompting Major Concerns About This Fall
Less than half of U.S. residents received a flu vaccine in 2019, according to Centers for Disease Control and Prevention (CDC) Director Robert Redfield, which has prompted major concerns for the upcoming fall season, as the novel coronavirus continues to spread throughout the country.
During a recent interview with WebMD, Redfield said that about 47 percent of Americans got a flu shot last year and stressed the importance to get one this year.
"I've said, if there's one thing we all can do, besides the importance of wearing a mask, social distancing, hand washing and be smart about gatherings, to basically, ultimately prepare ourselves for the fall is to get the flu vaccine," Redfield said. "Last year about 47 percent got the flu vaccine. My goal this year was to get it up to 65 percent."
Redfield also spoke about how getting a flu vaccine will help alleviate the stress weighed upon hospital systems across the country, as we have seen them struggle during the ongoing coronavirus pandemic.
"The real reason is because we're gonna have COVID in the fall and we're gonna have flu in the fall, and either one of those by themselves can stress certain hospital systems," Redfield told WebMD. "I've seen hospital intensive care units stretched by a severe flu season and clearly we've all seen it recently with COVID."
He added, "so, by getting that flu vaccine, you may be able to negate the necessity to take up a hospital bed and then that hospital bed can be more available to those who particularly get hospitalized with COVID."
"Please don't leave this important accomplishment of American medicine on the shelf," Redfield said. "This is a year that I'm asking people to really think deep down about getting the flu vaccine."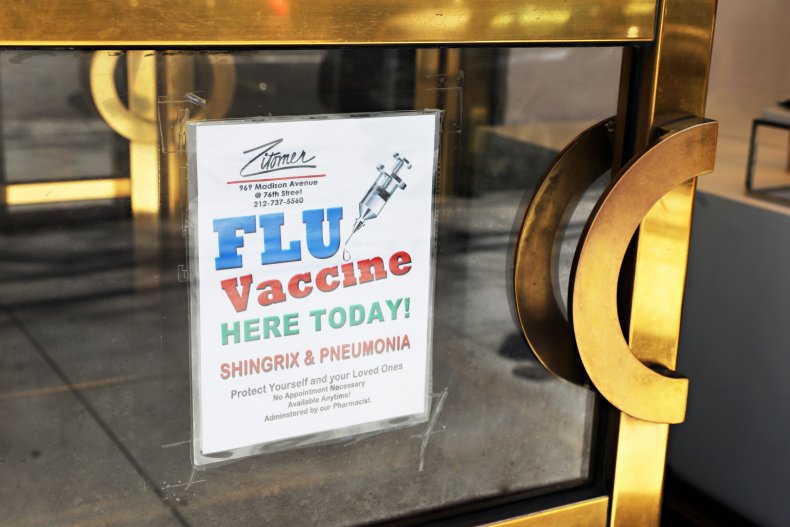 The new coronavirus, which causes the respiratory disease COVID-19, continues to spread throughout the U.S. According to a tracker from Johns Hopkins University, there are currently over 5.2 million confirmed cases, and at least 167,253 deaths.
During an interview with MarketWatch, Dr. Anthony Fauci, director of the National Institute of Allergy and Infectious Diseases, made similar comments, urging Americans to get the flu shot.
"We're telling people that, when the flu vaccine becomes available, make sure you get vaccinated so that you could at least blunt the effect of one of those two potential respiratory infections," Fauci said.
He added that if the novel coronavirus is still prevalent in the fall and winter, it "will be problematic and complicate things because that's two respiratory infections circulating together."
Newsweek reached out to the CDC for comment but did not receive a response in time for publication.