With Less Than a Month Until the Election, Donald Trump Is Doing Better in Swing State Polls Than This Time in 2016
With less than a month until the election, polls show that swing state voters may prefer Democratic nominee Joe Biden over President Donald Trump, but Trump is doing better than he was this time in 2016.
According to an analysis from Real Clear Politics, Biden holds a 4.4 percentage point lead over the president in Pennsylvania, Michigan, Wisconsin, Florida, North Carolina and Arizona. However, Democrat Hillary Clinton was ahead of Trump by 4.8 points in these swing states this time in 2016—a slightly greater advantage than the one Biden currently has.
Although Biden is doing better than Clinton did in national polls this time in the last presidential election, his support in some key battleground states is not as high as Clinton's was, most notably in Pennsylvania and Michigan.
The Real Clear Politics average shows that Biden is ahead with a 6.3 lead in Pennsylvania and a 6.2 advantage in Michigan. Comparably, Clinton was leading in these two states by 9.2 points and 9.6 points, respectively, this time in 2016.
Figures are less drastic in states like Wisconsin and North Carolina, where the poll shows Biden ahead by 5.6 points and 1.4 points. Again, Clinton had a greater advantage over Trump with 27 days until the last election, leading by 6 points in Wisconsin and 2.6 points in North Carolina. Although Clinton had been leading in North Carolina, she went on to lose the state by a 3.6 margin—a lead Trump took with only five days until Election Day.
However, Trump is doing worse in Florida and Arizona than he was this time in 2016. While Clinton only had a 3.2 point lead in Florida, Biden is currently ahead of Trump by 3.5 points. Biden's lead is even more stark in Arizona. Trump led the polls this time in 2016 with a 0.7 point advantage, yet Biden is now ahead of the president with a 3.4 lead.
Trump had also been ahead by 4.7 points in Georgia this time in 2016, but the polls show the state in favor of Biden, who holds a 0.3 point lead.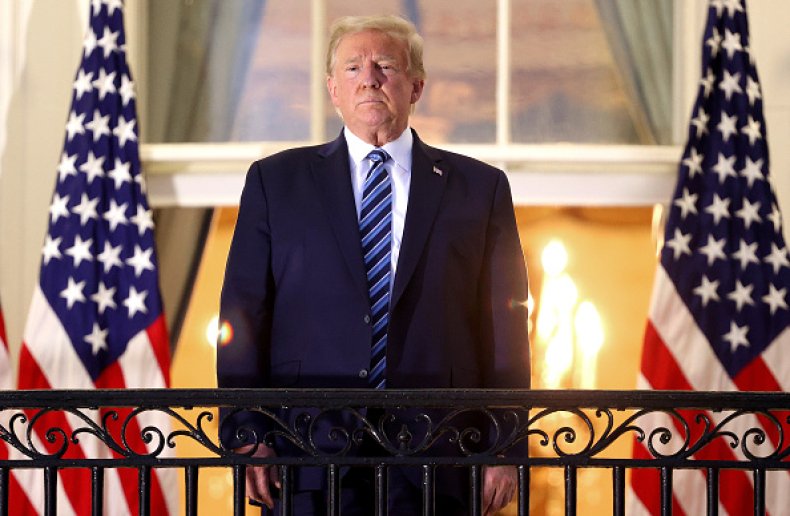 Despite doing better than he was this time four years ago, Trump does not seem to have the majority support of moderate voters in these key swing states.
A new poll from Newsy/YouGov found that 68 percent of moderate voters in Pennsylvania, Michigan, Wisconsin, Minnesota, Arizona, Florida, North Carolina and Georgia support Biden, compared with the 26 percent who back Trump.
These voters cited division in the country, the coronavirus pandemic and a need to preserve American democracy as their top concerns when casting the ballot. Participants said they are most likely to vote for Biden for his stance on health care, COVID-19 management and climate change, and more likely to vote for Trump based on the economy, taxes and gun policy.