U.K. Coffee Chains in Hot Water Over Cup Recycling Claims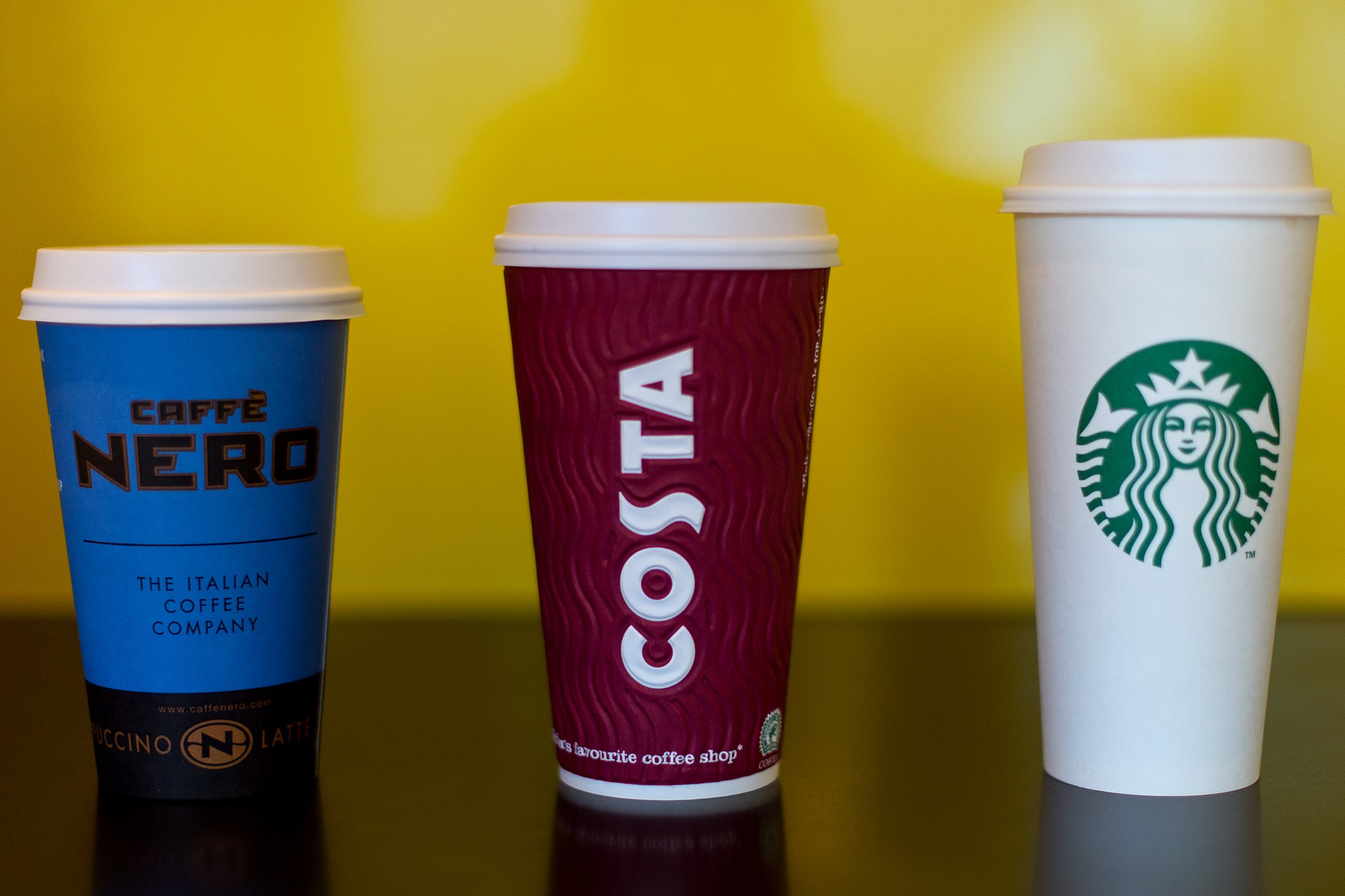 Updated | Less than one in 400 paper cups handed out by high street coffee chains in the U.K. are recycled, The Times reports.
On Monday, coffee giants Costa, Starbucks, Caffè Nero and Pret were accused of misleading their customers into believing that their paper cups are more environmentally friendly than they actually are.
About 7 million paper coffee cups are used in Britain each day, amounting to 2.5 billion a year, according to The Telegraph.
Starbucks, which has over 700 stores across the U.K., says coffee chains need to work together to find a solution. "The ability to recycle our takeaway cups...is dependent upon many factors, including local government policies and access to recycling markets such as paper mills and plastic processors and this is something that needs to be tackled in collaboration," a spokesperson tells Newsweek. "Through our work and that of others in the industry we are optimistic that these complex issues can be tackled by a combination of approaches actively being explored."
According to Simply Cups, Britain's only paper cup recycling service, less than 3 million paper cups were recycled last year, contributing to Britain's already dire landfill problem.
"The consumer has trust in the brand that if they put a recycling sign on a cup then that product is being recycled. People are being misled," co-founder Peter Goodwin told The Times.
"People are getting fed up with environmental stories and greenwash… We see a great cry in the marketplace for transparency. We need to tell people where the material is going to and what it is being made into."
Pret took a step towards improving transparency last year. Its cups are fully recyclable, but not all paper mills process coffee cups, so the company decided to remove the recyclable symbol from its cups last year, to avoid misleading customers. "We understand that most of our coffee cups are disposed of outside of our shops and we are working collaboratively with other companies within the industry to find ways to improve the recovery and recycling rates of takeaway cups," a Pret spokeswoman tells Newsweek.
Caffè Nero has approximately 600 shops across the U.K. but was unable to say what proportion of cups they recycle. "It's difficult to monitor the numbers that are recycled as they are thrown into a wide range of bins which in turn are collected by a wide range of agencies," a spokeswoman tells Newsweek. "We are aware of the wider issues regarding the recycling of paper cups."
To help tackle the problem, Caffè Nero became a founding member of The Paper Cup Recovery and Recycling Group, which was launched in 2014. "We are also involved in a number of trials to increase the capture and collection of paper cups outside our stores," adds the spokeswoman.
Costa, another chain named and shamed, has over 2,000 stores, making it the biggest coffee retailer in the U.K. Responding to the recent criticism, Oliver Rosevear, Costa's energy and environment manager, says: "We are proud that our iconic takeaway cup and lid is 100% recyclable and its insulated design eliminates the need for paper sleeves… As a responsible retailer it is extremely important to us that we help identify ways to increase the levels of recycling and encourage change in the waste industry."
Chef and TV personality Hugh Fearnley-Whittingstall has started a campaign against waste. His series Hugh's War on Waste, which first aired on BBC1 in January, sheds light on the U.K.'s worst offenders against the environment. He says that Costa and Starbucks are under the most scrutiny, but paper cups provided by the majority of large coffee chains "are barely recyclable at all, in the everyday, commonly understood sense of the word. They cannot be recycled through any of the normal public waste collection services, who are consistently diverting them to be incinerated or sent to landfill."
Fearnley-Whittingstall says he has approached Costa and Starbucks to discuss the problem of cup disposal in a filmed interview for the next episode of his series. According to him, Costa refused and Starbucks agreed to an interview in principle.
It seems the high price of a cup of coffee is still nothing compared to its cost on the environment.
This article has been updated to add a comment from chef and TV personality Hugh Fearnley-Whittingstall.