'Less Than Strangers': Brother Backed for Excluding Step-Siblings from Trip
Members of a popular internet forum were quick to defend one man who explicitly excluded his younger step-siblings from a cross-country trip meant to celebrate his college graduation.
In a viral Reddit post published on r/AmITheA**hole, Redditor u/GiantReaction (otherwise referred to as the original poster, or OP) said he and his older brother have been planning the trip for some time but detailed how their dual step-families have repeatedly interfered with the process.
Titled, "[Am I the a**hole] for not bringing step siblings to a road trip and telling one she's a stranger?" the post has received nearly 14,000 votes and more than 1,000 comments in the last ten hours.
Beginning with the explanation that his parents divorced when he was 16, the original poster said the separation brought him much closer with his older brother, who was 19 at the time. Now, five years after the divorce, the original poster said he is about to graduate from college and is planning a significant celebration.
"[My brother] wanted to take me and a couple friends along for a cross-country road trip to celebrate," he wrote. "We didn't think it was possible to do anything like that with how things had been for the past two years, so I'm super excited for that."
"We've been preparing things for a while just so we don't run into problems later, and I've been documenting things mainly through [my] Instagram story," he added.
Despite his excitement, the original poster said he recently ran into a roadblock resulting in the form of his parents' new families, including three step-siblings and three half-siblings.
"Words got around, and now everyone started demanding we take our steps and halves with us, even changing the trip to make it more kid friendly," he wrote. "It's all kinds of absurd and entitled so I admit I lost my temper by the fifth time I was called about 'being a good brother.'"
"It was my mom's oldest step daughter (18) and she has been the most insistent out of everyone," he continued. "I yelled at her that the only one who gets to call me a brother is [my brother], and she and the rest of her dad's spawn are less than strangers to me."
"[It] went about as well as you'd imagine," he added. "[My brother] and my friends thought it was both hilarious and long overdue, everyone else thinks I'm an a**hole. Am I?"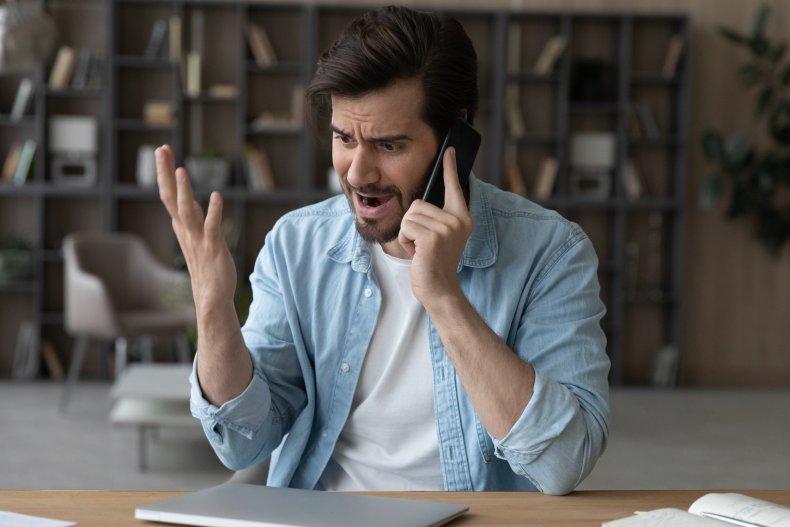 While the internet remains rife with articles and guides advising remarried parents how to smoothly blend two groups of children into a single family unit, marriage and relationship advice platform Marriage.com recommends that step-sibling relationships are never forced.
Although spending time together is vital for living harmoniously, expecting step-siblings to become best friends is often unrealistic, and repeated attempts at forcing closeness can ultimately backfire.
"Don't get attached to the idea of your kids getting along wonderfully," Marriage.com asserts. "A respectful truce is much more realistic than expecting them to become the best of friends."
And for children who gain step-siblings in their teenage years, or as adults, any type of meaningful relationship may come as a long shot—especially at the encouragement of multiple sets of parents.
Throughout the viral Reddit post's comment section, Redditors told the original poster he was justified to tell his step-sister she is like a stranger to him and remained adamant that much of the blame for any tension should land squarely on both of his parents.
"This trip is a gift from your brother," Redditor u/Serious-Currency108 wrote in the post's top comment, which has received nearly 17,000 votes.
"Your parents and step siblings don't get to dictate who goes or the itinerary. Your step siblings ARE strangers to you. You were just speaking the truth," they added. "Maybe you could have had a relationship with them if your parents weren't total jerks."
Redditor u/tbear714, whose response has received more than 2,000 votes, knocked the original poster for shouting at his step-sister but speculated that he had been pushed beyond his limits on numerous occasions.
"While the blow up part is bad, where in the hell do they get to [tell] you how to plan YOUR trip?" they commented. "It sounds like it was long overdue and my guess is there have been many other things they have tried to force 'the new family dynamic' into."
"Stepsibling drama aside, I find it deeply weird that an 18 year old doesn't get why you don't want a bunch of younger relatives tagging along and messing up your plan," Redditor u/mm172 added, questioning OP's step-sister.
In a separate comment, which has received more than 1,200 votes, Redditor u/seriouslycoolname reassured the original poster and took aim at his parents.
"If the parents wanted to do something like a family trip, they should have planned it themselves," they wrote.
"You have no obligation to include anyone," they added.