Less Than a Third of Americans Will Definitely Get the COVID Vaccine: Poll
Less than a third of Americans say they will definitely get the COVID-19 vaccine when it is rolled out.
According to a recent study conducted by the Pew Research Center, only 29 percent of respondents said they would get the jab if a vaccine was available today.
Conversely, 21 percent of U.S. adults said they do not intend to get vaccinated and are "pretty certain" more information will not change their mind.
Another 18 percent said it was possible they would decide to get vaccinated once others started getting a vaccine and more information became available.
In total, nearly four-in-ten of those surveyed (39 percent) said they definitely or probably would not get a coronavirus vaccine.
Of the 60 percent who registered interest in getting the vaccine, 31 percent said they would probably take it and 29 percent said they were certain.
The figure is up from 51 percent who said the same in September, showing growing public confidence in a safe and effective vaccine.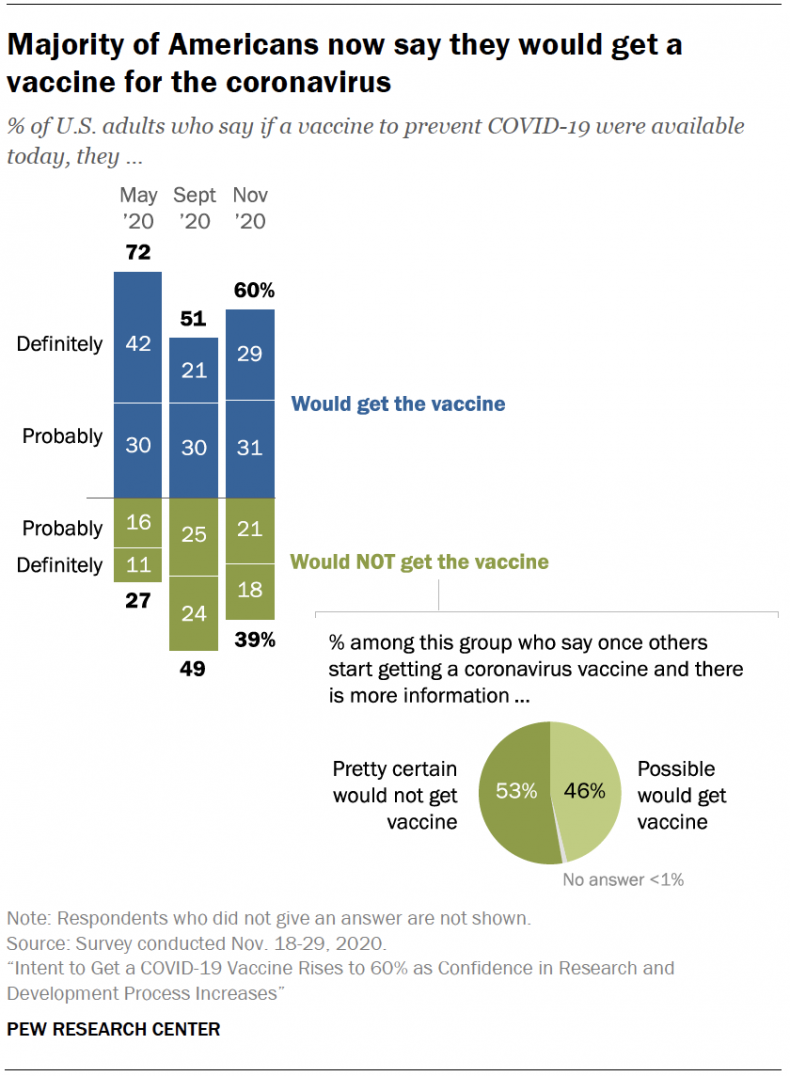 Despite the increase in positive public sentiment, a majority of Americans still say they would be uncomfortable being among the first to take a vaccine, and a sizable minority appear certain to pass on getting vaccinated.
There is considerable wariness about being among the first to get a vaccine, with 62 percent of the public voicing concerns and just 37 percent indicating they would be comfortable with the process.
Roughly two-thirds of those who said they would "probably" be vaccinated remain uncomfortable being among the first to do so.
The national study taken over November 18 to 29 from a survey of 12,648 U.S. adults, also sheds light on the complex and interrelated factors that shape intent to get a vaccine.
Influencing Factors
Key influencing factors affecting respondents' likelihood to get a vaccine were one's personal concern about getting a case of COVID-19 that would require hospitalization, trust in the vaccine development process, personal practices when it comes to other vaccines and political leanings.
Those most concerned about getting a serious case of the coronavirus indicated a higher likelihood of getting a vaccine, while those who saw little personal need were closely divided over whether they would get vaccinated.
A higher level of confidence that the research and development process will yield a safe and effective vaccine was tied to higher levels of intent to get vaccinated.
Regular vaccinators who say they get a flu shot yearly are also much more likely than those who rarely or never do so to say they would get a vaccine if one were available.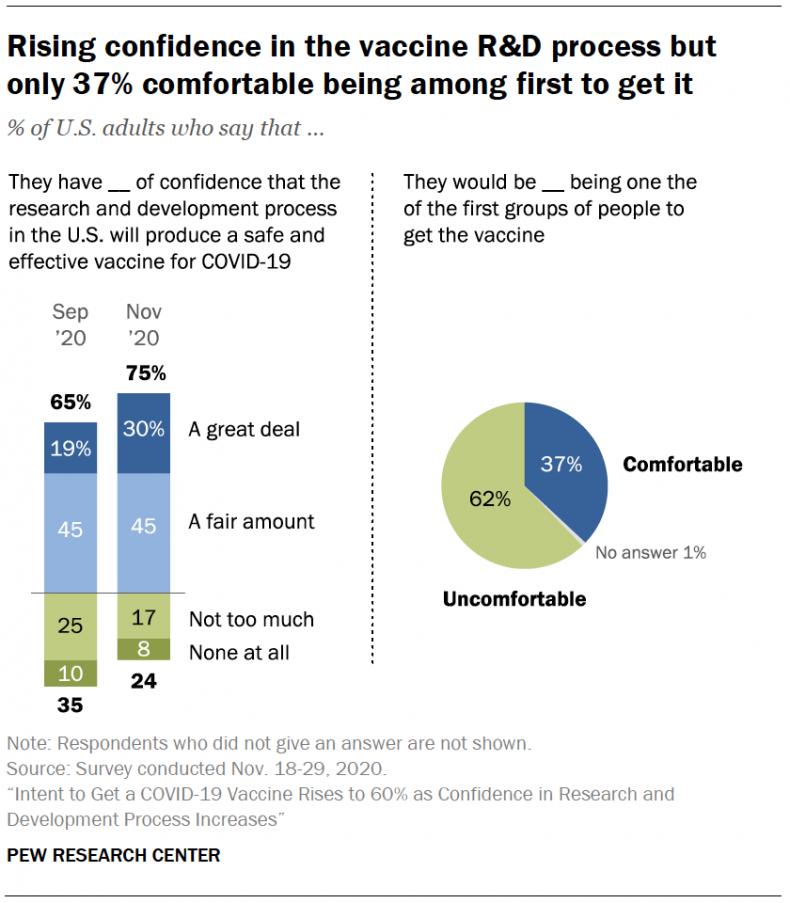 Demographic Differences
There were also sizable differences among key demographic groups' willingness to get vaccinated.
According to the data, Black Americans continue to stand out as less inclined to get vaccinated than other racial and ethnic groups: 42 percent would do so, compared with 63 percent of Hispanic and 61 percent of White adults. English-speaking Asian Americans are even more likely to say they would definitely or probably get vaccinated at 83 percent.
Three-quarters of adults aged 65 and older said they would definitely or probably get vaccinated, compared with 55 percent of those under age 30.
Those with higher family incomes, adjusted for cost of living and household size, are more likely than those with middle or lower incomes to say they would get immunized.
The research findings come as preliminary analysis from two separate clinical trials produced vaccines that are over 90 percent effective.
The U.S. Food and Drug Administration is expected to issue decisions about the emergency authorization of these vaccines in the coming weeks.