Let The Music Play: UK Musicians Are Demanding to Perform, Like it or Not
Hundreds of musicians in the U.K. have thrown their support behind a new petition demanding the British government save the live music industry.
Launched on Thursday, the Let the Music Play campaign is attempting to save live music businesses including venues, artists, productions companies, concerts and festivals and more areas of the cultural sector by calling on the government for help. The U.K. has issued stimulus checks to residents and bailout funds for various businesses including British sporting outlets and pubs after coronavirus lockdowns left more than two million people without work.
However, members of the music industry are pressing for more funding within the live music industry now that concerts and festivals are indefinitely halted. Let the Music Play organizers noted an estimated 30 to 50 percent of the live music industry's workforce is facing unemployment, and in a letter to Oliver Dowden, the U.K. Secretary of State for Digital, Culture, Media and Sport, the group suggested nearly $4.5 billion euros (about $5 billion in USD) was at risk if venues remain closed.
"Like every part of the entertainment industry, live music has been proud to play our part in the national effort to reduce the spread of Coronavirus and keep people safe. But, with no end to social distancing in sight or financial support from government yet agreed, the future for concerts and festivals and the hundreds of thousands of people who work in them looks bleak," the letter states. "This sector doesn't want to ask for government help. The venues, promoters, festival organisers [sic], and other employers want to be self-sufficient, as they were before lockdown. But, until these businesses can operate again, which is likely to be 2021 at the earliest, government support will be crucial to prevent mass insolvencies, and the end of this great world-leading industry."
The letter continued: "Government has addressed two important British pastimes - football and pubs - and it's now crucial that it focuses on a third, live music. For the good of the economy, the careers of emerging British artists, and the UK's global music standing, we must ensure that a live music industry remains when the pandemic has finally passed."
Artists and industry leaders including Coldplay, Ed Sheeran, Sam Smith, Sir Paul McCartney, Celine Dion, Rita Ora, FKA Twigs, Louis Tomlinson, Jessie J, Patti Smith, The 1975, Radiohead, Little Mix, Lionel Richie, Nick Mason, Sir Rod Stewart, The Rolling Stones, Dua Lipa, Lewis Capaldi, Robbie Williams, PJ Harvey and numerous others have signed the petition.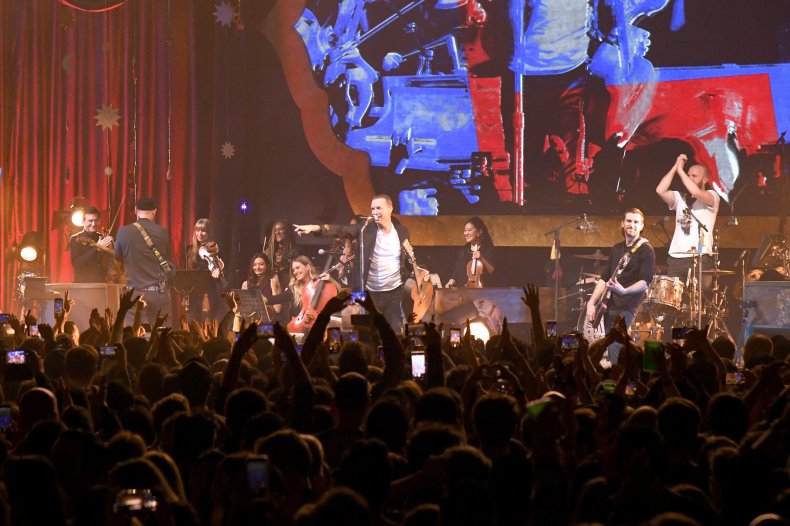 Meanwhile, several others have advocated their support of Let the Music Play on social media.
"Imagine the music industry in the UK being wiped out. No shows, no festivals, no venues. Call on the government for urgent action #LetTheMusicPlay," Foals frontman Yannis Philippakis wrote on Twitter on Thursday.
Popular broadcaster Bob Harris, otherwise known as Whispering Bob, encourage concertgoers to join the cause by sharing photos of the last music event they attended, writing, "Today I'm calling on the UK government to offer support to our amazing live music scene and all promoters, venues, agents & artists. We need live music. It simply won't be there any more if we don't act. Support us sharing pics of your last pre-lockdown gig. #LetTheMusicPlay."
Let the Music Play organizers are requesting UK residents to help their efforts by contacting their local MP and demanding Chancellor of the Exchequer Rishi Sunak MP to "let the music play" ahead of the Summer Economic Update scheduled for July 8.