Let One-Woman Show Mary Neely Entertain You Until Social Distancing Is Over
Like many self-isolating during this pandemic, we are trying to find ways to pass the time. Meet Mary Neely, a Los Angeles native who has the solution: recreating iconic musical scenes, complete with costume, wigs and DIY special effects.
"Since I'm single in the quarantine I've decided to reenact moments from my favorite musicals so it feels like I'm in love," she began the hilarious Twitter thread of musical scenes. Since she began making these videos, she's recreated scenes from Les Miserables, Phantom of the Opera, Grease, Beauty and the Beast, Hamilton, and Little Shop of Horrors, to name a few.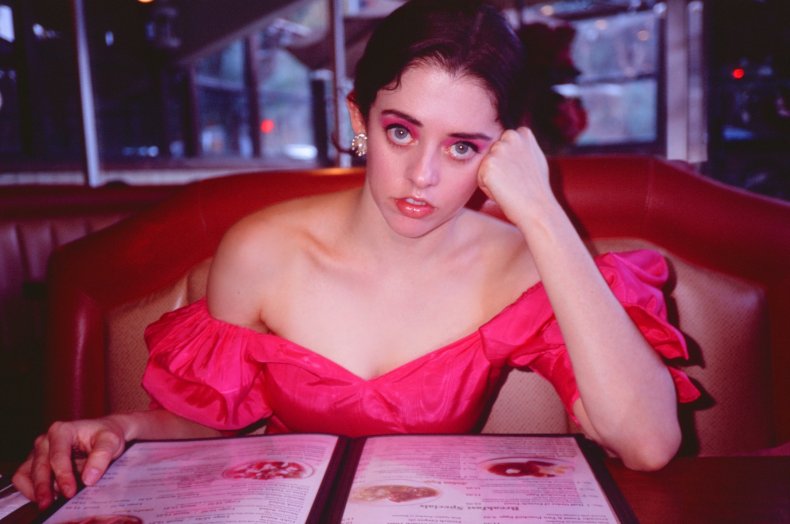 "I have all these wigs and props and random costumes and things leftover from Halloween and themed parties and different films shoots that I've done. So I just wanted to have something to look forward to," she explained. "Isolating gave me an excuse to just tap into that. So every single night, it was as if I was going out. I was like, okay, it's 7 o'clock, I'm gonna get dressed now."
This nightly ritual turned into recreating love scenes from musicals, which served as a coping mechanism during these uncertain times. "I used to listen to musicals to feel better when I was growing up. It would kind of shield me from hard things that I was experiencing. And we're all experiencing something really hard right now, and there's a lot of grief and pain. I just thought, you know, why don't I bring back musicals in the way that I used them when I was a kid?"
At first, the clips were for her parents and friends, but the project took a turn in a way she did not expect. "I had 800 Twitter followers, like, the other day," Neely said (now she has over 28,000).
As a young girl, Neely had her heart set on moving to New York to be a Broadway actress. She felt Los Angeles was superficial and was uninterested. However, right after she applied to east coast schools in 2008, the stock market crashed. She had to choose between facing crippling debt, or staying in Los Angeles and going to UCLA. After auditioning for the theater program and getting a scholarship, Neely gained a newfound appreciation for LA, and took advantage of her time at the university.
There, she gravitated towards film, especially when film students wanted to cast her in their projects. "There was a binder in the film building where you would put your headshot in it, and the film students could call you up and ask you to be in their scenes," Neely explained. "I was getting called to do stuff for them all the time. I started taking film history courses because I had credits to fill. I was watching movies all the time. I really started to recontextualize [sic] how a film could be made, and realizing that there's more in common with it than in theater and film than I originally thought."
Before graduation, Neely started acting in commercials, and continued after UCLA. She also focused on making her own films and has acted in a lot of comedy videos. "And I was like, why would I move to New York? I'm making a living in LA," she reflected.
Since she began making her quarantine musical clips, Neely revealed that pieces about her were written up in Japan, Germany, Poland, and the UK, Mexico, and Brazil, just to name a few. "The fact that something that I made in my apartment is being seen by people all around the world," Neely noted. "It's incredible."
The positive feedback also made a huge difference in her outlook of putting herself out there. "I've always been really scared of becoming more well-known because of potentially negative comments or experiences of people online," she confessed. "But this has been the most positive experience in the most beautiful way. That's something I didn't really expect."
And she's getting recognized for her musical clips. "I went outside a few times to take my trash out or whatever, and I ran into some neighbors. They were like, 'oh my god! You're the girl from the videos!' And I'm like, 'I need to move. Once this is over, I need to move, maybe," she quipped.
What's next for Neely after the pandemic? She's already got some opportunities lined up. "I've got some really exciting meetings where I'm pitching my movie, which has been the main thing that I've been wanting to make for the past year and a half." The actor is also appearing in the upcoming musical film Valley Girl.
"The opportunities are flowing," she gushed. "I got asked to pitch some videos to other publications. It's really cool. I'm excited."
And, of course, she plans to hit up a couple of Broadway shows once restrictions ease up.