'Let The Shooting Sprees Begin': N.Y. Bar Under Investigation for NYC, Chicago Gun Violence Betting Game
A Long Island, New York bar is under investigation after it shared on social media a betting-style game on whether New York City or Chicago would see more gun violence over Labor Day weekend.
The Cliffton, a bar in Patchogue posted a Super Bowl-esque betting box on its Instagram account last week, Newsday reported. In it, patrons could purchase four boxes, each with a number predicting the city's shooting-death totals with the winner receiving a cash prize.
"Let the shooting sprees begin!" the post's caption read. The Cliffton's Instagram page, with nearly 3,000 followers, was private at the time of publication, and a Google search of the bar found it labeled as "temporarily closed." Newsweek's attempts to contact the bar were unsuccessful.
A spokesperson for Long Island's Suffolk County Police Department confirmed to Newsweek that the department is investigating the incident, but declined to provide details on the types of violations being explored.
Both New York City and Chicago have experienced surges in gun violence throughout the summer. One weekend in particular, August 14 to 16, saw 39 shootings occur in NYC and nearly 30 in Chicago.
From January 1 through July 26 of this year, NYC saw 745 shooting incidents, marking a 73 percent increase from the 431 shootings in the same period of 2019, according to The New York Times.
The Chicago Police Department said the city had seen 1,541 shooting incidents from January 1 through July 12 this year, 46 percent more than the same period in 2019.
Labor Day weekend is typically one of the most active in terms of crime for both cities each year. Chicago saw 41 people get shot throughout the weekend in 2019. Last year in Brooklyn, a masked gunman shot at a group of police officers and was killed when they returned fire. It was one of four deadly shootings in the city early Labor Day morning, the Times reported.
The New York State Liquor Authority (SLA) called the game created at The Cliffton "sickening," and added in a statement sent to Newsweek that it "also appears illegal under the Alcoholic Beverage Control law." Both professional and casual gambling are clearly prohibited in bars, according to state law.
Cliffton staff members also recently refused entry to state task force investigators wanting to inspect the premises for COVID measures, "a blatant violation of the law, which alone constitutes grounds for their liquor license to be revoked," according to the SLA's statement. The authority plans to charge The Cliffton with a violation, it said.
All licensed businesses are subject to SLA and law enforcement inspection during business hours, per New York state law. Refusing to allow inspections to occur could lead to a business' license being revoked, officials told Newsweek.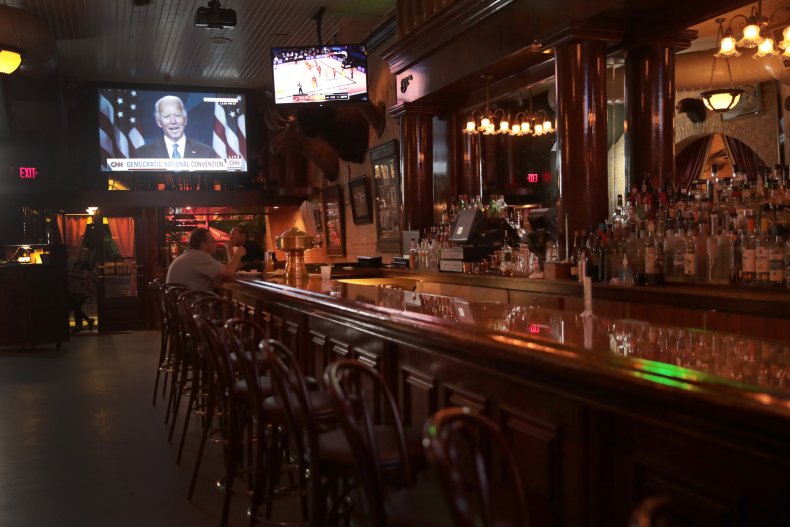 The bar's actions received criticism from state and local leaders as well. Patchogue Mayor Paul Pontiere told WNBC that the betting game was "foolish at best and disgusting at its worst because it isn't what we are about," calling for the establishment to be investigated.
"We can't tolerate it," he told Newsday, adding that Patchogue's Chamber of Commerce is considering removing The Cliffton as a member.
Richard Azzopardi, a senior adviser to New York Governor Andrew Cuomo, called reports of the betting game "repugnant" in a statement sent to Newsweek, adding that "those responsible for this gambling pool should be ashamed."
Julia Arredondo, a spokeswoman for NYC Mayor Bill de Blasio, told Newsday it was "unfathomable that anyone could find joy in the pain of others. While they laugh about the violence our communities are experiencing, we'll keep doing the work to rebuild and recover."
This is not The Cliffton's first brush with controversy. Last April, the bar made posts on its Instagram account that many deemed as anti-gay, with one making fun of a transgender patron. The bar issued a public apology two days before an anti-Cliffton rally was planned to take place in the town, GreaterPatchogue.com reported.
"We acknowledge that our judgement is not always the best on social media, but we are also confident the public will learn that The Cliffton has never, nor will ever, be transphobic, homophobic, or Anti LBGT," according to the apology, which was posted on Instagram.
Update 09/03/20, 9:29 a.m. ET: This article has been updated to include a comment from the Suffolk County Police Department.