There won't be any cutting corners when it comes to a new coronavirus vaccine, but given the impact the virus could have on Americans, Food and Drug Administration (FDA) Commissioner Dr. Stephen Hahn said it's important to weigh the risks of not approving a vaccine.
A new coronavirus vaccine is on track to be available to the public in record time, an accomplishment experts say could be vital to returning to normal life. But, the speed at which the vaccine's development is moving forward raised concerns about its safety and polls show nearly one-third of American adults have no interest in being inoculated.
Dr. Anthony Fauci, director of the National Institute of Allergy and Infectious Diseases (NIAID) reassured the public that any vaccine will meet the standard safety requirements, a message Hahn echoed on Friday. He told SiriusXM's Doctor Radio's "Doctor Radio Reports," there are "no corners to be cut" with regard to the safety data they expect of a vaccine, but they'll also take into consideration the "risk-benefit ratio" when approving a vaccine "because that's our job."
"This is a pandemic that is lethal," Hahn said. "So we have to make that calculation of what are the potential side effects, what are some of the unknowns. And then how does that contrast to how many lives could be saved with the vaccine if the data show that it's efficacious."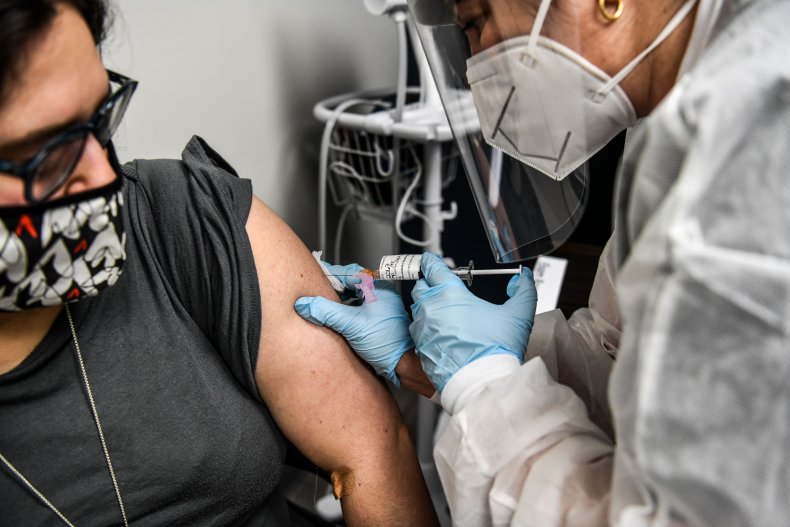 Considering whether the benefits of a vaccine outweigh the potential risks of its side effects comes at a different cost from therapeutics, Hahn said. When taking a chance on a treatment for someone who is already sick, a doctor can clearly see the risk of not treating the person is higher. However, with vaccines, officials have to weigh the risk posed to otherwise healthy people.
Newsweek reached out to the FDA for comment but did not receive a response in time for publication.
Deciding whether to make a vaccine available to the public will be partially determined by an independent vaccine advisory committee and Hahn said the data they have so far is "positive."
"We have to wait for those data to determine whether we have a safe and effective vaccine, but it's been a really good, I think, push so far," Hahn said. "And we'll see over the next couple of months, what comes out of those trials."
When people will be able to be inoculated depends on whom you ask. President Donald Trump has boasted the most ambitious timeline, putting it before the end of the year or even in time for the election. Pfizer CEO Albert Bourla expects his company will know if a vaccine is effective before November and then left it in the hands of the FDA as to when it's publicly available. Fauci hasn't swayed from his original time line that a vaccine would come at the end of the year or early 2021.
To put a vaccine on the market, Hahn said it must be at least 50 percent effective, although the hope is that its efficacy will be above that.
Under Operation Warp Speed, the Trump administration made financial investments in multiple vaccines to procure 300 million doses of a vaccine by the end of the year. Paying to proactively manufacture a vaccine before its fully out of clinical trials can cut months off the time line and once a vaccine is available, Hahn said people who are most vulnerable may be prioritized.
But, Hahn added everyone is "hyperaware" of the importance of making sure there's "no disparity across the nation for administration of the vaccine."