Letitia James Defends Andrew Cuomo Report Amid Abuse of Power Allegation, Gubernatorial Run
New York Attorney General Letitia James defended her report on Andrew Cuomo in light of allegations from the former governor that she had abused her power.
The accusations from Cuomo came in a lengthy post on his official website in which he hit back at criminal charges filed against him by Albany County Sheriff Craig Apple for allegedly groping a female aide. Cuomo called the charges an "unprecedented move," and accused Apple and James of working together.
"Tish James publicly praised [Apple's] actions, using it to validate her sham report while announcing a run for governor the same day!" Cuomo wrote. "These political bedfellows are abusing their office and putting their agenda over their ethical and constitutional duty, and no one is buying it."
Speaking with NY1 reporter Zack Fink on Monday, James dismissed Cuomo's attack as an attempt to denigrate her August 3 report about the sexual harassment allegations leveled at him by 11 women, including former staffers. She also likened it to former President Donald Trump's baseless claims of election fraud.
"This is nothing more than an attempt by the former Governor to undermine and criticize this report," James said. "Some would describe it as The Big Lie."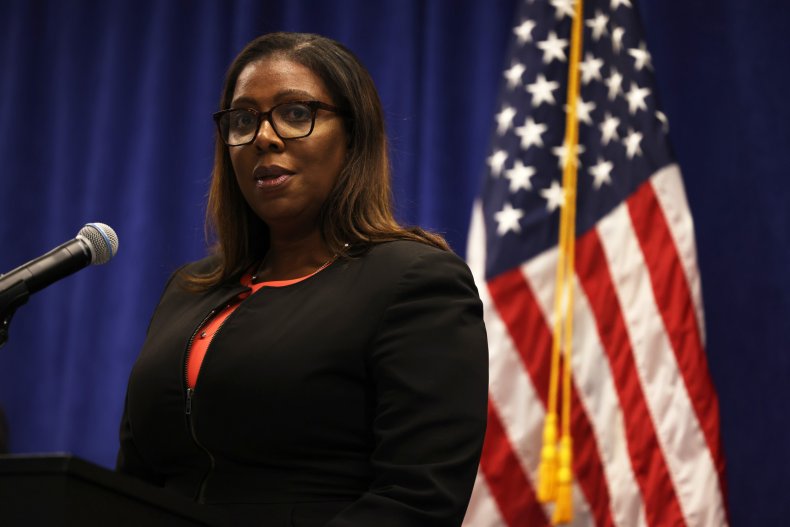 "It's been 33 days since Gubernatorial-wannabe Tish James said she was going to break her silence about her sham August 3 report yet she has refused to answer for the countless mistruths, mistakes and outright deceptions in it," a representative for Cuomo said in a statement to Newsweek.
"Every time James is asked about it, it's the same platitudes and deflections. It's clear she thinks New Yorkers are stupid but they know she won't discuss it because she can't defend it," they continued. "Some would call it the Big Dodge."
James, a Democrat, announced on Friday that she is running for governor of New York, ahead of the state's gubernatorial election in 2022. She will be running against incumbent Democrat Kathy Hochul, who ascended from Lieutenant Governor to become the Empire State's first female governor after Cuomo's resignation in August.
"I've spent my career guided by a simple principle, stand up to the powerful on behalf of the vulnerable to be a force of change," James said in her announcement.
The criminal charge against Cuomo stems from an accusation by former aide Brittany Commisso, who said he groped her breast in the Executive Mansion last December. Under New York law, forced touching can result in up to a year of jail time.
Sheriff Apple told the New York Post that his office has "an overwhelming amount of evidence against" Cuomo ahead of the former governor's November 17 court date.
"He will be arraigned, he will be fingerprinted," Apple said. "He will be photographed and...[presumably] he will be released on his own recognizance."
Cuomo's camp has dismissed the charge as unfounded and political.
"Governor Cuomo has never assaulted anyone, and Sheriff Apple's motives here are patently improper," Rita Glavin, Cuomo's attorney, said. "Sheriff Apple didn't even tell the District Attorney what he was doing. But Apple's behavior is no surprise given (1) his August 7 press conference where he essentially pronounced the Governor guilty before doing an investigation, and (2) his Office's leaking of grand jury information. This is not professional law enforcement; this is politics."
Update 11/1/2021, 2:40 p.m. ET: This article was updated with a comment from a representative for Andrew Cuomo