How Letitia James Stands in Polls Ahead of Attorney General Midterm Race
In the wake of New York Attorney General Letitia James announcing her $250 million fraud lawsuit against Donald Trump, the former president and his team suggested that she is suing them as part of a re-election strategy.
James announced on Wednesday that she is suing Trump, three of his children—Donald Jr, Ivanka and Eric Trump—and two senior executives at the Trump Organization.
Trump and the Trump Organization are accused of exaggerating the value of a number of assets to the tune of billions of dollars in order to obtain better loans and other financial benefits.
In a Truth Social post on Wednesday, Donald Trump dismissed the suit as "another Witch Hunt by a racist Attorney General." He also suggested the probe was conducted by James to boost her chances of re-election as New York's attorney general in November.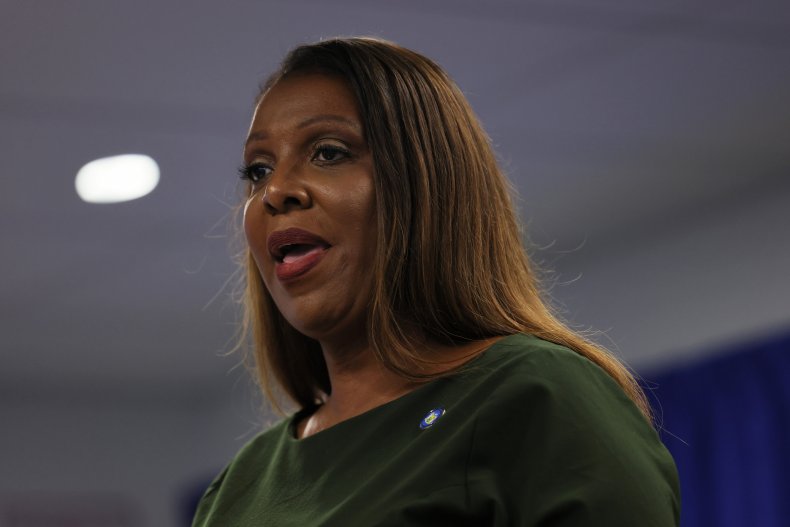 "Letitia James, who failed in her run for Governor, getting almost zero support from the public, and now is doing poorly against Law & Order A.G. candidate, highly respected Michael Henry," Trump wrote.
"I never thought this case would be brought - until I saw her really bad poll numbers. She is a fraud who campaigned on a 'get Trump' platform, despite the fact that the city is one of the crime and murder disasters of the world under her watch!"
Eric Trump also said it is "not shocking" that James filed a lawsuit against the former president 49 days before her election while sharing the results of a recent Trafalgar Group poll in August on social media.
The survey of 1,091 likely voters conducted between August 31 and September 1 revealed that James is behind Republican candidate Henry by 44.2 percent to 43 percent.
Polls for the New York attorney general race are extremely rare, so it is difficult to get an idea of how voters are thinking ahead of November's elections.
However, a Siena College poll of likely New York State voters also released in August told a different narrative than the ones pushed out by the Trumps.
Conducted July 24-28 among 806 likely voters, the poll showed that James had a significant 14 percent lead over Henry (50 to 36 percent) as well as a 43-to-29 percent favorability rating, up slightly from 40 to 28 percent in June.
On September 13, the University of Virginia Center for Politics said that Henry "does not pose a serious challenge" to James in November.
In a statement, the Trump Organization said the lawsuit filed by James "has nothing to do with the facts or the law," but instead is "about politics, pure and simple."
"With election day less than 50 days away, Attorney General James, who is down in the polls, is filing this lawsuit at the eleventh hour in a desperate attempt to pander to voters.
"An attorney general is supposed to be fair, impartial and unbiased — not weaponize their office to pursue a political vendetta or target their political opponents."
James has been contacted for comment.