Letitia James Runs for Governor as Andrew Cuomo is Charged, Escalating NY Democrats Feud
New York Attorney General Letitia James is running for governor.
The Democrat made the announcement on Friday in her first campaign video.
"I've spent my career guided by a simple principle, stand up to the powerful on behalf of the vulnerable to be a force of change," James said.
As New York's Attorney General, James released a report on an independent investigation which found that former Governor Andrew Cuomo sexually harassed 11 women, among them current and ex-state employees, leading to the former governor's political downfall.
The 168-page review, which followed a months-long investigation, detailed the toxic environment allegedly fostered by Cuomo and his senior staff. It also said that Cuomo and his aides took action to retaliate against at least one former employee who accused him of inappropriate behavior.
"The independent investigation has concluded that Governor Andrew Cuomo sexually harassed multiple women, and in doing so violated federal and state law," James said at a news conference in early August.
Cuomo announced he was stepping down just one week after the report's release but has maintained his innocence and denied much of the attorney general's findings. The 63-year-old Democrat has said he's the "victim of a political and media stampede."
Cuomo and his legal team criticized the investigation and subsequent report, asserting James' probe lacked independence.
James addressed Cuomo's allegations in late September, stating in a speech she had no influence over the outcome of the investigation. She also noted that the probe began after Cuomo's office referred the allegations to her and was led by outside investigators.
"Mr. Cuomo has a lot to say on these matters, but he has never taken responsibility for his own conduct," she said. "He has never held himself accountable for how his behavior affected our state government."
On Thursday, Cuomo was charged with forcible touching for allegedly groping a female aide "for the purposes of degrading and gratifying his sexual desires," according to a criminal complaint filed in Albany City Court.
Cuomo spokesperson Richard Azzopardi released a statement Friday accusing James of using her position for her personal gain.
"Law and politics are totally separate and this is a toxic intersection of the two," Azzopardi said. "Tish James used her office to attack the Governor for her own political benefit and she violated the law in the process."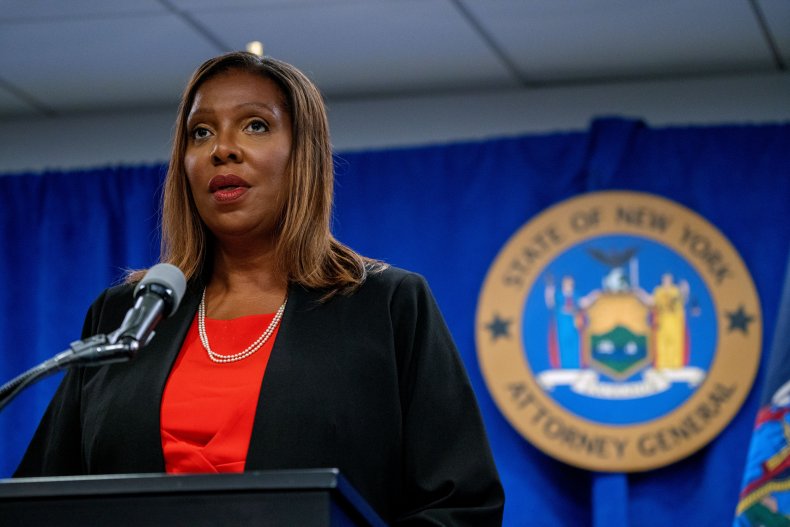 In response to reports that James was going to run for governor, Azzopardi told WETM, "Oh I'm sure that decision was made around August or so."
James will be challenging current Governor Kathy Hochul for the Democratic nomination. Hochul, who was the state's lieutenant governor, took over for the remainder of Cuomo's term. Hochul said she plans to run for governor in the state's 2022 race.
James, 63, was elected attorney general in 2018. She previously served as the city's public advocate. If she wins the governor's race, she would be the first Black woman to lead the Empire State.
Current New York City Public Advocate Jumaane Williams has filed paperwork to enter next year's race. Mayor Bill de Blasio has also been eyeing a possible run, according to reports.
A recent Siena College Research Institute survey tested a four-way, hypothetical matchup among Democrats and found Hochul in the lead with 39 percent support among registered voters. James ranked second with the support of 20 percent of voters.