Letitia James Suspends NY Governor Bid to 'Finish Important Investigations' as AG
New York Attorney General Letitia James is suspending her campaign to run for governor, citing "important investigations" she must complete in her current position.
"I have come to the conclusion that I must continue my work as attorney general," James announced in a Thursday statement. "There are a number of important investigations and cases that are underway, and I intend to finish the job."
Instead of taking on current Governor Kathy Hochul in the race, James said she will run for a second term in 2022. She has served as attorney general since 2019.
"I am running for re-election to complete the work New Yorkers elected me to do," she added.
In 2018, James won the general election with nearly 62 percent of the vote for attorney general.
She announced her bid for the governor's race just six weeks ago.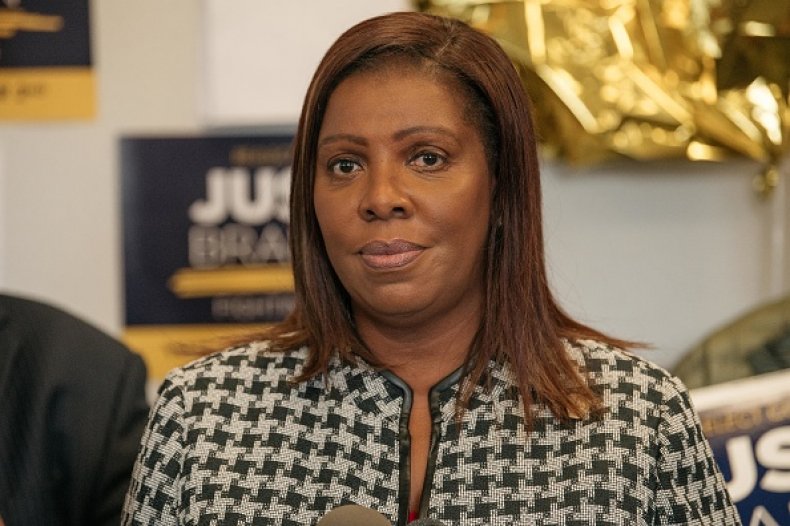 James has been well known for overseeing the investigations into former Governor Andrew Cuomo, both for his administration's mishandling of the coronavirus pandemic and sexual harassment allegations made against him.
Public outcry in response to the investigations ultimately led to Cuomo's resignation.
Cuomo had previously signaled that he would run for a third term in 2022, but after stepping down, Hochul assumed the role of governor and announced her own re-election campaign.
James, who announced her candidacy a day after Cuomo was charged in a sexual misconduct complaint based on claims detailed in the attorney general's report, was the toughest challenge to Hochul's campaign.
The attorney general has also made headlines for her office's lawsuits against former President Donald Trump and the National Rifles Association.
In her campaign's video announcement, James tells the camera, "I've sued the Trump administration 76 times — but who's counting?"
James' early campaign had been noticeably quiet. Politico reported that James conducted only one TV or radio interview since launching her campaign and kept the few public appearances she made within a 12-mile radius of New York City.
In her official announcement, James said she was running for the state's top office "because I have the experience, vision, and courage to take on the powerful on behalf of all New Yorkers."
James, who is from Brooklyn and is the first woman of color to be elected to statewide office in New York, could have been the first Black female governor in the country.
She had not detailed her policy ideas, but the left-wing New York Working Families Party, which James has close ties with, said "We expect that Tish will campaign with a clear progressive vision for New York."