Let's Get Crazy: Predictions for the Unpredictable College Football Playoff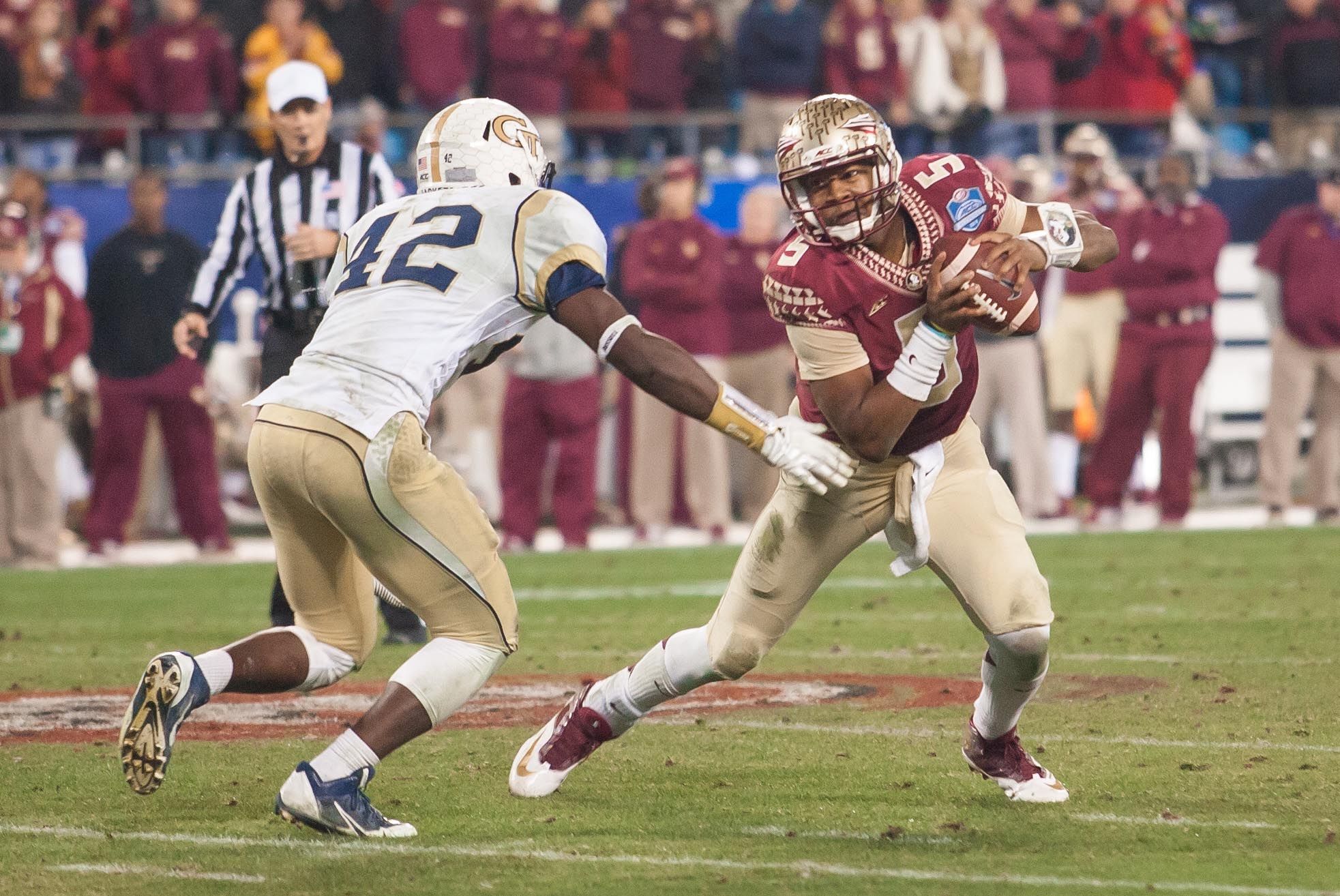 A Rose Bowl featuring two Heisman Trophy winners?
Been there, done that (2006, the BCS Championship game, in which USC's Reggie Bush and Matt Leinart came up short versus Texas).
A January bowl in Pasadena featuring Jameis Winston and Florida State?
Seen that, too (last January, the final BCS Championship game, in which the Seminoles edged Auburn, 34-31).
A January bowl pitting two Heisman Trophy winners against one another?
Uh-huh (the 2009 BCS Championship game, in which Florida and Tim Tebow prevailed against Oklahoma and Sam Bradford).
A January game in the Superdome featuring Ohio State and a Southeastern Conference Champ?
Yup (2008, when the Buckeyes lost to LSU, 38-24, in the BCS Championship Game).
A championship game pitting Urban Meyer against Nick Saban?
Again, check (both the 2008 and 2009 SEC Championship games).
A January bowl that has national championship implications in which Lane Kiffin is the offensive coordinator?
Bingo (that aforementioned 2006 BCS Championship game)!
It may be a new year and a new era for college football with today's inaugural four-team playoff (something that has been a fixture in Canadian college football for 50 years, by the way), but familiarity will also play a role in today's pair of semi-finals. In fact, all four schools (Alabama, Florida State, Ohio State and Oregon) have played in a national championship game in the past seven years and only one coach, the Ducks' Mark Helfrich, is making his debut in a January game with title implications.
And yet today will be unlike anything we have ever witnessed in college football. The winner of today's Rose Bowl between the Seminoles and Ducks (5 p.m., ESPN) will play one more game as will the victor in tonight's Sugar Bowl between the Crimson Tide and Buckeyes (8:30 p.m., ESPN). That contest will take place a week from today at AT&T Stadium in Arlington, Texas.
What else will be different? Well, you likely will not hear as much debate about the deserving teams excluded from the national championship game, although this year has some of that grumbling. Texas Christian, the only school in the nation that finished in the top 10 in both Scoring Offense (2nd) and Scoring Defense (8th), failed to make the cut. On New Year's Eve in Atlanta the Horned Frogs hung 42 points on Mississippi, which had entered the game as the nation's top scoring defense, in a 42-3 Peach Bowl rout.
You may recall that the Horned Frogs (12-1) were ranked No. 3 in the penultimate College Football Playoff selection committee rankings, then went out and walloped Iowa State 55-3, but were dropped to No. 6, behind the Buckeyes and Big 12 counterpart Baylor. While Ohio State's evisceration of Wisconsin, 59-0, in the Big Ten Championship game that day was also impressive, it is impossible to escape the notion that because the Buckeyes' fan base travels as well as any school's and spikes the Nielsen ratings better than just about everyone, they were a more attractive (read: lucrative) option.
Jeff Long, the spokesperson for the Selection Committee, explained how Ohio State leaped the Frogs by stating that, "With the (Big Ten) championship game, Ohio State demonstrated that they were a total team." TCU plays in the Big 12, which currently does not have a conference championship game. And yet, the Buckeyes were a total team that lost to an average Virginia Tech team at home by two touchdowns while the Horned Frogs fell to an 11-1 Baylor team in Waco by three points.
Does a four-team playoff create a potentially smaller degree of error in terms of the two most worthy teams than the BCS system? Absolutely. Does TCU have just as solid an argument as Ohio State or, despite their undefeated record, Florida State? They do.
Having paid our respects to TCU's outstanding season, what can we look forward to today? A few things:
--Kicking Excellence: Florida State's Robert Aguayo is nearly automatic, having converted 25 of 27 field goal tries (second-best in nation) and all 53 of his PATs. Alabama freshman punter JK Scott finished second in the nation in punting with a 46.98 average.
--Close Games: The oddsmakers have Oregon and Alabama each as a touchdown favorite, but I believe that both underdogs – Florida State and Ohio State, respectively -- will make it closer. The Seminoles, who have trailed at some point after the first quarter in their past seven games, will not press the snooze button today. Coach Jimbo Fisher has their attention.
The Buckeyes, who twice succumbed to SEC opponents in the BCS Championship Game in the past decade by at least two touchdowns, will not cower in front of mighty Alabama in what is a veritable home game for the Tide.
How do I know these things? I don't, and this is bowl season, when the unexpected is the expected. One moment Western Kentucky has a 35-point fourth-quarter lead in the Bahamas Bowl, the next moment the Hilltoppers are staving off a two-point conversion attempt by Central Michigan to win, 49-48.
It's bowl season. Anything can happen. We've seen it all before… and yet we have never seen anything like it.