When Football Players Are Caught on Tape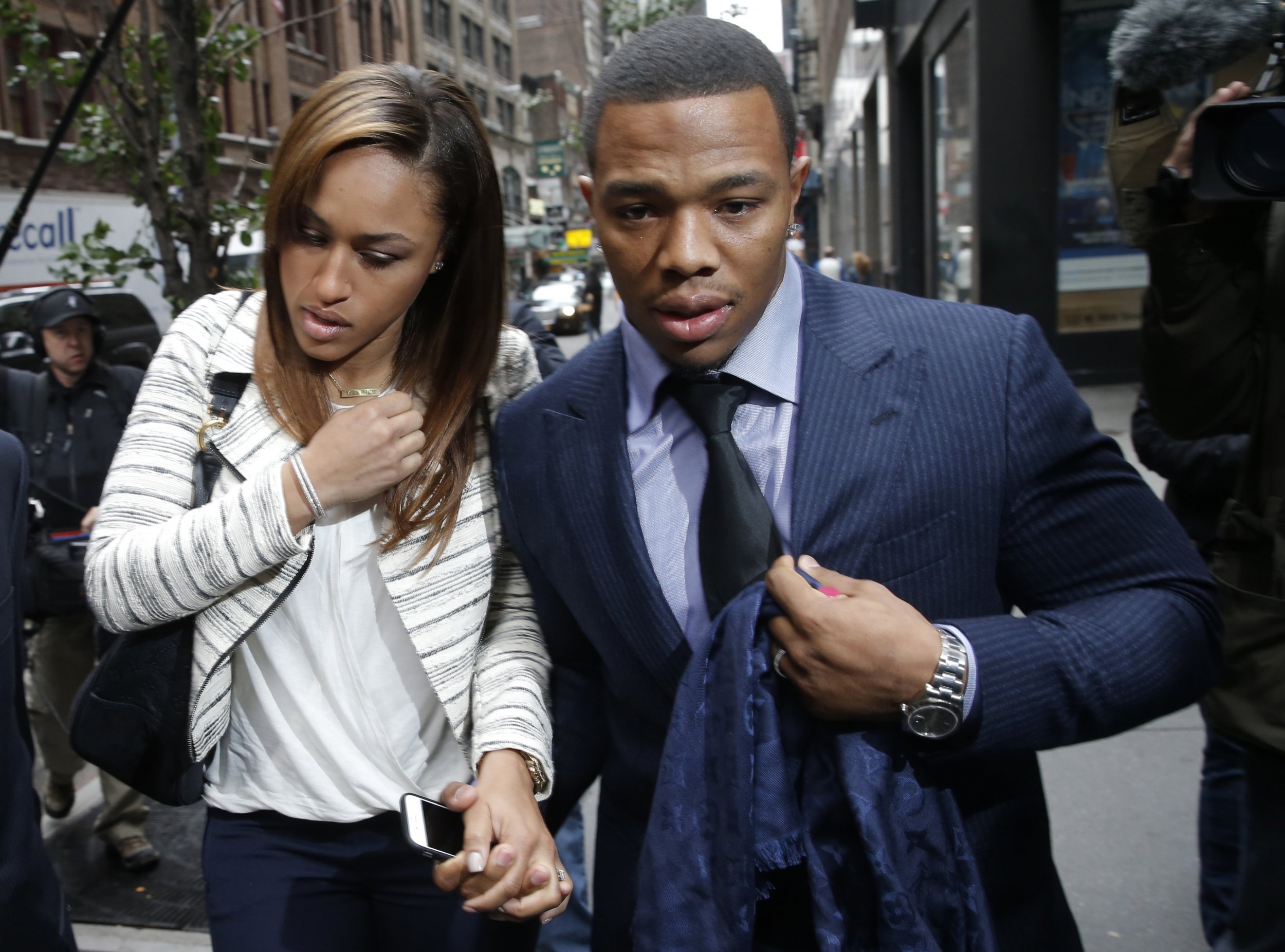 It was erstwhile New York City and Washington D.C. sports broadcasting legend Warner Wolf who made "Let's go to the videotape!" his catchphrase in the 1970s. Wolf also, unwittingly, ushered in what would constitute the 21st-century burden of proof in off-field criminal mischief, particularly as it pertains to football players.
Major League Baseball, the NBA and NFL all have in-game video review command centers in New York City or nearby (Secaucus, N.J., for the NBA) and maybe it's time football in general followed suit for off-field acts of violence against females.
Last September, Norah O'Donnell of CBS interviewed NFL commissioner Roger Goodell about the league's suspension of Baltimore Ravens running back Ray Rice. Originally suspended for two games after the league had seen footage of his then-fiancee, Janay Palmer, lying unconscious outside of a hotel lobby, Rice was summarily suspended for an entire season after footage of him striking Palmer and knocking her out in an elevator surfaced, courtesy of TMZ.
"Did you really need to see a videotape of Ray Rice punching her in the face to make this decision?' O'Donnell asked Goodell.
"No, we certainly didn't," Goodell replied. "But what we saw [in the video] was extremely clear, it was extremely graphic, and it was sickening." In other words: No....but yes.
Which brings us to Tallahassee, Florida.
By now you are aware of the latest wave of criminal charges involving the Florida State University football program and the corner into which Seminole coach Jimbo Fisher has painted himself in Tallahassee. But just in case you are not, let's review:
On Wednesday, June 24, incoming freshman quarterback De'Andre Johnson got involved in an altercation with a female Florida State student. The incident took place at Yianni's, a nightclub located just north of campus on Tennessee Street, the state capitol's main thoroughfare, and how quaint of you to wonder what a 19 year-old was doing inside a bar in the first place.
Anyway, the Seminole athletic department acted swiftly, suspending Johnson — a four-star quarterback who had been named Florida's 2014 "Mr. Football" — the very next day. One week later, on July 2, the State Attorney's Office filed a charge of misdemeanor battery against Johnson after reviewing this surveillance videotape showing the punch that Johnson landed to the woman's face.
Four days later — that is, last Monday — the State Attorney's Office released the video to the public. That same day, the Tallahassee Democrat posted it on their website (to date, it has garnered more than 2.3 million views). That same night Seminole coach Jimbo Fisher dismissed Johnson from the team. University president John Thrasher, himself an FSU alum, released a statement in which he sounded not unlike NFL commissioner Roger Goodell. "While it is always important to adhere to due process," Thrasher wrote, "having now seen the physical altercation captured on video, there is no question in my mind that Coach Fisher made the correct decisions."
While it seems highly unlikely, De'Andre Johnson may still be acquitted of this crime, or the charges may be dropped. But no matter. YouTube has spoken, and Florida State has reacted. De'Andre Johnson will never wear a Seminole football uniform.
One can appreciate the precarious position in which FSU's Fisher found himself: the past two years, Fisher had devoted entirely too much of his energy to defending or shielding the Heisman Trophy-winning quarterback who led the Seminoles to 29 wins and a national championship, Jameis Winston.
Winston, who was chosen No. 1 overall in last spring's NFL draft, was never charged with a crime any more serious than the shoplifting of crab legs — a crime of entitlement as much as anything else, as this video attests. However, a rape allegation against Winston by an FSU coed stemming back from his freshman redshirt year dogged both him and the university for most of his last two years on campus. The greater crime, or at least the one that was easier to prove, was that a culture of conspiracy designed to protect Seminole players from being accountable for their mischief pervaded.
And so here came Winston's successor, Johnson, involved in another allegation involving violence against another FSU coed. This was easier for Fisher than opting to go for it on fourth and inches. Dismiss Johnson. Demonstrate to anyone observing from beyond the Garnet and Gold curtain — and to be fair, Oklahoma had an incoming freshman football player, Joe Mixon, punch a female student last summer and the Sooners only suspended him for one season — that Florida State was not about to prop open the tent to another circus.
If only Fisher had known about Dalvin Cook at the time. On Tuesday, June 23rd, one night before Johnson threw his punch, Cook is alleged to have punched a 21 year-old female outside a bar, Clyde's and Costello's, in Tallahassee's capital district. Like Johnson, Seminoles running back Cook is also 19 and a former "Mr. Football" in Florida, a designation given to the state's top prep player. Like Cook, he was charged with misdemeanor battery.
Unlike Johnson, Cook is a proven college football commodity. And also unlike Johnson, Cook's alleged act of violence was not caught on video.
Last year as a freshman, Cook was arguably the most valuable player on the Seminole offense after Winston. Cook, a native of Miami, was the team's leading rusher (1,008 yards) and saved his best performances for some of the Seminoles' most harrowing moments, particularly later in the season: 110 yards in a come-from-behind win at Louisville; 144 yards in a five-point home win versus Florida and 177 in the ACC Championship game against Georgia Tech, a two-point victory.
The college football pulp mill annually begins to churn just after the 4th of July, and Cook's name was already on every pundit's Heisman finalist list. And then last Friday, just four days after Johnson's dismissal from the team, Cook turned himself in after the State Attorney's Office put out a warrant for his arrest.
Willie Meggs, the same man who did not find enough evidence two years ago to support charging Winston with a crime of sexual assault, met with both the victim and a friend who was an eyewitness last week. Meggs, the State Attorney in Tallahassee, told ESPN.com that "I found the woman to be very credible."
Cook's criminal background is, unlike Johnson's, checkered. He already had two juvenile cases, one involving a firearm on school grounds, that were dropped. Since arriving on campus 13 months ago, he had been involved in two more relatively minor investigations, one involving a BB gun fight and the other animal cruelty, before this latest incident took place.
The most intriguing next step will not be taken by the Tallahassee State Attorney but instead by Fisher. The altercation in question took place outside Clyde's and Costello's, and that bar has no outside surveillance cameras. A larger establishment with outdoor seating, Andrew's Capital Grill & Bar, is located next door but also has no exterior surveillance cameras. Nor does the Governor's Inn, located directly across the street from Clyde's and Costello's.
Cook's hearing is scheduled for July 30. Like Johnson, he appeared to be somewhat provoked by the female victim but also like Cook, at least according the incident report, he responded by punching a woman. Bizarrely enough, another FSU freshman quarterback by the name of Deondre Francois was a witness and questioned by police.
Cook's priors eliminate him from being eligible for a first-time offender program and the victim, who is not a Florida State student, plans to press charges. What if Cook pleads out or is found guilty of committing essentially the same act as Johnson did, one day prior to when Johnson did it? If that were to happen and Fisher were to do anything less than dismiss perhaps his most potent offensive weapon from the team, how would it be seen as anything less than the imposition of a double standard? Of hypocrisy?
How? Because whatever Dalvin Cook did or did not do on the night of June 23rd is not on videotape, which means that it cannot live forever on the internet. If Dalvin Cook is found guilty and does suit up for Florida State again later this season, it will only demonstrate an axiom of modern-life: the real crime is being caught on tape.
When Football Players Are Caught on Tape | Sports