Let's Goat Mets! New York Loses the World Series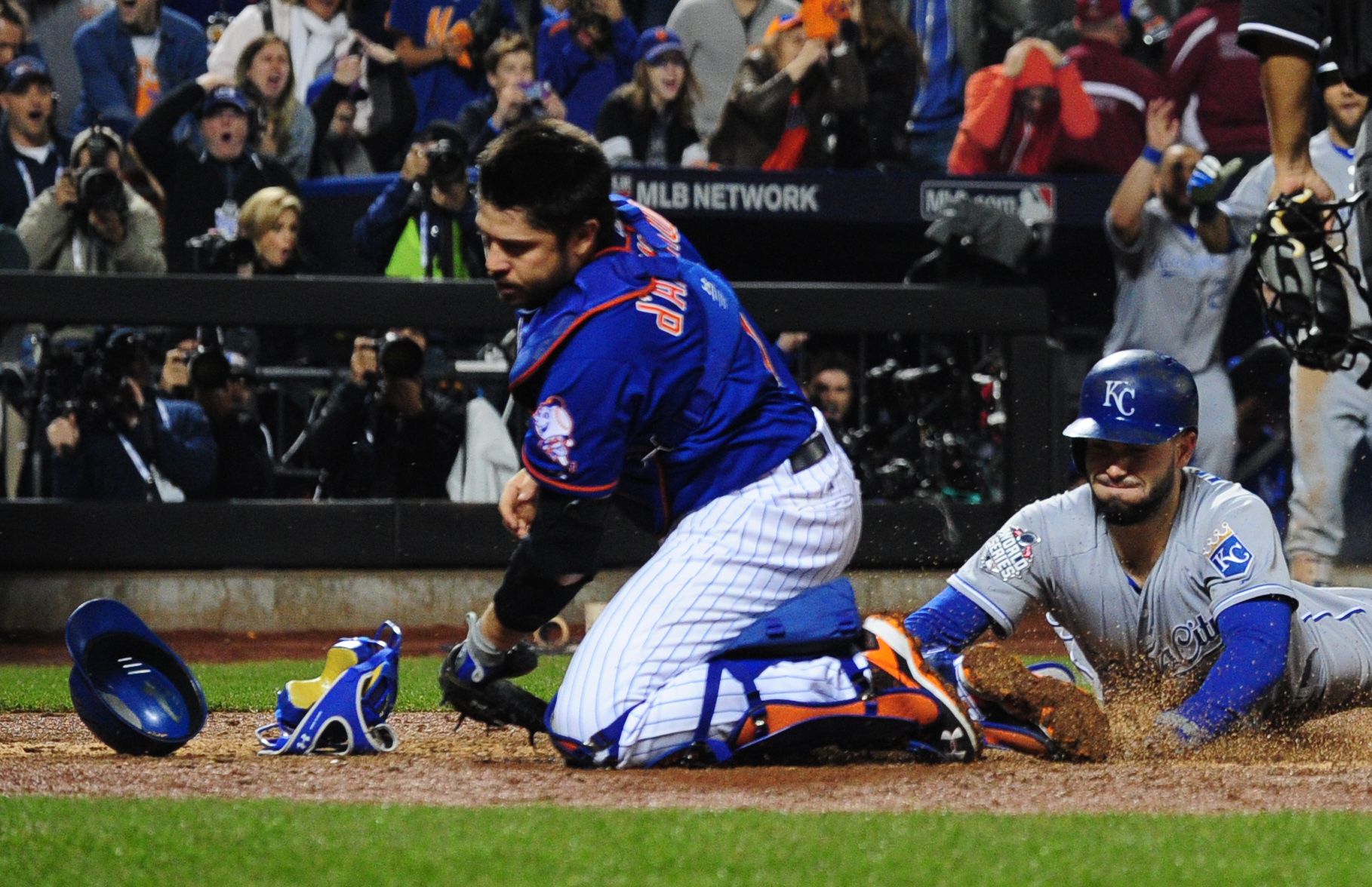 Updated | Things went from Dark Knight to dark night for Mets pitcher Matt Harvey with stunning alacrity in Game 5 of the World Series at New York's Citi Field. It happened almost as quickly as you can utter the words "No way."
The Kansas City Royals won their first World Series in exactly 30 years, ousting the Mets 7-2 in 12 innings on Sunday evening/Monday morning in what would be that day's second New York City marathon. It was the Royals' second extra-innings victory in this year's Fall Classic, and the third time the American League ball club defeated the Mets after entering the eighth inning trailing.
Here in New York, though, what the fans, the tabloids and the sports radio hosts will remember is how the Mets blew it. Choked. Bad luck, bad fielding and bad relief pitching doomed New York, but in a city whose unofficial mascot is the scapegoat and where the most popular sports pastime is second-guessing, what will be most hotly debated is manager Terry Collins's decision to allow his 26-year-old ace, Harvey, to take the mound in the ninth inning.
The Mets led 2-0 through eight innings, and Harvey, as has become expected, had been brilliant. Nine strikeouts, five hits and no runs. After the man who has come to be known by Mets fans as "the Dark Knight" retired Kansas City's Ben Zobrist to end the top of the inning, he retreated to the dugout. There, Mets pitching coach Dan Warthen, having just finished a confab with Collins, informed Harvey that his night was over.
"No way!" Fox's cameras caught Harvey responding to Warthen. "No way I'm coming out."
Harvey then approached Collins, where he calmly but firmly reiterated his intention to remain in the game. This is New York City, where resilient warriors such as Willis Reed and Pizza Rat are held in the highest regard. And this is 2015, where social media allow news to travel in the time it takes to tap one's Twitter app on your cellphone. Within moments, the Citi Field crowd was buzzing with news of Harvey's last stand.
And why not keep him in? The Mets closer, Jeurys Familia, had already blown two saves in this World Series. Although Familia had been outstanding as the reliever who came on in relief of designated closer Jenrry Mejia during the regular season after Mejia failed a second PED test in July (and was suspended 162 games), he had failed to shut down the Royals.
In Game 1 in Kansas City last Tuesday, with the Mets leading 4-3 in the bottom of the ninth, Familia allowed a one-out game-tying home run to Alex Gordon. That hit altered the tone of the World Series, as the Royals went on to win 5-4 in the 14th inning, which tied the record for the longest World Series contest ever played.
Four nights later at Citi Field, on Halloween night, Familia inherited two Royal base runners with no outs in the top of the eighth inning and the Mets clinging to a 3-2 lead. The Royals would score three runs in that inning, aided by an error by Mets second baseman Daniel Murphy, and win 5-3.
Back to Sunday night. When Harvey sprinted out to the mound to start the ninth inning and burnish his legend, Citi Field erupted. (It should be noted that throughout the game, serendipitously, Fox was running promos for its new series Gotham.) The leadoff batter, Lorenzo Cain, worked the count to 3-2. Harvey's payoff pitch was low. Ball four.
Citi Field's roar switched to murmurs as Eric Hosmer came to the plate. The Royals first baseman had already driven in a ridiculously prodigious 28 base runners in just 30 postseason games, tying a Major League record. Collins was now potentially one swing away from forever being mentioned in the same breath as Grady Little, the Boston Red Sox manager who allowed Pedro Martinez to remain in Game 7 of the 2003 American League Championship Series versus the New York Yankees. That move backfired.
As did this one. Hosmer hit a double to left field, scoring Cain. One out later, with Familia having replaced Harvey, Hosmer scored on a ground out to third baseman David Wright. Hosmer astutely sprinted to home plate as Wright released his throw to first—a good relay home by first baseman Lucas Duda would have easily nailed Hosmer and sent the series back to Kansas City. Instead, Duda's toss sailed high and wide, arguably the worst toss anyone has made to home plate at Citi Field since 50 Cent's ceremonial pregame toss last year.
By the time the inning ended, with the score tied 2-2, a sense of impending doom blanketed Citi Field. Yes, the score was tied and the Mets had their last at-bat coming, but the Royals are simply too opportunistic. Only 17 days earlier they had been facing elimination in Houston, down 6-2 in the top of the eighth, and had rebounded to win, 9-6.
In the top of the 12th inning, with the go-ahead run on third base, the Royals sent pinch hitter Christian Colón to the plate. Colón's last at-bat had come in the regular season finale on October 4. With two strikes on him, Colón stroked an Addison Reed slider into left field for the go-ahead run. Kansas City would score five runs, as later in the inning the Mets's Murphy committed his second error in as many nights.
(Murphy, who hit a home run in every game of the NLCS, had an awful World Series, with those two costly errors and just three singles in 20 at-bats. No one has gone from G.O.A.T. to goat faster in recent memory.)
The Mets entered the World Series with starting pitching as their trump card. And three of their four youthful aces—Harvey, Noah Syndergaard and Steven Matz—lived up to the hype. The Royals were simply able to extend games into the late innings when their strengths—relief pitching, timely hitting and aggressive base running—took over.
On the day when Daylight Savings Time ended, a Dark Knight overstayed his welcome. New Yorkers will be discussing that throughout their long, dark winter.
Correction: An earlier version of this article incorrectly said Matt Harvey is 27. He is 26. Also, Alex Gordon's first name was incorrectly referred to as Ben, and Daylight Savings Time was incorrectly said to have just begun.