Let's Hope Pompeo's Trip to Hawaii Ushers in More U.S.-China Dialogue | Opinion
U.S. Secretary of State Mike Pompeo flew to Hawaii this week to meet his Chinese counterpart Yang Jiechi. The hush-hush trip was an opportunity for the top diplomats of the world's two largest economies to sit down in the same room and take each other's temperature. And it could not have come at a better time.
Even before the coronavirus crisis upended economies around the world and claimed the lives of hundreds of thousands of people, U.S.-China relations were in a state of semi-despair. Despite amicable personal interactions between President Donald Trump and Chinese President Xi Jinping and a willingness from both to pursue a constructive way forward, Washington and Beijing have found themselves on the opposite end of the field on everything from technology to the South China Sea.
It is in times of distress and tension when diplomatic engagement is most needed. The common trope that talking with one's competitors or adversaries is a sign of weakness or a concession in its own right is a complete misrepresentation of diplomacy and arbitrarily cuts the U.S. off from one of the valuable tools in its foreign policy toolkit.
To say U.S.-China relations are hemorrhaging would be an understatement. The bilateral relationship is arguably at its worst since Washington and Beijing established formal diplomatic relations in 1979. The first half of 2020 is quickly transforming the U.S.-China relationship into one of outright rivalry. Getting unapologetically tough on Beijing is now the default position in the Washington foreign policy establishment—so much so that any form of engagement is callously debased as appeasement. The coronavirus epidemic and the CCP's less-than-proactive collaboration with international health agencies about the spread of the disease have convinced lawmakers on Capitol Hill that it's past time to punish Beijing's behavior across the board.
In addition to requiring state-funded Chinese media outlets operating in the United States to register as foreign agents, the Trump administration is also prohibiting the federal government's retirement fund from investing in Chinese stocks. Trump has made it abundantly clear that he is far from pleased about the status of the phase one trade deal and went so far as to suggest he could cut off U.S.-China relations entirely.
The Chinese government, notoriously fickle about how it is perceived around the world, certainly isn't helping matters. Weeks after Washington limited the operations of Chinese media companies on U.S. soil, Beijing revoked press credentials from journalists working for The New York Times, The Washington Post and The Wall Street Journal. Xi's decision to ram through a draft national security law for Hong Kong has the potential to completely destroy the "one country, two systems" framework that has governed Hong Kong for nearly a quarter-century. U.S. defense officials are concerned about hostile Chinese takeovers of companies in strategic sectors desperately in search of foreign capital.
Meanwhile, in the South China Sea, Chinese fighter and reconnaissance jets are violating Taiwan's airspace and probing the island's defenses ever more frequently.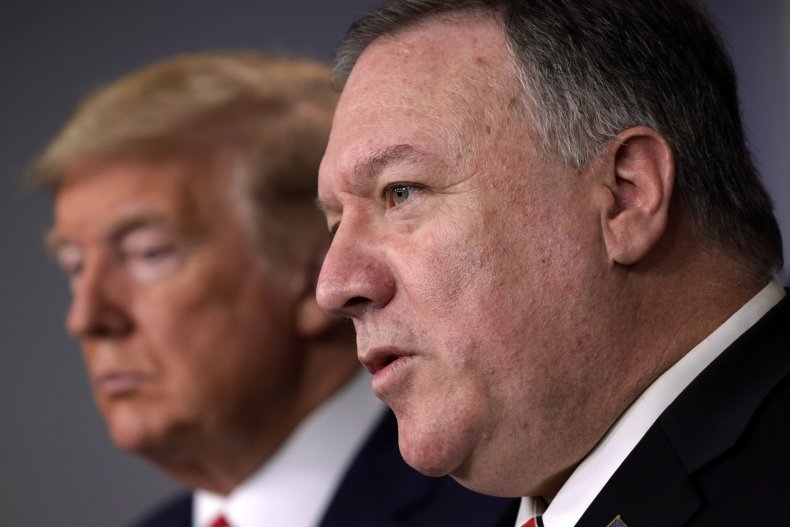 Thus, while the Pompeo-Yang conference in Hawaii failed to produce anything concrete—the State Department's readout of the event was a bland three-sentences—the fact that the meeting occurred at all during such a volcanic time is a giant step forward in introducing more normality into the relationship. Stating your position, learning the position of the other party and ensuring there is a mutual understanding of what needs to be done to remedy the disputes are integral to keeping bilateral relations on an even keel.
Anyone who was expecting some miraculous grand bargain between the top U.S. and Chinese diplomat was asking for too much. There are simply too many issues to solve in a single engagement. Indeed, on issues Washington and Beijing consider core to their own national security—for China, the status of Hong Kong; for the U.S., a free and open Indo-Pacific where peaceful coexistence among the region's various powers can be maintained—managing disputes is the best both countries can do. Effective management, however, is impossible without a healthy dialogue. To the extent Pompeo's exchange with his Chinese counterpart helps improve the overall atmosphere, it should be applauded and encouraged.
U.S.-China relations are naturally bound to get more competitive as Beijing continues to actively use the wealth and military power it has acquired over the past two decades. Competition, however, need not lead to systemic confrontation or outright conflict. For two powers who boast the two largest defense budgets and hold a combined 40 percent of the world's GDP, there is no substitute for keeping channels of communication open.
Daniel R. DePetris is a fellow at Defense Priorities and a columnist at The Washington Examiner.
The views expressed in this article are the author's own.