Let's Multiply Non-College Career Pathways for Young Americans | Opinion
Last year, when Kathryn Glover, 18, graduated from New Orleans Charter Science and Mathematics High School, she found herself in a fortunate position not afforded to enough high school students: she had options. Kathryn had gained work experience through an engineering internship organized by a local nonprofit and had earned college credits through dual enrollment in her high school and the New Orleans Career Center program at the University of New Orleans. Her training had given her skills, such as 3D modeling, that could have landed her a well-paying job with a local employer right after her high school graduation.
Our education system should aim to provide more graduating high school students with the options that Kathryn had—to either pursue a college education or to start working with the prospect of a successful career.
Much of the debate over postsecondary education today centers around how to give students more access to four-year colleges. Yet among recent high school graduates ages 16 to 24, 30 percent do not enroll in any postsecondary education, and only 60 percent of students in two- or four-year programs graduate within six years. These rates are even lower for Black and Hispanic students. This means that millions of young people will be left saddled with education debt and no degree.
Unsurprisingly, then, a recent Gallup and Carnegie Corporation survey found that nearly half of America's parents want more non-college options for their children. The survey found that these parents especially see the value of vocational training and apprenticeships. According to the U.S. Department of Education, high school students enrolled in programs with a career and technical education ("CTE") concentration are more likely to graduate and to earn higher median annual salaries than those who did not participate.
Exposure to workplaces through paid internships in high school can also have indirect benefits beyond career planning and resume building. Kathryn pointed out that her summer internship provided soft skills and social capital training she otherwise would have lacked as a young worker. "Every day at work I would be reminded that you're on a team and you need to work with others, but also that you need to be a go-getter because you're part of an organization," Kathryn emphasized. "I learned things like punctuality and organization are key."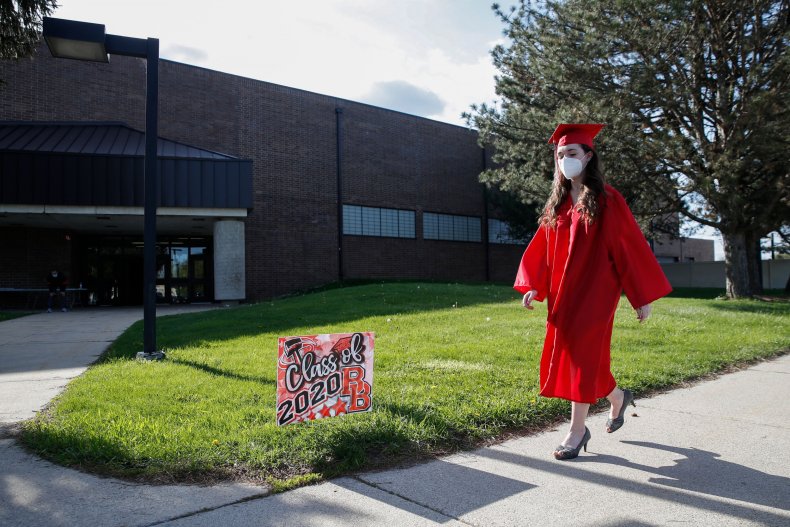 Kathryn's experience also exemplifies how schools that help their students earn college credits, credentials, certifications or even industry-recognized associate's degrees can better prepare them for adulthood and work. They can even help close equity gaps in educational outcomes. Yet, despite the advantages of these programs, many states do not require public universities to give students full credit for the coursework they provide—a practice that merits more attention and is detrimental to students.
P-TECH schools—which enable high school students to pursue credentialed college coursework—have seen good results. According to Rashid Davis, founding principal of P-TECH, "Our students have the opportunity to go into college course-taking as early as the summer after 9th grade. We've already completed four cohorts, grades 9-14, and we are 97 percent Black and Hispanic, with at least 70 percent of the students being Black males. Of those four cohorts that have already completed, 46 percent have earned a STEM degree."
Work experience and advanced courses alone are not enough to reach every student. Many young people face challenges at home and in their communities that make it harder for them to stay on task with their schoolwork and graduate on time. Approaches that provide support through wraparound services and mentorships can help these at-risk students remain "connected" to a pathway—whether college, employment or a career training program. Programs such as Youthforce NOLA and Urban Alliance, a non-profit focused on disconnected young people, make mentorship a central facet of their approach so that students do not feel alone and have trusted adults they can turn to for help.
The Biden administration, Congress, state and local policymakers have the opportunity to revamp our education system for a 21st-century workforce by creating a more diverse set of career pathways for today's students. Connecting students to work—such as through work-based learning opportunities and accelerated credentials—before they graduate high school can be key to their future economic success.
The White House has included additional CTE funding in the infrastructure plan it released last month. The administration has also announced its aim to provide grants to states to accelerate students' attainment of quality credentials, degrees, career and technical education and opportunities in job training programs. State and local policymakers will need to take additional steps to foster relationships with employers, invest in wraparound services and efforts to close the mentorship gap. They should also seek to create reliable data collection on outcomes and other measures to ensure the federal funding actually produces more career pathways and jobs for young adults.
Today, Kathryn Glover is studying mechanical engineering at the University of New Orleans. While she ultimately decided that a traditional four-year college was the best choice for her, she wanted other students to know that "If you want to go into the workforce from high school, there's nothing wrong with that. I know other students from my program who went straight to work and will start out making more than I will when I graduate from college." A final piece of advice to students with choices: "Focus on what you want to do and do your research. With respect to making that decision, talk to a mentor or an adult that you trust to weigh your options."
Veronica Goodman is the Director of Social Policy for the Progressive Policy Institute. Her writing and work has previously appeared in The Wall Street Journal, The Hill, NBC Washington, the New York Times social media, and other forums. She is also the author of four children's books, including the ABCs of Economics and E is for Economics.
The views expressed in this article are the writer's own.