Let's 'Practice Humanity': Governor Andrew Cuomo Reassures New Yorkers as Coronavirus Cases Skyrocket
New York Governor Andrew Cuomo reassured state residents as coronavirus cases skyrocketed, calling on New Yorkers to "practice humanity" and compassion last seen in response to the 9/11 terrorist attacks.
Speaking at a press conference in Albany Saturday morning, Cuomo touted New Yorkers as the most supportive and unifying community in the country as the state government announced 10,300 people have tested positive for coronavirus -- 6,200 of them being in New York City alone. He waxed poetic about the COVID-19 spread, saying a "crisis really brings out the truth about ourselves" as a people and a society.
He compared the "trauma" being felt nationwide to the response in the wake of the September 11, 2001 terrorist attacks, but said Americans -- particularly health workers and law enforcement -- are "rising to the occasion" to offer gentility and compassion to those affected by the coronavirus pandemic.
"And my last point is: practice humanity," Cuomo said at the Saturday press conference. "We don't talk about practicing humanity, but now if ever there was a time to practice humanity that time is now. Show some kindness, show some compassion to people, show some gentility even as a New Yorker. Yes, we can be tough. Yes, this is a dense environment. It can be a difficult environment. But it can also be the most supportive, courageous community that you have ever seen.
"And this is a time for a little gentility. It's the time for a smile when you're walking past someone. It's a time for a nod, it's a time to say 'hello,' it's a time for patience. And don't let the little things get you annoyed. That's New York at its best. That was New York after 9/11," Cuomo continued.
"You see people rise to the occasion and you see people fall from the burden of the emotion," he said, noting that the skyrocketing positive coronavirus cases in New York City are due in part to it being a "dense environment."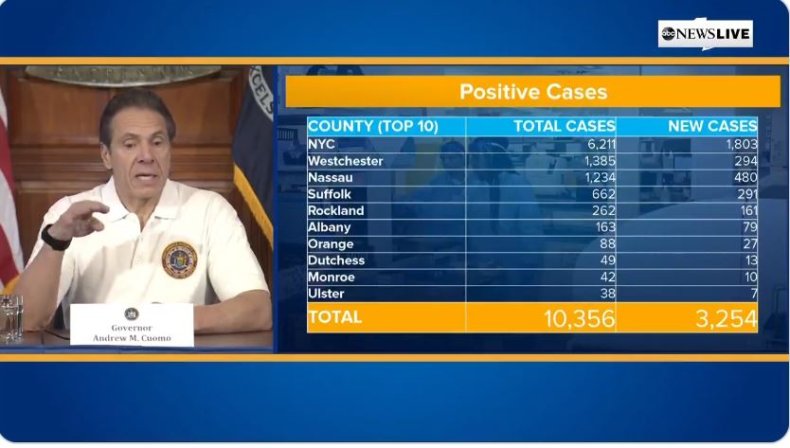 There were 3,200 new cases in the state over the past 24 hours, with 1,800 of those positive coronavirus cases emerging in New York City's five boroughs. Cuomo said he and other state government leaders are ahead of the curve -- and New Yorkers are helping their local communities. The governor said 45,437 New Yorkers have been tested for the virus, and that the state is offering more tests than anywhere else in the country.
"Yes, we have a problem. Yes, we will deal with it. Yes, we will overcome it. But let's find our better selves in doing it," Cuomo continued. "And let New York lead the way in finding their better selves and demonstrating their better selves. That is the New York destiny and that is the New York legacy. And that's why I'm proud to be a New Yorker and that's why I'm proud to be governor of this great state."
Cuomo has expressed calls for unity throughout the coronavirus pandemic, posting video on social media Friday saying that three-word sentences can often make all the difference. He said "I miss you" and "I love you" phrases allow New Yorkers to see "we are all in this together."
The governor noted that while New York City cases have been rising due to its density, Westchester County "hot spots" have been slowing in the number of recent cases.
His Saturday speech was widely praised by New York residents on social media, who said he has shown leadership and diligence throughout the crisis.