How to Talk About Death: Report Says Americans Need More End of Life Planning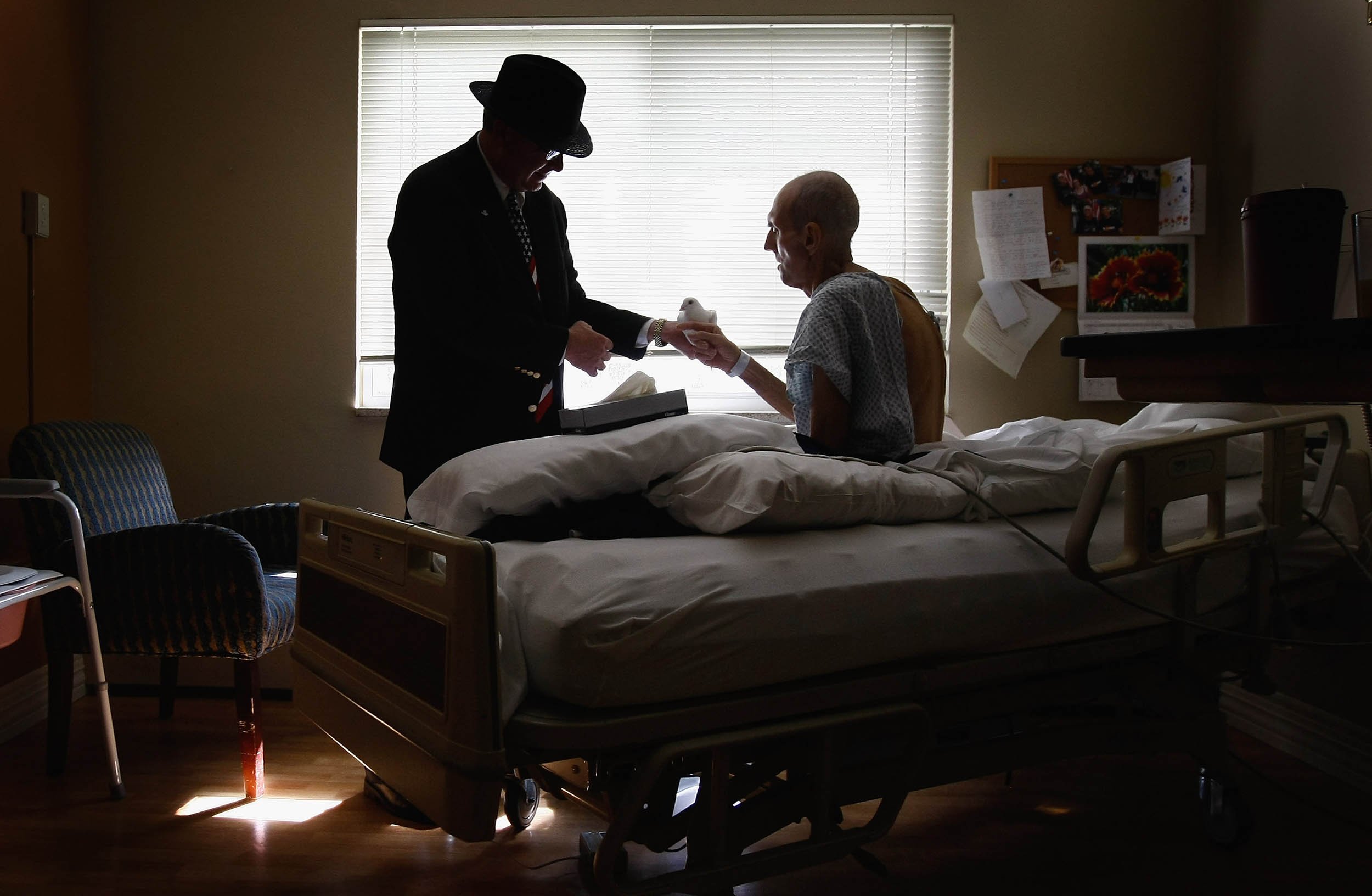 Americans should talk about death earlier and more often, says a report released Wednesday by the Institute of Medicine (IOM), a nonpartisan, nongovernmental organization that serves as the health arm of the National Academy of Sciences.
"Dying in America" centers not only on improving services and quality of life as patients near the end of life but also on lowering costs and fostering a more sustainable health care system. The roughly 500-page report is the compilation of research and recommendations from a 21-member committee of doctors, nurses, insurers, religious leaders, lawyers and experts on aging, funded by an anonymous donor.
The report "will ultimately impact all Americans as we and our loved ones walk through the inevitable final stages of our lives," said IOM president Dr. Victor Dzau at a briefing. The findings and recommendations span all levels, from doctor-patient conversations to fundamental flaws in the health care system.
Advanced planning
People need to start talking about end-of-life care earlier, and to revisit the topic periodically as values and preferences change with time. Less than 30 percent of Americans responding to a 2013 survey had had such discussions, though 90 percent believed it was important.
"Most people nearing the end of life are not physically, mentally, or cognitively able to make their own decisions about care," says the report. If family and doctors don't know the patient's wishes ahead of time, it may be too late to initiate a conversation.
The committee recommends a "milestone-specific" approach. In other words, have a first conversation in conjunction with that shiny new driver's license, at 18; when you're going off to college or when you're getting married. Continue talking if you're entering a high-risk occupation and particularly if you're diagnosed with an a "life-limiting" illness. The ultimate goal is to "normalize conversations about death and dying," so that people are more comfortable discussing and preparing for the eventual situation.
"Too often communication between patients, families, and clinicians is weak and patients don't die in the manner they really prefer," said Dzau when introducing the report. "We cannot let our discomfort discussing care during dying lead us down a path of inaction."
Training
The number of palliative teams in hospitals has increased since the institute's last report, in 1997, according to Dzau, but there is more to be done to train clinicians. All doctors who work with patients who have advanced serious illnesses should be competent in the basics of palliative care, medical and nursing schools should devote more attention to it in their curricula, and accrediting organizations and regulatory agencies should require education in palliative care, the committee writes.
There are currently "deficits in equipping physicians with sufficient communication skills," and oncologists, cardiologists and other specialists have been slow to adopt timely referral practices to hospice and other end-of-life services. In part, perhaps, because those conversations are time-consuming and charged with emotion.
"More than forty percent of oncologists report offering treatments that they believe are unlikely to work," wrote Atul Gawande in a 2010 piece for The New Yorker. "You worry far more about being overly pessimistic than you do about being overly optimistic."
A sustainable health care system
Doctors and hospitals default to acute care, according to the report, and there are financial incentives for making more use of emergency rooms and intensive care units.
This is not a new problem, said Dr. Harvey Fineberg, former IOM president, at the briefing. In 2009, lawmakers introduced a provision in the House of Representatives that "would have provided payment to Medicare for doctors and hospitals who would counsel patients on their options at the end of life," said Feinberg. The provision, which was to be incorporated into the Affordable Care Act, was struck down. Critics said it would be tantamount to introducing "death panels" into the health care system.
Increasing the quality of end-of-life care would, the committee writes, "contribute to stabilizing aggregate societal expenditures for medical and related social services and potentially lowering them over time," particularly if opposite incentives are given to improve the advanced planning process, increase coordination across settings and providers, and reduce the use of costly emergency room and acute care services.
"The time is now," said Dzau at the briefing, as the over-65 population in the U.S. continues to grow, "for our nation to develop a modernized end-of-life care system."