Let's Talk About Sex on the Internet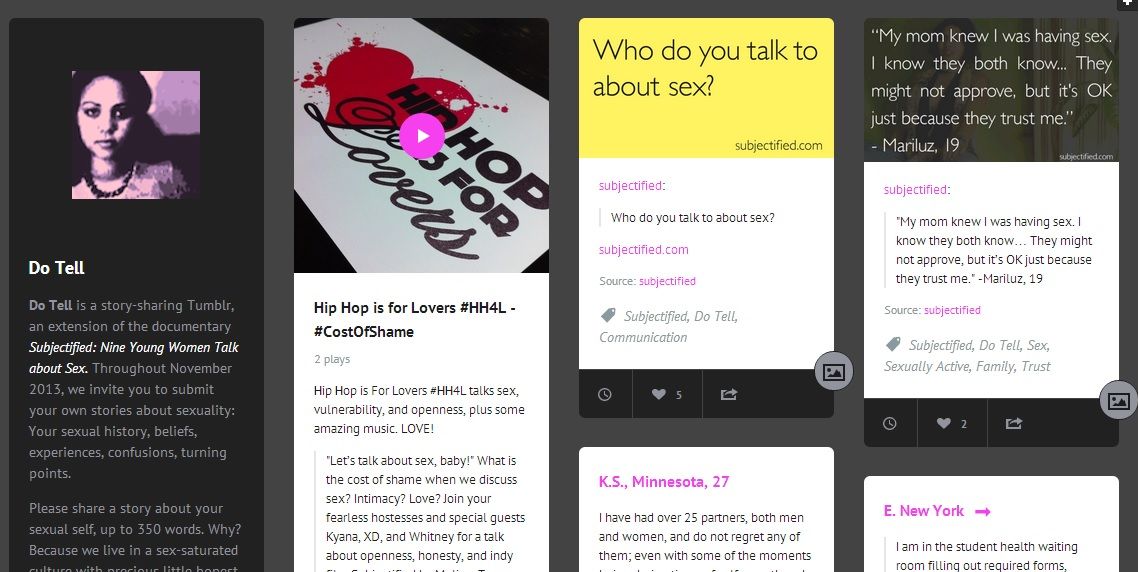 Melissa Tapper Goldman wants you to share your secrets on the Internet.
The Brooklyn-based director of Subjectified: Nine Young Women Talk About Sex, an acclaimed documentary on female sexuality in the United States, has launched Do Tell – a Tumblr for women to anonymously share their stories about their "sexual history, beliefs, experiences, confusions, turning points."
Tapper Goldman tells Newsweek that Do Tell expands the mission of Subjectified – de-stigmatizing female sexuality by getting more women to talk about it. She also wanted to share more stories than she could get into the documentary.
"For me, the priority was always finding ways to humanize these stories – to stop having it be about gossip or judgment or what 'wrong,'" she says. "I wanted to give another outlet for people to continue the conversation."
Tapper Goldman feared that participants in a web-based video venue would get backlash for speaking with their true identities, so she settled on Tumblr because it offered more protection than alternatives such as YouTube.
"The bigger picture here is that it's not necessarily safe for women to share their stories publicly," she says. "If I went on YouTube and I told you about the first time I had sex, or finding the appropriate birth control method, I would get hate mail. I would potentially lose my job. These are the consequences for women speaking up."
So far, the women who have participated in Do Tell have shared stories that range from happy to harrowing. In a recent entry, 19-year-old Mariluz writes: "My mom knew I was having sex. I know they both know… They might not approve, but it's OK just because they trust me." Another writer describes how, at age 42, she is now recovering from being molested by a friend's older brother at 12 and her stepfather at age 14; she has finally gotten "to [the] place where sex is a part of my life and almost feels natural, where I occasionally don't second-guess myself or my body, but just remain relaxed and enjoy it."
Tapper Goldman hopes the discussion in Do Tell, which will accept submissions until December 1, will counteract what she calls dangerous taboos. "A lot of negative, damaging things happen in a culture of shame," she says. "It impacts people's' decisions about sex, the way we experience sex, and the handling of sexual abuse and rape."
According to some people who work to prevent rape, Tapper Goldman's project could help victims begin the healing process.
Whereas speaking to a counselor or confidant might prove too overwhelming for a victim, communicating about the experience through writing can be easier - which is why the Rape, Abuse and Incest National Network launched its online crisis hotline in 2006, RAINN VP of Victim Services Jennifer Marsh tells Newsweek.
"Sometimes victims are not ready to talk aloud," she says. "That survivors are able to tell their story is incredibly beneficial to them."
Let's Talk About Sex on the Internet | Culture