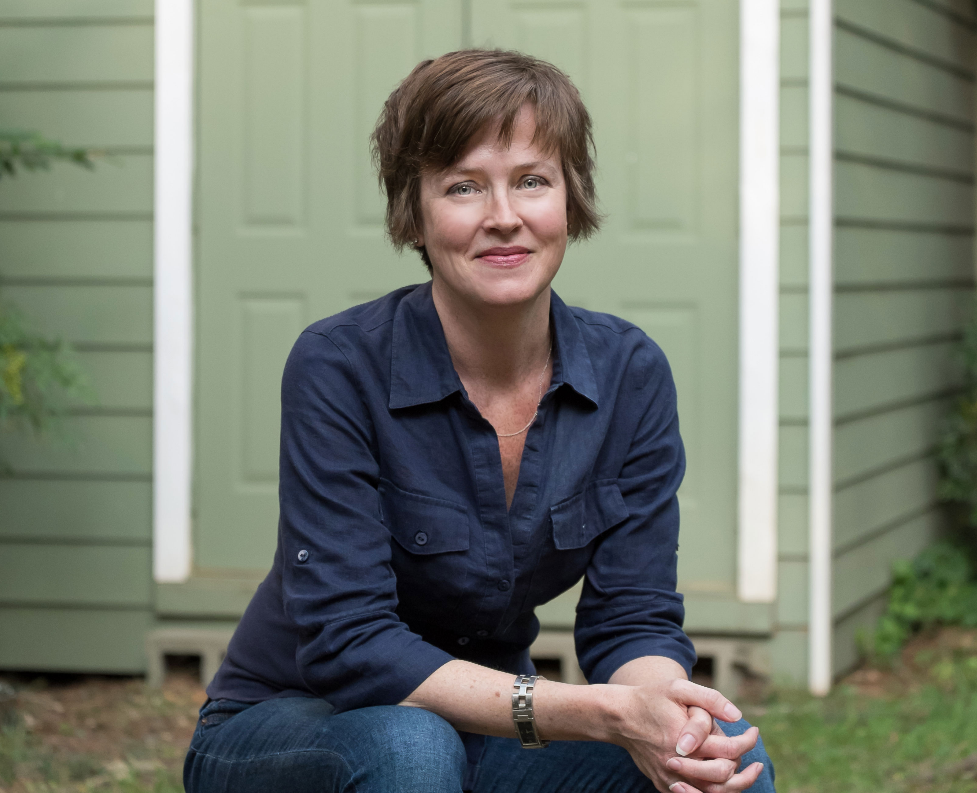 It wasn't always so easy to comment on a Newsweek story. Time was, you had to get a pen and pencil and stamps and actually mail it in. If you were lucky, you'd find your hot take published in the following week's issue. Let's revisit those days. In a new feature we're calling "Explain Your Letter," we choose an interesting letter published in Newsweek decades ago, track down the letter writer and ask him or her to explain the letter. The first installment stars Stacia Brown, a novelist whose letter was published in the April 30, 1990, issue.
Stacia Brown wasn't in a particularly happy place at 17. As she tells it, the future author was a lonely teenager who spent that year adapting to a new school and dealing with an eating disorder. Still, somewhere along the way, Brown found time to sit down and write a letter to Newsweek in response to a Noel Perrin essay on population control. (Perrin's proposal: Pay young women not to get pregnant.) That letter was published in the April 30, 1990, issue of our magazine. Behold: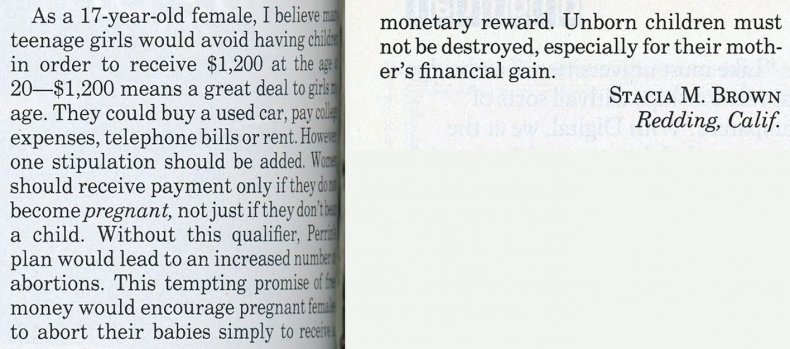 Now 42, Brown is a writer and the author of the 2012 novel Accidents of Providence. She also works at the Emory University School of Medicine in Atlanta.
We contacted the author, who says she hasn't thought about her letter in at least 10 years, and asked her to reflect. Below, Stacia Brown explains the letter.
What do you remember of this letter you sent to Newsweek in 1990?
I have no memory of when I wrote the letter. I have no memory of what prompted me to write the letter. What I'm mostly struck by is what I see now when I look at it. I'm struck by my eagerness at age 17 to participate in the public discussion. That kind of amazes me because that year I was in the middle of a significant eating disorder and struggling with almost all aspects of my own life. I was a senior in high school, had just moved to a new city and was preparing to go to college. So my life was pretty challenging that year. So the fact that I took the time to sit down and write a letter to Newsweek suggests to me my resilience, my growing sense that whatever my life would wind up being, writing about things that mattered would be at the center of it.
I'm also struck by kind of my growing interest in or passion for fairness. I think I'm a little less interested in the particularities of my position on abortion at that age than in my dawning sense that the world could be an unfair place. I was concerned that the playing field be leveled, whatever that looked like.
But you don't actually recall writing it?
I don't. Unfortunately. I know that I was a Newsweek reader in my senior year of high school. I do not remember what triggered it or why I picked that particular issue.
Was your family proud? Did you brag to your friends about being published?
I'm sure that my parents were proud of me. I sincerely doubt that I would have shared it with anyone else, because I was pretty shy. I couldn't use it for any college admissions or anything like that.
Did you save a copy of the magazine?
I'm sure I did back then. Do I have a copy of it now? No. I haven't seen that letter in a long time. It may be stuck in a box somewhere back in my parents' house.
You're a writer now. Was Newsweek the first major magazine to publish your work?
Yes. If we're talking about the national landscape, I'm pretty sure this was probably my coming out. I did have a piece in The New York Times Magazine published. But I think it was a year or two later, when I was in college.
Do you recognize things about yourself in the letter?
What I wrote about—it absolutely reflected the moral world in which I was raised, with a profound concern for the life of the unborn child and a deep commitment to remaining chaste before marriage. I see my upbringing in that letter and still very much appreciate those values. My views have changed and grown from that time. I think that's normal. The fact that I sat down and wrote has become what I do with my life.
I think I also am struck by my willingness to dive into a debate whose parameters I really had no understanding of at that point in my life. I had no understanding of poverty at that age or the intractable legacies of racism, sexism or economic inequality. I didn't even have a boyfriend.
Any regrets?
I would write a very different letter today. Actually, I wouldn't write a letter. I would write a novel. But I don't regret writing it. I really do think that I was trying to find my way. I was trying to find my voice.