Mother of Gay Groom Told Son 'Will Not Be Going to Heaven' in Anonymous Letter
A gay couple in small-town England nearly had their wedding ruined by an anonymous letter telling them it was "the consensus of the village" they should have their reception elsewhere.
Callum Hodge and Ashley Jenkins planned to marry in Bristol but held their reception at Hodge's parent's barn in Norton Malreward, a town in Somerset with a population of less than 250.
But a letter delivered to Hodge's mother, Janie, claimed her son "will not be going to Heaven."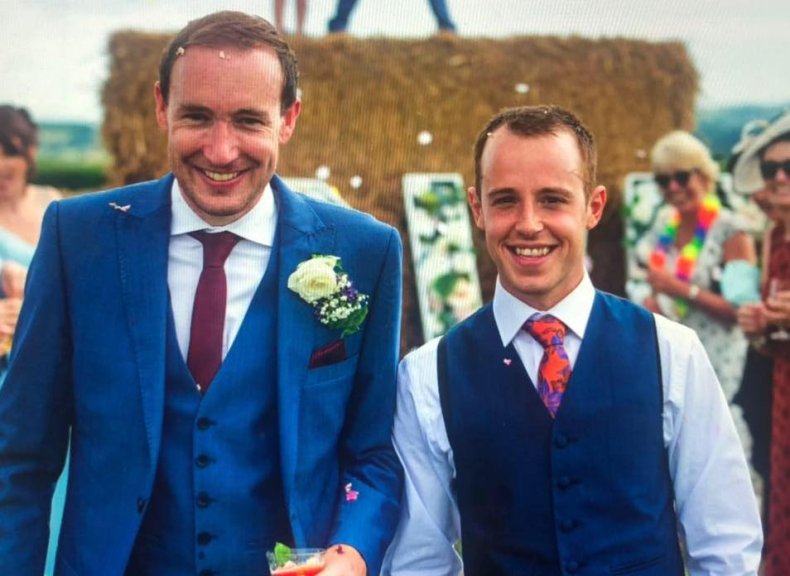 "Callum should be ashamed of himself for putting his grandparents through this," it added. "You need to lead him down a new path in life. The wedding should take place far, far away from the village. This is the consensus of the village."
A mail carrier herself, Janie decided not to share the note with her son and potentially ruin their July wedding. But she spent the whole day wracked with anxiety. "I was so worried something would happen on the wedding day, like a protest or something," she told the Mirror. "This person tried to ruin our day and it is so hateful."
She admits she didn't want to speak to her fellow villagers "because I thought everyone was out to get us."
"It is vile. It made me feel completely unwelcome in the village," she said. "The letter is so cruel and it made me very upset."
Janie notified police the day she received the letter, but waited to tell her son until a week after their nuptials—which went off without a hitch.
"We had an amazing day and to say we are now husband and husband means so much to us," Callum told the Mirror. "It felt amazing to get married. We love each other but are like best friends, too."
He added that after news of the letter broke, "so many people came to the house or stopped us in the street to say it had nothing to do with them. The amount of support we received showed it wasn't the village that felt like it as a whole... It is just some bigoted individual."
In his Facebook post, Callum addressed the letter writer, saying "If I had known [of the letter] I wouldn't have listened to you."
"I'm not the sort of person that lets everyone know that I am gay, because of people like you I spent so many years in denial and lost and still struggle to open up," he added. "Because of people like you so many people commit suicide all over the world because they can't face admitting who they are and that's because of bigoted people like you!"
Police in Avon and Somerset are treating the letter as potential hate mail.