How David Letterman Taught the World to Sing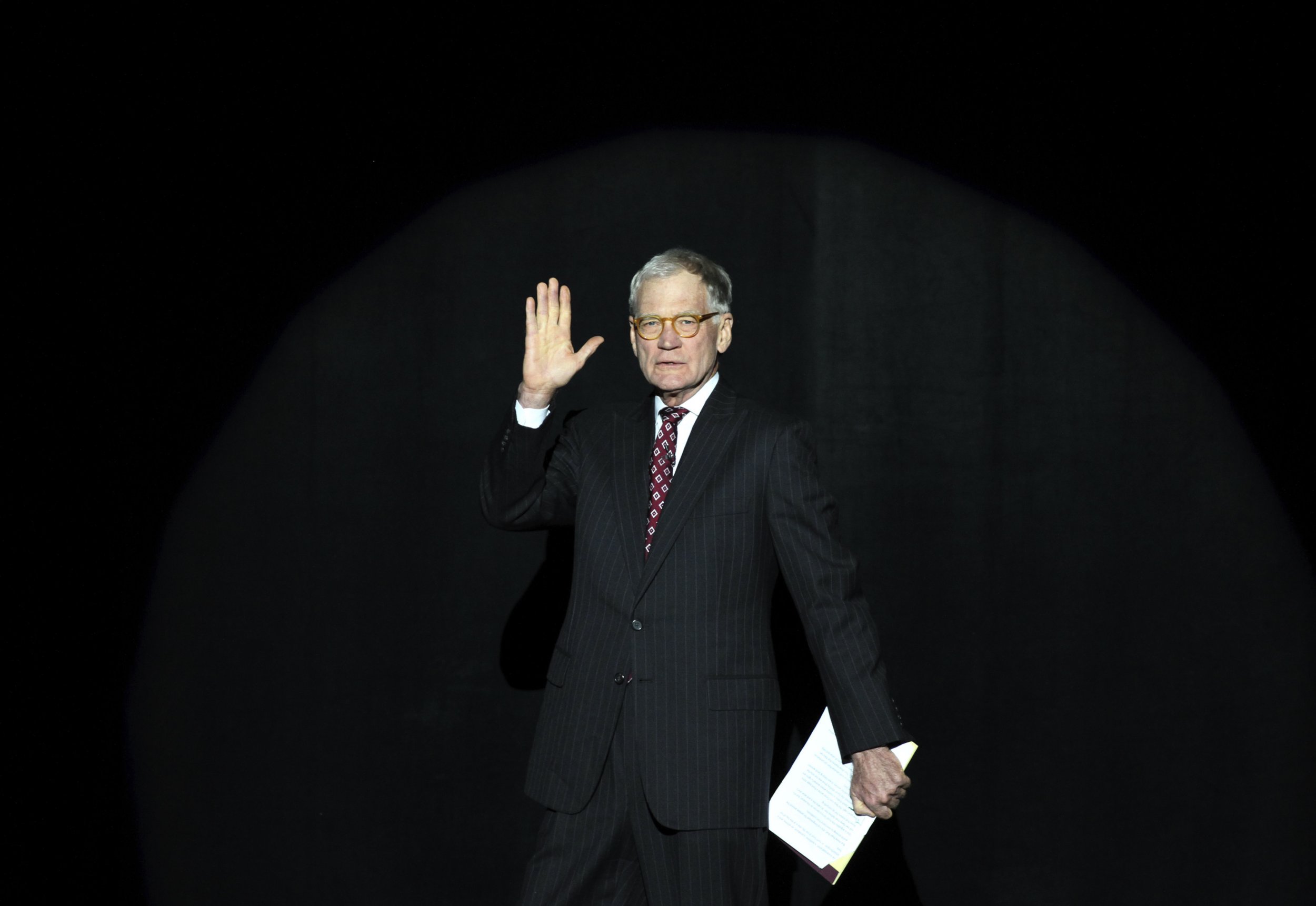 I have watched Wednesday night'sLate Show With David Letterman finale three times already, and I am still not sure if Dave went on to create that iconic Coca-Cola ad campaign or not…
Letterman ended his 33-year run in late-night television in much the same manner in which he began it: with wit, self-deprecation, absurdity, sincerity, humility and a splash of Bill Murray. The man who used to inform his Late Night audiences on NBC (1982-1993) that "they're not booing, they're just saying, 'Dave! Dave!'" opened his 6,028th show with a montage of four of the five surviving U.S. presidents—George Bush, Bill Clinton, George W. Bush and Barack Obama—aping their predecessor Gerald Ford's infamous phrase "Our long national nightmare is over."
The pretaped bit was not only a shot at Letterman's inveterate favorite target -- himself -- but also a measure of his longevity. Three of those four presidents took office after Letterman began broadcasting and left office before his final show.
Someone recently used the word uncompromised to sum up the television career of Letterman, and that is a most apt one-word description. Even as the gap-toothed comic heads into retirement, he remains the Hoosier State native who is both bemused and bewildered by celebrity, by his own nightly "brush with greatness." During the opening credits, announcer Alan Kalter dispensed with the routinely snarky "And now, a man who..." tag and instead stated with utmost sincerity, "And now, a boy from small-town Indiana, David Letterman!" Near the show's conclusion, Letterman showed a photograph of his mother, Dorothy, 94, a frequent remote guest in his NBC years, and told yet another joke at his own expense ("You have a show, David?").
The finale was a benediction of sorts, yet neither maudlin nor melodramatic. Letterman took the stage to a raucous standing ovation and extended applause, his disposition changing from grateful to uncomfortable. "Now, I don't know what to do," he said at one point, but of course all the while he was thinking of the one-liner that would pinprick the inflated bubble of sentiment. "Now what happens is, we don't have time for the giving-gifts-to-the-audience segment."
The monologue, as you might expect, was a bushwhacking of any pretense of self-importance. "When we started, half the people said, 'That show doesn't have a chance,'" Letterman said. "Do you remember that, Paul? On the other hand, the other half said, 'That show doesn't have a prayer.'" He joked that it was beginning to look as if he wouldn't be getting The Tonight Show, a callback to being passed over in favor of Jay Leno back in 1992. And he informed the audience that, only the day before, Elian Gonzalez had expressed a desire to finally return to America from Cuba, quipping, "And my question to you is: Should I take this personally?"
The final hour included a montage of clips, from Letterman interacting with children (conversations he enjoyed far more than interacting with Hollywood types) to a trolling of Taco Bell drive-thru customers ("Medium, relative to what?") in 1996. The highlight of the broadcast, though, by far was a Top 10 list delivered by friends of the show: Alec Baldwin, Barbara Walters, Steve Martin, Jerry Seinfeld, Jim Carrey, Chris Rock, Julia Louis-Dreyfuss, Peyton Manning, Tina Fey and Bill Murray. The topic: "Things I Always Wanted to Say to Dave."
It is difficult and perhaps unfair to say who delivered the funniest line—remember, this is an exhibition, not a competition; please: no wagering—but here were my two favorites. A bearded Carrey, bearing an eerie resemblance to the Unabomber, Ted Kaczynski, hammed up his delivery of "Honestly, Dave, I've always found you to be a bit of an over-actor." And Louis-Dreyfuss, referencing the iconic TV show she and Seinfeld were on, said, "Thanks for letting me take part in another hugely disappointing series finale."
Letterman crashed into our lives at 12:30 a.m. in 1982 like a watermelon dropped from an eighth-floor window (something he did on camera). He not only provided insomniac Americans with an antidote to Mannix reruns, but for those of us who were teenagers at the time, it was the equivalent of Bob Dylan plugging in. He relished the role of the goofy subversive, challenging the tropes of conventional talk shows such as those helmed by genial-to-obsequious figures such as Mike Douglas or Merv Griffin.
Guests of the show were given an official Late Show sponge, as if it were a gold medallion. Willing NBC talent who got the joke played along with lambasting the contrivances of network television. Watch this clip from Late Show's inaugural year, as Letterman stages an elevator race among three audience members while Bob Costas provides commentary with the gravitas ordinarily afforded to a World Series Game 7.
The thing Letterman enjoyed even more than cracking wise about squirrels' nuts was poking holes in the artifice of pretentious types. He once asked conservative talk show host Rush Limbaugh, "Do you ever feel as if you are just full of hot gas?" and I do believe that was Limbaugh's final appearance on the show.
Many Letterman fans believe it was a blessing in disguise that he never got to succeed his idol, Johnny Carson, in beautiful downtown Burbank. California might have dulled his edge. Letterman was that rare performer who never said, either literally or metaphorically, "What I really want to do is direct." He has always known who he is ("a boy from small-town Indiana") and has always possessed a sense of discomfort, if not a healthy level of outright shame, in the face of his own celebrity. For all the wonderful moments (including a spirited performance by the Foo Fighters) that his final taping provided, Letterman seemed most tickled by a moment that was bereft of A-listers or their trappings.
After introducing his wife, Regina, and his 12-year-old son, Harry, who were seated in the studio audience, Letterman appeared to pause for a second of calculation. Then he introduced the boy seated next to Harry, the pal Harry had asked his pop to mention on-air. "And Tommy Ribatti," said Dave, chuckling at the absurdity of it all, that an anonymous seventh-grader now had a role in television history. Thank you, Dave. And good night.