Letters Show Clash Between Florida Mayors Over Access to Surfside Condo Collapse Site
Fiery letters sent between the mayors of Miami-Dade and Surfside show the Florida city officials are engaged in a prolonged fight over jurisdiction and access to the Champlain Towers South site in the wake of the deadly building collapse.
One major point of dispute between the two mayors is that a longtime forensic engineer who was hired by Surfside town officials may be considered a suspect during the initial investigation into the cause of the Champlain Towers South collapse. Engineers and government officials from the offices of Surfside Mayor Charles Burkett and Miami-Dade Mayor Daniella Levine Cava have accused the other of blocking investigators from accessing the site of the 12-floor collapse which left 98 people dead on June 24.
One of Burkett's letters to Levine Cava expresses his frustration that Surfside officials have been shut out of the area, which Levine Cava ultimately says is simply part of safety protocol. But both sides clearly reveal that they don't want the other mayoral office spearheading the ongoing collapse investigation.
"If we are denied the ability to access the site, a property within our own municipality, and we cannot do the investigations that our expert has prescribed because of the County's refusal to give us set access, then the County, must assume full and complete responsibility for any loss of life and any other damages that may result," Burkett wrote to Levine Cava on July 23, in letters first obtained by local news station WPLG-TV.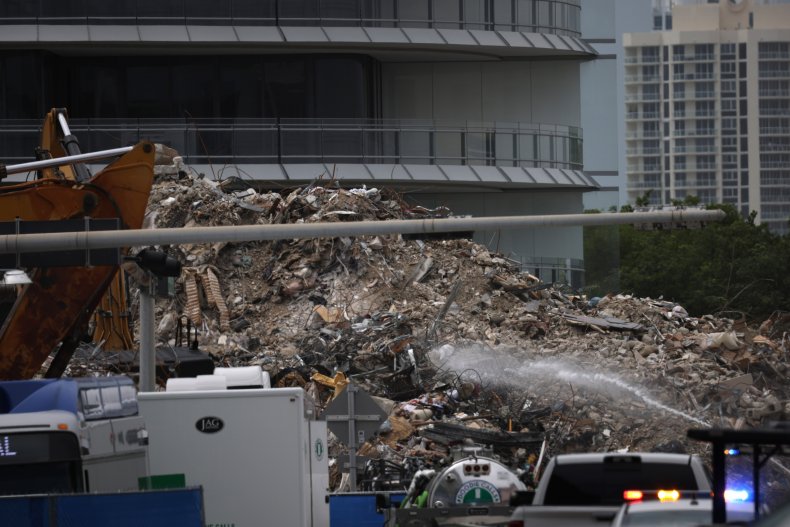 Burkett wrote to Levine Cava just days after the final body was recovered from the scene, telling the Miami-Dade mayor: "Surfside officials have attempted, on multiple occasions and through multiple avenues, to address with county officials our urgent need to examine the existing conditions of the Champlain Towers South site—and do it immediately. It would not be an understatement to characterize our need to access the collapse site as an emergency."
Levine Cava replied to Burkett over a week later, prompting additional timeliness concerns.
"As we have discussed in numerous conversations, the building collapse site is the scene of an investigation...We urge you to complete any additional inspections that may be needed of Champlain Towers North, and any other buildings under your jurisdiction that you do currently have access to," the mayor wrote to her Surfside counterpart.
"All work has been stopped on the collapse site as we address potential safety concerns related to the perimeter wall raised by Surfside's engineer, Mr. Kilsheimer, and the shoring and bracing work required will likely take a few weeks to complete," Levine Cava wrote to Burkett. "The County's forensic engineer will be ready to undertake work investigating the collapse as soon as it's safe to resume our efforts on the site."
At least one forensic engineer hired by Surfside officials may be the initial focus of the ongoing investigation being led by Miami-Dade officials alongside National Institute of Standards and Technology investigators, WPLG-TV noted Saturday.
Newsweek reached out to both Florida mayoral offices for comment but did not hear back in time for publication.