Lev Parnas Claims Yovanovitch Was Targeted to Get Her Out of Possible Biden Probe, Says Hyde Was 'Drunk the Whole Time'
Former Rudy Giuliani business associate Lev Parnas told MSNBC'S Rachel Maddow Wednesday night that former Ukraine Ambassador Marie Yovanovitch was removed from her position because she was in the way of an investigation into Joe and Hunter Biden, which was started at the direct behest of President Donald Trump.
"That was the only motivation," Parnas said. "There was no other motivation."
Helping Parnas monitor Yovanovitch's movements was Republican Robert Hyde, a Trump supporter who is currently running for Congress in Connecticut. Hyde's name was found in text messages to Parnas discussing Yovanovitch.
"I don't even know how to explain [Hyde]," Parnas said. "He's a weird character."
Parnas met Hyde at a Trump hotel, at which Parnas said Hyde was "a regular at the bar."
"Robert Hyde was somebody who—I don't want to say, 'hang around.' He didn't know the president and he didn't know Rudy Giuliani, but he knew [political consultant] Roger Stone. He knew all these—it was like a breeding ground at the Trump Hotel. Every event would be there so everybody would hang out there afterwards. Basically, you would see all the same people every day. All the congressmen that supported the president would be there, nobody else."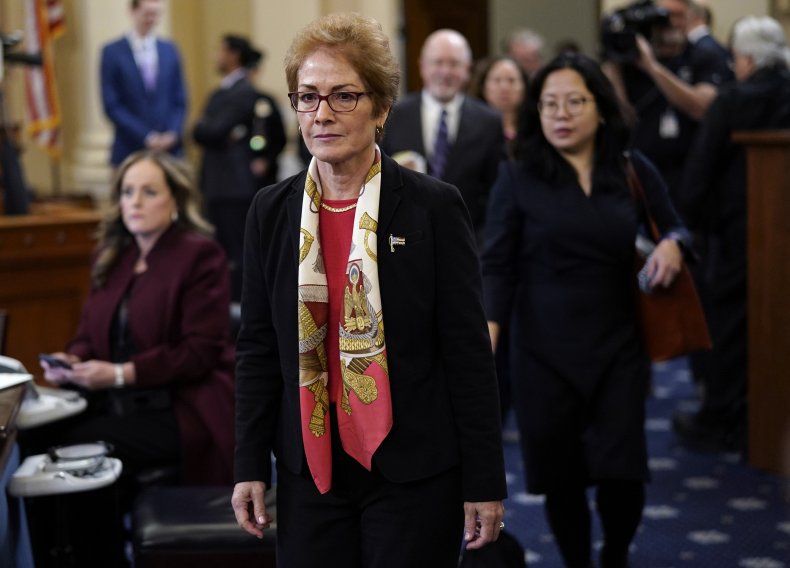 "[Hyde] was a fixture on site," Parnas continued. "He was always there. But he was always drunk."
Parnas said he doubted the veracity of Hyde's texts to him, which were anti-Yovanovitch in nature.
"I think he was either drunk or he was trying to make himself bigger than he was," Parnas said. "I didn't take him seriously. I didn't even respond to him most of the time. If I did, it was something like 'LOL' or 'Okay' or 'Great' or something like that."
"I didn't respond for a long time and I didn't want him to get rowdy if I saw him next time, so I would just amuse him until, you see, eventually I cut him off," Parnas explained.
"When he sent me those, I was disturbed," Parnas said, "like, 'Oh, this is crazy,' because this guy's off the wall. So I called up, I think it was Joe Ahern, who was my contact at the super PAC America First, that knew of him also because he knew all the donors."
Ahern told Parnas to stay away from Hyde because "I think he got into something with Greg Pence, Mike Pence's brother, thinking that the Secret Service was after him and somebody wants to kill him. Once he started texting me that, that was the end of our relationship."
Maddow said that Hyde couldn't have been drunk the entire time he was sending Parnas the incriminating text messages.
"He was drunk the whole time," Parnas said. "He starts at six in the morning. I've never seen him not drunk."
Parnas also reaffirmed that he never believed Hyde actually had Yovanovitch under surveillance.
"These allegations are being made by a man who is currently out on bail for federal crimes and is desperate to reduce his exposure to prison," White House press secretary Stephanie Grisham told Newsweek in a statement. "The facts haven't changed - the President did nothing wrong and this impeachment, which was manufactured and carried out by the Democrats has been a sham from the start."
Updated 1/16/2020 3:45 p.m. EST: This story has been updated to include a statement from White House press secretary Stephanie Grisham.